Mindset Monday: How Kevin Lee Went From Stanky Leg To Smash Mode
Mindset Monday: How Kevin Lee Went From Stanky Leg To Smash Mode
Mindset Mike breaks down how Kevin Lee defeated Edson Barboza despite being badly rocked at UFC Fight Night 128 in Atlantic City.
Apr 23, 2018
by FloCombat Staff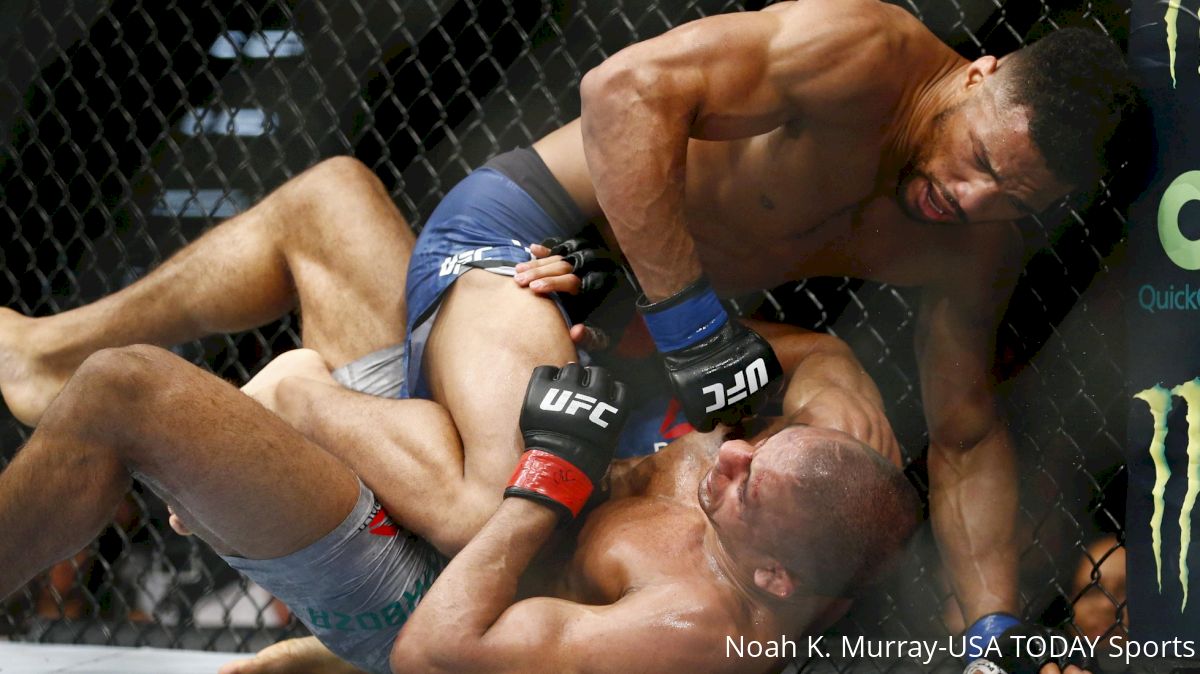 By Mindset Mike for FloCombat
---
Everyone will likely remember two things about the Edson Barboza vs. Kevin Lee fight at UFC Fight Night 128 in Atlantic City, NJ, on Saturday night: Lee missing weight and the vicious spinning kick from Barboza that went viral.
One minute into the third round, Barboza hit Lee with a head kick that sent Lee into a stumble. I've seen MC Hammer, the "Chicken Dance," and the "Stanky Legg" played behind the clip.
OHHHHHHHHHHH Barboza throws a spinning head-kick and it LANDS but Lee survives!!! Wow!! #UFCAC pic.twitter.com/m7qE4z8vRf

— UFC (@ufc) April 22, 2018
However, as a mindset coach to top fighters and wrestlers around the world, I took something very different away from that moment.
Lee promised before (and after) the fight that mindset would be his edge. He delivered on that promise and mentally broke Barboza before notching a TKO victory in the fifth round.
"I said it before the fight, mental strength was going to be the one that beat it," Lee said in his post-fight interview.
He fought with a clear predatory purpose, he displayed the core principles of Martial Arts Mindset beautifully, and he was able to stay both calm under pressure and reset after adversity.
Fighting with a Purpose
Every great fighter (and athlete) fights for a purpose. You heard Rose Namajunas' coach Trevor Wittman telling her just that in between rounds in the defending strawweight champion's rematch with Joanna Jedrzejczyk earlier this month.
In my previous article about the predator mindset, I talked about making your purpose/objective in a fight simple:
Break your Opponent

Improve Position Constantly

Score Points
None of this has anything to do with winning or not losing. Rather, it has everything to do with performance.
That is exactly what Lee did all fight against Barboza. He stalked his prey, he pressured forward, and when he had the opportunity, he inflicted damage or improved his position. The predator mindset is the winning mindset in MMA, and Lee did an amazing job accomplishing that against a seasoned and higher-ranked fighter.
Related: How a Predator Mindset Can Increase Performance
Let's dive into the specific mindset techniques and strategies Lee employed to find success in Atlantic City.
#1 – Staying Calm & Counter-Offense (Not Defense)
Few fighters could have kept their composure after a head kick like Lee swallowed.
However, Lee stayed calm and reset himself to escape what appeared to be an abrupt end to his fight. The true key to overcoming the kick, though, was his mindset.
Once Lee found his balance, he constantly looked to improve his position and to get back to his offense. He never went into survival or defense mode. He found his footing, took a shot, got stuffed but got right back up, and immediately shot again, putting Barboza on the cage.
Barboza literally ran away from Lee—like a gazelle does from a lion—knowing that he blew his shot at winning the fight right then.
Defense is a prey mindset, and in MMA, you must either be on the offensive or the counter-offensive. There is no such thing as defense! Fans should focus on Lee's resilience at that moment, not on his dance moves.
Related: How to Overcome Pressure Situations Inside the Cage
I hold four key principles that make the foundation of our program, and Lee's performance this weekend embodied them perfectly, particularly Nos. 2, 3, and 4.
Did you watch @MoTownPhenom destroy Edson Barboza?
He displayed principles 2-4 BEAUTIFULLY! Definition of a predator fighter who was able to maintain composure in adversity.

Impressive!#Aggressive #Relentless #PredatorFighter #NeverGiveUp #MindsetMike #MartialArtsMindset pic.twitter.com/1rRSVqbKuF

— Mindset Mike (@mindset_mike) April 23, 2018
#2 – I'm Aggressive & Relentless
Kevin Lee constantly gave forward pressure on his feet until he would take Barboza down.
Once Lee got on top, he continued that pressure and was out there to break Barboza's will, not just to finish the fight. He never stopped for five rounds, even saying he "could've gone five more."
Lee took the same approach as new lightweight champion Khabib Nurmagomedov did against Barboza at UFC 219 in December: with the relentless pressure, takedowns, and vicious ground-and-pound. It paid off.
Henri Hooft's guys out of Hard Knocks 365 in South Florida are notorious for being pressure fighters. The Hooft Kickboxing system is built around two basic principles: pressure fighting and keeping it simple (stupid).
This can be seen recently with Gilbert Burns (UFC) and Demarques Jackson (LFA) earning "Knockouts of the Night" within a week of each other with almost identical simple combinations.
How did they pull this off? Why is their UFC/Bellator/pro team 10-0 in the last month? Simple striking and relentless pressure.
OH MY GOD GILBERT BURNS! A #BJJ black belt shouldn't be doing this. Terrifying. (? via @ufc) #UFCGlendale pic.twitter.com/tqPxFlRMtf

— FloCombat (@FloCombat) April 14, 2018
#3 – I Have No Fear of Losing or Making Mistakes
Successful pressure fighters have to truly believe this principle; otherwise, they won't be able to stay calm and pull the trigger when needed.
Prey fighters think of forward pressure as a risk to opening themselves up to dangerous situations. They're afraid to make mistakes or to lose the fight, so they only engage when they feel comfortable.
Predator fighters, on the other hand, see pressure as a tactic to put their opponents in defense mode, having to respond to their offense and making them uncomfortable.
You can be a great counter striker, but responding to a good pressure fighter is mentally and tactically exhausting.
CLOSING THOUGHTS
Whether Lee took his mental approach to the Barboza fight from Khabib or this is going to be a staple in his game going forward, we as fans and fighters can learn from this fight.
Lee's performance is a case study in what to focus on when fighting, the "it ain't over 'til it's over" philosophy, the need to remove the word "defense" from your fight vocabulary, and using mental strength to jump levels and to dominate top-level competition.
Personally, I hope the UFC makes good on Lee's request to fight Nurmagomedov, as those fighting styles and those mental juggernauts could make for a "Fight of the Year" candidate.
---
Mindset Mike is the director of Martial Arts Mindset, a systematic mindset training program used by many professional fighters in the UFC, Bellator, LFA, Invicta FC, and other major promotions. For more information on the program or on the concepts presented, sign up for a free trial session at www.martialartsmindset.com. Follow on Twitter @mindset_mike and Instagram @martialartmindset and @wrestlingmindset.