A Beautiful Mess: Dissecting The UFC Lightweight Division
A Beautiful Mess: Dissecting The UFC Lightweight Division
The UFC has a lightweight problem, and FloCombat wades into the muck in search of solutions.
Jan 5, 2018
by Hunter Homistek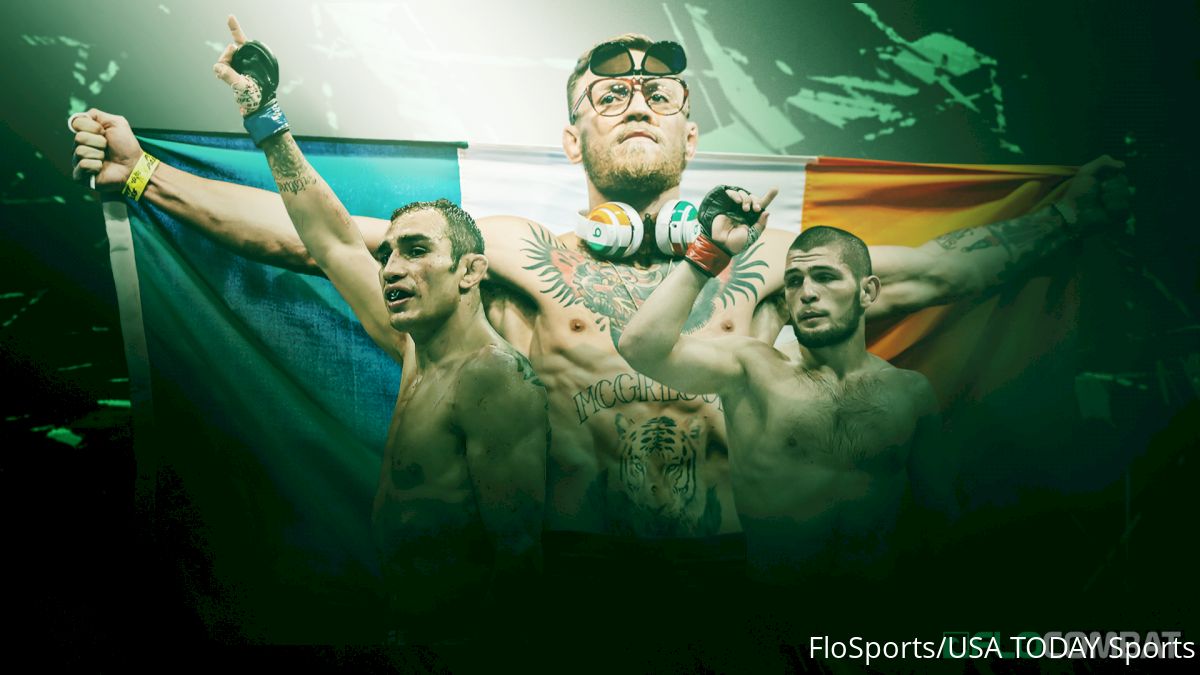 The UFC lightweight division is a mess.
The class boasts two belts, two champions, multiple challengers, and seemingly no answers.
Yikes.
There's Conor McGregor, the star of stars, at the top, waving his lightweight title proudly atop the rest. Nevermind the fact McGregor hasn't fought since November....of 2016. He's the champion until proven otherwise.
Then there's Tony Ferguson, "El Cucuy," the wild and brilliant interim champion who submitted challenger Kevin Lee at UFC 216 in October to earn gold. Ferguson is 13-1 in his six-year UFC career, and he's currently riding a 10-fight winning streak.
Pause.
Unifying The Titles — Or Not?
McGregor has a belt. Ferguson has a belt.
They need to fight to determine who is the true, undisputed 155-pound king, right?
That fight isn't as obvious as it should be. UFC President Dana White has said Ferguson could fight undefeated and seemingly untouchable challenger Khabib Nurmagomedov first to determine who gets the McGregor bout.
White has also implied Nurmagomedov could simply jump Ferguson and fight Conor outright.
Sorry, T-Ferg. Do not pass go. Do not collect $2 million.
Found this online. Dana's contradictory words since UFC 216. Promotion trying to push Ferguson out for Conor vs. Khabib?! Why should Ferguson risk a huge payday accepting Khabib, again? Unification bout next, simple, then Khabib. Only TF vs. KN 'if' McGregor is stripped. #UFC pic.twitter.com/BhJnpd8VyI

— Niall McGrath (@niallmcgrath4) January 5, 2018
Either scenario is, to borrow a phrase from Ferguson himself, f*cking ridiculous.
Taking nothing away from Nurmagomedov, who has been perfect and terrifying throughout his 25-fight pro MMA career, Ferguson deserves the McGregor fight, and he deserves it now.
That's how this works. Interim titles are a bit silly, but when they are used, they need to then be honored. That's the point. The UFC buys time in creating an interim championship, the interim champion fights the undisputed champion, and the world moves on.
So Ferguson vs. McGregor is the fight to make based on gold alone. There is no alternative.
...Unless...
...the UFC strips McGregor of his title.
Now we're talking. With zero (MMA) fights in the past 14 months, McGregor is doing a fine job of holding up the 155-pound collective.
The Irish superstar did the same at featherweight, where he won the belt then pursued back-to-back money fights vs. Nate Diaz at welterweight before moving to lightweight and defeating Eddie Alvarez at UFC 205. He held two belts simultaneously for about three seconds before the UFC took the 145-pound strap away.
Historic.
Now, McGregor could be on the verge of getting stripped again (I'll just leave this Reddit research right here).
"As long as Conor is willing to fight by March, we could do Khabib (Nurmagomedov) versus Tony (Ferguson) and then the winner fights Conor for the title," White told Yahoo! Sports (h/t MMAMania.com's Jesse Holland on the transcription). "Or, if Conor wants to sit out until next fall, then we'd have to make Khabib versus Tony for the title, not the interim title.
"This is a game of time," White continued. "We can't let this go on forever and not give other guys an opportunity. Tony has earned his dues. Khabib has earned his dues, and the list goes on and on. The belt has to move on."
This scenario would free Nurmagomedov vs. Ferguson for the undisputed championship to become a reality.
Even better, McGregor has reached the level of stardom where he doesn't need the belt to sell fights. See: his bouts vs. Diaz, Nate at UFC 196 and UFC 202. Hell, he doesn't even need to compete within the sport of MMA to make it rain. See: his boxing tilt vs. Mayweather Jr., Floyd.
So taking the belt from McGregor allows the division to move along while doing minimal damage to McGregor himself or to the future promotion of him in the process.
Thus, the scenarios at the top of the division are as follows:
McGregor fights Ferguson around March in a title unification bout
The UFC strips McGregor of his title, Ferguson vs. Nurmagomedov becomes the title fight
Moving on, things stay plenty juicy at 155.
Does Nate Diaz exist?
There's still Stockton's finest bouncing in the shadows, throwing up double birds at every fight offer that comes his way. He got a taste for the spotlight — not the UFC Fight Night main event spotlight, the real spotlight — in his bouts vs. McGregor, and he's not ready to leave that warmth and comfort.
Besides becoming one of the most sellable stars at 155 through his two fights with "The Notorious," Diaz is pretty damn great at this whole MMA thing. He's a cult classic of sorts, and his fan base grows no matter what he does.
Win a fight? Awesome. What a beast. Lose a fight? The opponent was running. They're all scared of you. Turn down a fight? Damn right, Nate. Ain't nobody gonna tell you what to do.
He truly can do no wrong, and for that, he's incredibly valuable to the lightweight division.
Too bad he's not interested in fighting.
Most recently, Diaz called White a "bitch" and told the UFC to "ask nicely" if it wants him to return.
For now, consider Diaz the anti-Dennis Siver. He's unavailable.
A Necessary Rematch
Eddie Alvarez and Dustin Poirier fought to a no-contest at UFC 211 in May. The bout was thrilling while it lasted.
In round two, however, Alvarez landed a series of illegal knees to a grounded Poirier, ending the fight and marring an otherwise excellent scrap. In the aftermath, Poirier has repeatedly called for a rematch.
"There's nowhere else for [Alvarez] to run and he knows that," Poirier recently told FloCombat.
Poirier's exactly right.
Alvarez, ranked No. 3 in the division, is behind McGregor, Ferguson, and Nurmagomedov in the rankings. We've covered why those dudes are not an option.
Behind Alvarez, the rankings are as follows: Edson Barboza (coming off a loss to Nurmagomedov, also a teammate of Alvarez's), Justin Gaethje (Alvarez just stopped him at UFC 218), then... Poirier.
Poirier is coming off a victory over Anthony Pettis in November. Alvarez is coming off a victory over Gaethje in December.
#UFC LW contender @DustinPoirier called it. During the #FCRoadTrip2 in September, he cut the #video below regarding @Ealvarezfight. Now, he's doubling down. Who wants the rematch? pic.twitter.com/qCU0LLTxPR

— FloCombat (@FloCombat) December 8, 2017
This fight is obvious, but Alvarez is uninterested. He initially took Gaethje over Poirier and continues to avoid the rematch. That's not passing judgment — if Alvarez has enough money in the bank and if he feels comfortable sitting out, that's totally fine. It's just a fact.
"I heard last week [the UFC] offered Alvarez the fight three separate times and he and his team declined all three," Poirier said.
Still, a Poirier vs. Alvarez rematch would determine another top contender. Neither man appears in line for that opportunity as it stands, so why not fight to settle a score and to see who gets it?
Hungry Contenders Aplenty
The UFC lightweight division is stacked.
Kevin Lee wants to fight Gaethje. Gaethje wants to fight Lee. Both fighters are coming off high-profile defeats, and both men still carry plenty of steam. That's a fight to determine who stays in title contention and who goes.
Stylistically, both men can crack, and both men tend to get hit more than they should. Lee's wrestling and his grappling from top position are incredible. Gaethje is tough to pin down. Hell yes. Loser gets No. 9-ranked Michael Chiesa. Book it.
Al Iaquinta and Paul Felder have sparred on Twitter. They've been booked to fight at UFC 218 before Iaquinta fell out with an injury, and yet... nothing's official for them. Felder's won three straight. Iaquinta's won five straight. That fight would be incredible both inside and outside the cage, and the winner would take a giant leap toward gold. It makes sense on every level. Book it.
Beneil Dariush is 2-1-1 in his last four, most recently getting knocked out by Barboza at UFC Fight Night 106 then fighting to a majority draw vs. Evan Dunham at UFC 216. He's ranked No. 12 in the lightweight division.
Anthony Pettis, ranked No. 13, is 2-2 in his last four, most recently getting stopped by Poirier at UFC Fight Night 120. Both men need a win to stay relevant in the ever-deepening class. Both men are teetering on the verge of "washed up" labels. Who deserves to stay, and who gets bounced out of the top 15? Let's find out. Book it.
James Vick, ranked No. 15, was recently penciled in to face Francisco Trinaldo, No. 14, at UFC Austin in February. The winner of that will likely move into the top 10. Booked.
That leaves only Barboza, No. 4, who will likely take some time off after his drubbing at the hands of Nurmagomedov. At this point, Barboza can fight pretty much anybody. He's 3-2 in his last five, losing only to elite competition in Ferguson and Nurmagomedov.
The loser of Lee vs. Gaethje would make sense, as would the winner of Felder vs. Iaquinta... as would Michael Chiesa outright. Barboza has options, and with his high-octane style of fighting and his world-class preparation, all of them are exciting.
That Leaves Us With...
Conor McGregor (champion) vs. Tony Ferguson (interim champion)
Khabib Nurmagomedov (waits on winner of McGregor vs. Ferguson)
Eddie Alvarez vs. Dustin Poirier
Edson Barboza (flex play with many options, listed above)
Justin Gaethje vs. Kevin Lee
Nate Diaz (wild card, unlikely to fight anybody besides McGregor)
Michael Chiesa vs. Barboza or vs. the loser of Lee-Gaethje
Al Iaquinta vs. Paul Felder
Beneil Dariush vs. Anthony Pettis
Francisco Trinaldo vs. James Vick
There are several matchups just begging to be assembled, and even at the top, the options are obvious. McGregor needs to fight Ferguson or he needs to be stripped of his title and yield to Ferguson vs. Nurmagomedov.
Beyond that, nearly the entire top 15 shakes out cleanly. Lee vs. Gaethje, Alvarez vs. Poirier II, and Felder vs. Iaquinta are Fight of the Night contenders all day, while Dariush vs. Pettis likely represents a sad, sad night for the loser.
The lightweight division feels ultra-messy right now — but a quick sweep restores order.
Book 'em.