Dustin Poirier: 'Eddie Alvarez Has Nowhere Left To Run'
Dustin Poirier: 'Eddie Alvarez Has Nowhere Left To Run'
Surging UFC lightweight contender Dustin Poirier shares his thoughts on why the rematch with Eddie Alvarez has to happen.
Jan 4, 2018
by Duane Finley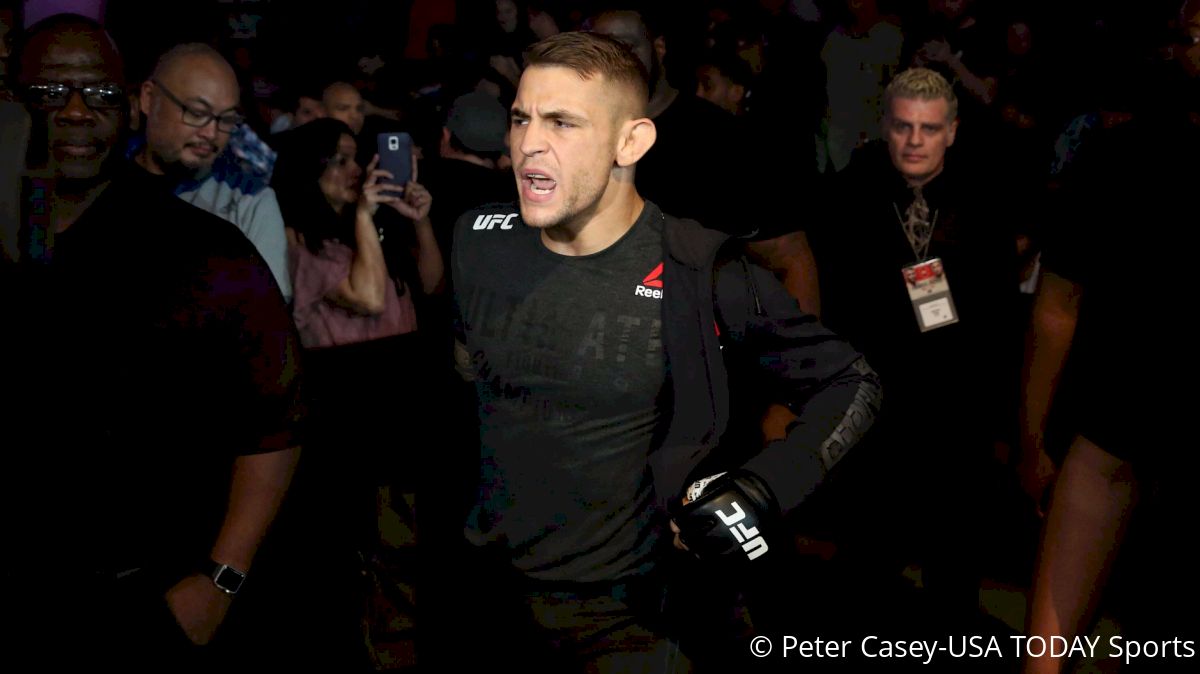 Dustin Poirier has never lacked for aggression when competing inside the cage, but an evolution of sorts took place in 2017.
In addition to the killer instinct that has made him one of the most prolific finishers under the UFC banner, the hard-hitting lightweight also became a hunter under the bright lights.
Poirier stalked his prey once the cage door locked behind him, and the results were undeniable.
Rather than simply using emotion to fuel his drive on fight night, Poirier allowed his personal maturation — as both a man and as a combatant — to lead the way. The transformation yielded one impressive performance after the next, and now Poirier is back on the hunt.
"The Diamond" has his sights set on another showdown with former opponent turned rival Eddie Alvarez, and Poirier feels it's only a matter of time before a rematch becomes reality.
"There's nowhere else for [Alvarez] to run and he knows that," Poirier told FloCombat. "Fortunately for him, he's done well in his career with money and he doesn't have to fight. If that weren't the case he would have to take this fight with me."
With their first meeting at UFC 211 last May ending in a controversial "no contest" due to a series of illegal strikes landed by Alvarez, the American Top Team representative has been jockeying to get his hands on the Philadelphia native once more. In Poirier's mind, the two men have unfinished business, but Alvarez has shown very little interest in running things back inside the Octagon.
And while Alvarez was able to avoid the bout for a stretch as he signed on to face Justin Gaethje at UFC 218 on Dec. 2, the divisional picture has shifted to where few — if any other options besides Poirier — exist on the current landscape.
"It's the only fight that makes sense right now," Poirier said. "There are two guys ranked above me right now, but both of them are coming off losses in their most recent fights.
"I feel like I'm close to the top, but there is a lot going on right now in my division," he added. "If they strip Conor [McGregor] of the title and Tony [Ferguson] and Khabib [Nurmagomedov] fight for the actual title, there is no one else for me to fight but Eddie Alvarez. All roads lead back to that fight. I knew it was going to happen like this, and I think Eddie and I should fight to see who gets the next shot at the title."
Alvarez stopped Gaethje in the third round of their tilt in Detroit, while Poirier picked up a huge victory of his own by battering former champion Anthony Pettis in the main event at UFC Fight Night 120 back in November.
Both men finding success in their respective tilts narrowed the alternative options considerably, and with all signs pointing to Nurmagomedov and the current interim champion Ferguson finally settling their long-standing business, a rematch between Poirier and Alvarez is the only potential bout that makes sense in the current title picture.
And this pleases Poirier.
The 28-year-old lightweight has called out Alvarez in every form and fashion available to him, but Alvarez has shrugged off the idea of throwing hands with Poirier once more. Nevertheless, if Alvarez wants to remain in the hunt for another championship opportunity, locking horns with Poirier again may be the only option.
"I can't be like that crazy ex-girlfriend that follows you around everywhere and hopes you are going to fall back in love with them," Poirier said. "I have to keep it moving and life goes on. I can't make the guy fight me, and neither can the UFC it appears. I heard last week [the UFC] offered Alvarez the fight three separate times and he and his team declined all three.
"I think it's kind of funny the 'Underground King' or the 'King of Violence' whatever that shit he's saying. Turns out he's actually the f*cking track team captain. We'll see what happens though. If the UFC calls me with a fight that makes sense then we'll do it. If the fight is a good opportunity for me and can move me toward the ultimate goal then I'm in. If not, then I'll wait for the right fight to come along."
Despite the rematch between Poirier and Alvarez making an incredible amount of sense, logic doesn't always win out in the fight game. With nearly a decade of experience under his belt, Poirier is no stranger to the chaotic twists and turns the sport brings, and his veteran status has him keeping an open mind as to how the road ahead could potentially develop.
While Poirier wants nothing more than to finish the job he started on Alvarez last May, the only thing that truly matters is his drive for a world title. Poirier is determined to get his hands on championship gold by any means necessary, and getting the opportunity to compete for the lightweight strap takes priority over settling his feud with Alvarez.
"I don't want to sit around and wait," he said. "I'm coming into the prime years of my career, and I haven't had those seven-figure paydays like he's had. I can't just sit around and hope to get a mega-fight and be OK with just waiting. I have to fight, man. That's how I provide for my family. If I'm not fighting, I'm not eating.
"This is going to be the biggest year of my career for sure, and I'm going to have the biggest fights and biggest paydays. I truly believe I'm going to get a title shot this year."
And while Poirier's approach to the road ahead is always taken with sharp focus and a savvy business mind, the former WEC fighter turned UFC contender has also found room for levity in his journey as well. The days of amped-up brawls and stressing over things beyond his control have been left behind, and enjoying the fruits of his labor has become a top priority.
Poirier fights for his family's future and to provide his daughter a quality of life he could never have dreamed of growing up on the rough side of the tracks. In his quest to do so, Poirier has discovered what actually carries value in the equation, and this has allowed him to leave the things that do not matter behind.
"There's so much I want to give her, and making sure she has an incredible life is the best motivation imaginable," Poirier said. "I want to be there for her in every sense, and that includes making sure I have my sh*t together mentally as well. I can't go out there and get my brains knocked around and get into brawls every single fight. I just can't do that, and I've taken a much smarter approach to the way I fight. This year showed that progression, and it's going to continue in 2018. I want to be there for my daughter always, and I'm going to make damn sure I am."
The transformation has also led Poirier to find value in a good sense of humor and even more so in a strong head of hair like the one he carries in the here and now. Due to his kill-or-be-killed fighting style, Poirier has always been a fan favorite inside the cage, but the strength in which he rocks his current hairstyle has fans appreciating the finer points of his approach as well.
"I just feel like whenever I walk into the room you have to respect the hair," Poirier said. "You just have to. I can feel people looking, and they just f*cking wish they had the hair game I have. I'm sorry, but it's just something you have to accept and respect.
"It's just the dad life, man. That's exactly what it is... the husband and dad life. I have grown up in the fight game and matured a lot as a person along the way. I'm also having a lot of fun out there and I'm not too stressed out about anything anymore. I used to overthink everything at all times, and that's just not the case anymore. I'm just ready to scrap and become a world champion."