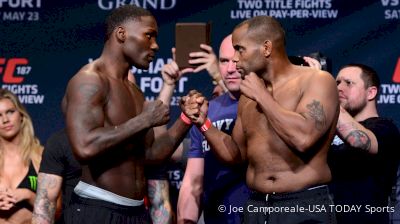 Video: Chaos Reigns For Daniel Cormier, Anthony Johnson, Pearl Gonzalez At UFC 210 Weigh-Ins
Apr 7, 2017
The UFC 210 weigh-ins went down live in Buffalo, New York, bringing plenty of chaos with them.

Headliners Daniel Cormier and Anthony Johnson waited until the last possible second to hit the scales—and did one of them cheat?—and then another fighter was yanked from the card altogether. FloCombat's Hunter Homistek breaks down the madness.

Miss the UFC 210 weigh-ins? Catch them here, courtesy of MMAFighting.com.