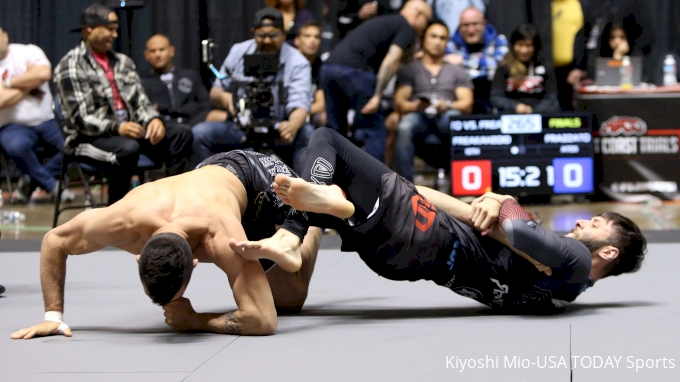 Watch SUBVERSIV by Fight 2 Win live Saturday, Sept. 22, on FloCombat. A new concept in submission grappling, SUBVERSIV features a five-on-five team challenge for a grand prize of $10,000.
5 on 5 Team Competition Ebi Rules
1st Place Team Makes $10,000
2nd Place Team $2,500
Teams First Round Match-ups To Be Determined On September 17.
10th Planet
-145lb Geovanny Martinez
-165lb PJ Barch
-185lb Richie Martinez
-205lb TBA
Female: Liz Carmouche
Carlson Gracie
-145lb Bryan Calleros
-165lb Jason Youseph
-185lb Herman Terrando
-205lb Diego Vazquez
Female: Sophia Nordeno
CSW
-145 Javier Garcia
-165 jacob Rosales
-185 Jamie fletcher
-205 Will Pursselley
Female: Sabrina Kraft
Team Lloyd Irvin
-145lb Jason Soares
-165lb Angelo Claiborne
-185lb Dj Jackson
-205lb Tim Spriggs
Female: Nyjah Easton
Plus 13 F2W Super Fights
Masters Black Belt Middle Weight GI Title
Thomas Cronin (Carlson Gracie) vs Brian Mendez (Ribeiro Jiu Jitsu)
205lb Black Belt Gi
Hector Tapia (Gracie Barra) vs Omar Sabha (BTT)
195lb Black Belt No-Gi
Bryan Clavecilla (CSW) vs Stephen Martinez (Peerless Jiu JItsu)
185lb Black Belt Gi
Marcos Cruzatt (Street Sports) vs Jaime Fletcher (CSW)
175lb Black Belt No-Gi
Fernando Machado (CMMA) vs Jacob Rosales (CSW)
160lb Black Belt No-Gi
Jeremiah Vance (10th Planet) vs Noah Tillis (Tillis BJJ)
150lb Black Belt No-Gi
Marvin Castelle (10th Planet) vs Adrian Vazquez (CIA Paulista)
145lb Black Belt Gi
Alexis Fonseca (AOJ) vs Jeff Nolasco (Tinguinha BJJ)
145lb Black Belt No-Gi
Chad George (CMMA) vs Cole Franson (Tinguinha BJJ)
Heavyweight Brown Belt Gi
Dennis Andra (Gracie Barra) vs Jerry Foster (BTT)
230lb Brown Belt Gi
Dimas Heckert (Kings MMA) vs PJ Montano (CSW)
170lb Brown Belt No-Gi
Robert Lopez (Triunfo MMA ) vs Andrew Murillo (10th Planet)
170lb Brown Belt No-Gi
Connor Donaldson (Gracie Barra) vs Josh Smith (Checkmat)
175lb Purple Belt No-Gi
Kristofer Udan (Gazze Academy) vs Cash Standing (10th Planet)
145lb Purple Belt No-Gi
Quang Ho (Russ Mira Jiu Jitsu) vs Brandon Tran (10th Planet)