These 7 New England MMA Prospects Deserve Your Attention
These 7 New England MMA Prospects Deserve Your Attention
FloCombat's Nolan King breaks down seven top prospects from the New England region to keep an eye on in 2019 and beyond.
Mar 4, 2019
by Nolan King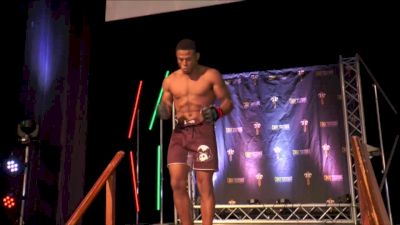 Unlock this video, live events, and more with a subscription!
Get Started
Already a subscriber? Log In
Last year, we compiled a list of the top five New England prospects a top-tier promotion should sign. Well, guess what? It's that time of year again.
While the likes of Rob Font, Calvin Kattar, and more picked up UFC victories on the big stage, it wasn't the best year for New England regional fighters trying to make the jump.
In 2018, FloCombat veteran Manny Bermudez was the lone New England-based fighter to make the jump to the UFC. A handful of top-tier prospects competed on Dana White's Tuesday Night Contender Series but ultimately were unsuccessful.
Despite this, the regional scene in New England is still strong. A burst of talent to the next level is imminent. With PFL signing fighters for their 2019 season, the UFC's Contender Series rolling around, and Bellator continuing to expand its roster, there's a good chance a handful of New England fighters will reap the fruits of their labor this year.
QUALIFICATIONS
Unlike last year, there are no restrictions as to who can make this list. Last year, fighters over the age of 30 were disqualified from contention. While they may not be "prospects" necessarily, the UFC, Bellator, and PFL frequently sign fighters who are over three decades old.
Fighters must have fought at least once in the past 18 months to qualify.
While age is no longer a disqualifying component, there are a number of factors that will be taken into consideration. Such factors include (but are not limited to) in-cage success, out-of-cage marketability, winning streaks, activity, and level of opposition.
Having a realistic timeline is also a major factor. The fighters are being judged at this exact moment in time.
Here are the top seven fighters to sign if you're a major promotion:
7. Jay Perrin
8-3 Bantamweight | 25 years old | Hudson, NH
A veteran of top Massachusetts-based promotion Cage Titans, Jay Perrin has flown under many people's radars. Currently riding a five-fight win streak, the 25-year-old Sityodtong product has piled up 11 fights of pro experience since mid-2014.
While he's had great success as of late, Perrin's record was checkered after his first six pro fights. Sitting at 3-3, the Massachusetts-born fighter used his losses to Zechariah Lange, Blair Tugman, and Regivaldo Carvalho as valuable learning experiences.
A win in Calvin Kattar's Combat Zone in 2017 landed Perrin a slot on the Cage Titans roster. Back-to-back wins over Shawn Rall and Mark Frisk earned Perrin a title shot against rival Johnny Campbell at Cage Titans 40—whom he swept on all three judges' scorecards.
In his first title defense, Perrin was matched with gritty challenger Kin Moy—a man who had only lost to opponents who went on to sign with a major promotion directly thereafter.
The Skinny
He doesn't always get it done in the prettiest manner, but oftentimes fighters who try to fight pretty don't win. Perrin presents a grueling matchup to any 135-pounder in New England and beyond.
At 25 years of age, Perrin has a lot of time to build on an already solid foundation. With his heavy wrestling skills on full display in his last few fights, don't sleep on Perrin's stand up. Training under world-renowned Muay Thai coach Mark DellaGrotte, Perrin's striking is improving.
If he's able to pick up a finish in his next Cage Titans fight, expect Perrin to make a potential appearance on Dana White's Tuesday Night Contender Series.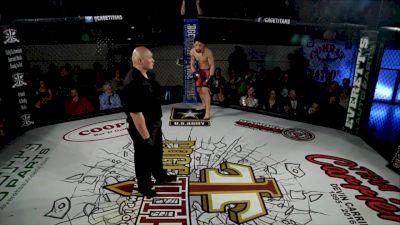 Unlock this video, live events, and more with a subscription!
Get Started
Already a subscriber? Log In
6. Eric Spicely
11-4 Middleweight | 32 years old | Olneyville, Rhode Island
Above the 170-pound weight class, you'll be hard pressed to find a more talented Brazilian jiu-jitsu practitioner than Eric Spicely on the regional MMA scene. And I get it: Spicely might not qualify as a "prospect" necessarily, but he deserves another look.
The six-fight UFC veteran had an up-and-down tenure with the promotion, going 2-4 under their banner. Win or lose, Spicely came to put on a show. At times, he even choose to stand up with his opponent instead of dragging the fight to the ground . All of Spicely's UFC fights ended inside the distance.
The UFC never gifted the Massachusetts-born Rhode Islander with a layup matchup, either. In fact, all six of Spicely's opponents are still members of the UFC roster today.
In late 2016, as a heavy underdog, Spicely recorded the highlight of his career to date, choking out now-title-contender Thiago Santos in Brazil.
The Skinny
Spicely presents a unique style matchup to any fighter on the regional scene—or in a major promotion. That's probably why he's struggled to find fights since his release.
Not many 185-pounders move as swiftly as Spicely when the fight hits the mat. He makes transitions look easy and can essentially submit his opponents at will when the fight hits the floor.
Unafraid to pull guard, the Tristar MMA fighter can get his opponent from anywhere. Opponents who feels brave enough to stay on top of him, in his guard, have usually realized their mistake only when it's too late.
PFL would have been the obvious choice for Spicely, but with the removal of the 185-pound division from the 2019 PFL season, that's obviously not an option.
His skill set alone, especially in the middleweight division, should make him an easy pickup for Bellator MMA, or with a few more wins, a reacquisition for the UFC.
huge upset here, Eric Spicely @EricSpicely ?? submits Thiago Santos ? #UFN95 #mma #bjj pic.twitter.com/lEwICzbJtq

— Denis La Funk (@DenisLaFunk_) September 25, 2016
5. Vovka Clay
9-2 Featherweight | 27 years old | Nashua, NH
Originally born in Russia, Vovka Clay is the dark horse to become the No. 1 pound-for-pound fighter in New England by the conclusion of 2019.
Competing outside of the two major regional organizations in New England (Cage Titans and CES MMA), Clay has dipped under many MMA prospect radars.
After defeating 15-fight veteran Taylor Trahan at Combat Zone 61, Clay was signed to a one-fight deal by Bellator MMA. Not overwhelmed by the bright lights, "KGB" submitted 8-0 fighter Frank Sforza in the second round.
The win at Bellator 195 was impressive, but Clay's last fight over Contender Series veteran JR Coughran really put him on the map. After being controlled for much of the fight, Clay rallied in Round 3 to submit Coughran via Von Flue choke.
The Skinny
His submission skills are highly regarded by his peers as some of the most legit (in MMA) in the region. As soon as Clay grabs hold, he has the ability to end a fight in an instant—anywhere and anytime.
His striking is somewhat limited, but working with a killer squad of training partners at Lauzon MMA should do the trick. His grit, determination, and ability to deal with adversity in big fights has elevated him above the pack.
Now that he's riding a six-fight win streak with two marquee victories, Clay is a perfect candidate for Dana White's Tuesday Night Contender Series.
4. Nick Newell
14-2 Lightweight | 32 years old | Milford, CT
This past summer, in arguably the most meaningful fight of his life, Nick Newell lost.
After weeks of attention from the national MMA media and fans alike, Newell stepped into the Contender Series cage to collide with an unknown Team Alpha Male wrestler in Alex Munoz.
The betting favorite, Newell struggled to outpoint and out-grapple Munoz en route to a unanimous decision loss. His long-awaited UFC contract opportunity had to wait a little bit longer.
The national attention surrounding Newell has diminished, but don't count him out yet.
The Skinny
Let's look at the facts.
First, Munoz didn't have 1/100th of the name recognition Newell did, but in MMA, being an unknown commodity doesn't decrease your ability to fight. In retrospect, it should be noted that Newell lost to a stud. The man is the head wrestling coach of Team Alpha Male, one of the most well-known gyms in the world. There's a reason for that.
Additionally, the UFC gravitates toward Contender Series competitors—win or lose. A handful of fighters who lost on Contender Series but put on good performances were signed within the next year, including Austin Arnett, Matt Bessette, and Steven Peterson.
Most importantly, it would be nothing short of ignorant to count out Newell. The man has overcome the odds for 32 years of living. What's to say he'll stop now?
I firmly believe Newell will be back in the cage sooner rather than later—probably in a regional-scene capacity. With a win against a top regional contender, he's right back in the fold.
3. Joe Giannetti
7-1-1 Lightweight | 23 years old | Whitman, MA
Last year, Joe Giannetti was featured on the 2018 edition of our list.
The UFC agreed with our assessment of his talent, signing Giannetti for The Ultimate Fighter 27: Undefeated.
After wrecking his opposition in the house, Giannetti dropped a split decision to Mike Trizano. Unlike most other new UFC signees, "Skeletor" was not allowed a second opportunity to pick up his first UFC win.
Cut from the UFC roster, Giannetti didn't get too down on his luck. The 23-year-old lightweight returned to his Alma mater, Cage Titans, to work his way back to the top. After drawing with Josh Harvey, Giannetti finished rival Connor Barry at Cage Titans 42.
The Skinny
Protect your neck!
Giannetti's submission skills are freaky good. He patiently waits for sloppiness from an opponent, and then capitalizes on it with lightning speed.
While his BJJ is largely what he's known for—and for good reason—Giannetti is a much more well-rounded fighter than he's given credit for.
The South Shore Sportfighting product has seldom been out-struck in his career. He's not only able to simply "get by" or "hang in there" on the feet, but he's able to take it to his opponents as well.
Considering the inexplicable fashion in which Giannetti was cut from the UFC, the man deserves a second shot. At his age, it's inevitable he'll end up there again. It's just a matter of when. And hey, who knows? Maybe Bellator or PFL will sweep in and snag Whitman's finest first.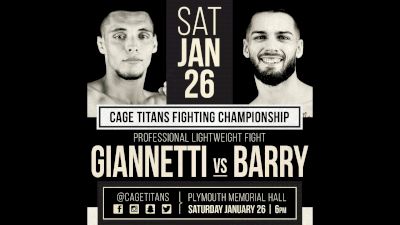 Unlock this video, live events, and more with a subscription!
Get Started
Already a subscriber? Log In
2. Vinicius De Jesus
7-2 Welterweight | 29 years old | Stamford, CT
"The Brazilian Bad Boy" is just that.
Stamford, Connecticut's Vinicius De Jesus is a knockout artist who also happens to be a BJJ black belt. Put plainly: The 29-year-old De Jesus comes to scrap.
In nine outings, De Jesus has won seven. On paper, his two losses don't look so bad.One loss was suffered at the hands of Bellator MMA prospect Joaquin Buckley and was highly controversial and disputed. The other was against top Brazilian lightweight Jeferson Negrini in De Jesus's sophomore fight.
The combined win-loss record of the two men who defeated De Jesus is 19-2.
Following a short-notice, one-off victory at 185 pounds, De Jesus encountered a recurring issue which has accompanied him throughout his career: Not many people want to fight him.
After a discussed bout against Dillon Danis fell through for Bellator 216 earlier this month, the promotion paired De Jesus with another high-level BJJ black belt in Radolpho Barcellos—whom De Jesus wrecked in a matter of minutes.
The Skinny
The charismatic Brazilian-born fighter has shown very little downside since his first appearance on the Northeast regional scene. His leg kicks are the pound-for-pound best in the region and have tortured pretty much every opponent he's faced to date.
In the cage, his speed, confidence, angles, and footwork mirrors the proverbial lion hunting a gazelle. The Brazilian-born fighter aims for one thing: a finish.
After his latest Bellator appearance, a fired-up De Jesus requested a meeting with Bellator MMA. Already competing on multiple one-off contracts, Scott Coker, Rich Chou, and company would be insane not to sign him to a multi-fight deal.
1. Nate Andrews
15-1 Lightweight | 34 years old | East Providence, RI
We're sorry to disappoint. There aren't any surprises here. As much as we'd love to throw you for a loop, only one man deserves to be in the top slot. The obvious choice is the correct one.
Rhode Island's Nate "The Snake" Andrews has done enough—more than enough—to earn a major promotional contract:
Fifteen wins—to only one loss.
Nine straight victories—none of them by decision.
Back-to-back title defenses inside the CES MMA cage.
Nate Andrews has done the hard miles. He's conquered every fighter in his path. In his win over Bryce Logan, he showed off a well-rounded game. In his 94-second submission win over D'Juan Owens, he displayed his lethal submission skills. In his war against Chris Padilla, he showed heart and toughness.
What's left?
The Skinny
Having the experience of a veteran matched with the wear-and-tear of a young prospect, Andrews is a unique fighter. His odd style, dangerous BJJ abilities, and unorthodox striking make him a hard opponent to prepare for.
At 34 years of age, the time is certainly now or never. Major promotions have pushed off signing him for a long time, and it would be a shame if they inexplicably passed once again.
UFC, Bellator MMA, PFL, RIZIN: If you're reading this, Nate Andrews is your man.
Quick List: 'The Best of the Next'
Here are five less-experienced fighters we predict could crack the list next year.
Randy Costa (4-0): a charismatic Team Lauzon featherweight who has SENT all four of his opponents to the canvas in swift fashion

Mitch Raposo (0-0): a Cage Titans amateur champion, this flyweight is already on the radar despite having no pro fights to-date

Jesse James Kosakowski (3-0): a physically strong welterweight, Jesse James has displayed a phenomenal potential at just 22 years old

William Knight (4-0): a freak athlete, Connecticut's "Knightmare" is a powerful light heavyweight with finishing abilities—aka exactly what every promoter in MMA is looking for right now

John Douma (4-1): already having made a name for himself, the man behind the highlight-reel submission of Mike Kimbel might surpass next year's list and go straight to Bellator MMA
Honorable mentions
Justin Sumter, John Lopez, Ryan Sanders, Pedro Gonzalez, Dylan Lockhard, Camron Lochinov, Josh Harvey, Jessy Miele, and Dinis Paiva were close to making the cut and are fighters to watch in 2019.
Fellow standout talents Leon Davis and last year's list-topper Carlos Candelario were not in consideration for this piece due to inactivity.
New England MMA legend Greg Rebello was not included, as he has publicly stated there's a high probability his next fight will be his last.