The New England region doesn't have many voids in its collective trophy case, but one empty corner in particular shoots a glare into the eyes of its fight fans, new and old.
The region has never produced a UFC champion.
While New England has given rise to a number of combat sports notables, these names can be found in the "Boxing Hall of Fame," not the "UFC Hall of Fame."
Enter 2018. The next generation has arrived. The wait is over.
With fighters such as Rob Font, Calvin Kattar, and Kyle Bochniak breaking down the UFC's doors, there is no doubt: The drought of success has expired. Now, surging regional promotions such as CES MMA, Cage Titans, New England Fights, and Reality Fights are filling the UFC's roster with the stars of tomorrow.
Who's next, you may ask? Here are the top five prospects from New England under the age of 30 who are most likely to make a statement in 2018.
5. Vinicius de Jesus
5-2 Welterweight | 28 years old | Hartford, CT
The secret weapon of the New England mixed martial arts scene, Vinicius de Jesus has flown grossly under the radar.
Originally born in Brazil, de Jesus moved to Hartford prior to his third professional fight. Since beginning his career 1-1, de Jesus has been on a tear. Each and every outing, the adopted New Englander appears to improve by leaps and bounds.
In his most recent fight at Bellator 185 in October, de Jesus was paired up against Bellator MMA's top welterweight prospect, Joaquin Buckley. Despite being the underdog, de Jesus thrived in front of his home crowd, but to the shock of everyone at the Mohegan Sun in Uncasville, CT, that night, the judges' decision was inexplicably given to Buckley. Despite the recent loss, de Jesus remains one of the top fighters to keep an eye on in New England.
The Skinny
Seven fights into his career, de Jesus has shown he has the tools of a fighter with three times as many pro contests. "The Brazilian Bad Boy" has competed at a high level, never looking out of place or overmatched by any means. His upcoming bout against massive welterweight Jesse McElligott at Bellator 194 on Feb. 16 will be a crucial one. The skills are there, and with a couple more consistent wins under his belt, it is quite possible Bellator will add him to its roster for the long term.
4. Richie Santiago
6-0 Flyweight | 25 years old | Milford, MA
CES MMA up-and-comer Richie Santiago unquestionably would be the best flyweight in the region if it weren't for Carlos Candelario. The speedy scrapper has wooed New England MMA fans with his exciting fighting style and comeback performances since his debut in late 2016.
Entering 2018, Santiago is riding a six-fight winning streak — undefeated in his professional career. With the aforementioned Candelario recovering from knee surgery, CES MMA could potentially host its best flyweight fight in history in the coming months. (Not to mention these two are not fans of one another!)
The Skinny
Santiago is well-rounded offensively. He has both the power to knock you out and the discipline and finesse to submit you in the blink of an eye. However, being deemed a "comeback artist" isn't all it's hyped up to be. You have to not only display high levels of persistence but also take a lot of damage. With a few defensive tweaks here and there, Santiago is set to make a run at achieving a UFC contract — a feat he is certainly on pace to accomplish.
3. Dinis Paiva
11-6 Featherweight | 29 years old | East Providence, RI
Looking at it on paper, Dinis Paiva's win-loss record isn't the greatest. When you delve deeper into the details however, you realize it's extremely misleading. In unprecedented fashion, all 17 of Paiva's professional fights have come under the CES MMA banner.
This not only makes him loyal but also extremely polished. CES MMA is no joke, and there's something to be said about competing at such a high level for your entire regional career. On top of that, Paiva kicked off his career at 3-5. If you do the math, you realize this means Paiva has won eight out of his last nine bouts — and he hasn't lost in over two years.
The Skinny
After a rough start to his career, "Sweetbread" appears to be a bit of a late bloomer. In his last handful of bouts, he has not only walked away victorious but also put on dominant performances in the process. With a blue-collar fighting style and one of the largest fan bases in New England, Paiva seems like a perfect candidate for this summer's "Contender Series."
2. Joe Giannetti
6-0 Lightweight | 22 years old | Plymouth, MA
An upcoming contestant on season 27 of "The Ultimate Fighter," Joe Giannetti has the chance to break through into the mainstream. Giannetti is in no way your average "Joe" — the 22-year-old fighter may have the highest potential ceiling out of any combatant in New England.
Despite starting off his professional career a bit green, it has been apparent from the start all of the tools are there. While his striking is flashy and technical, Giannetti's bread and butter is the work he does on the ground.
The Skinny
Potential, potential, potential — that's what Giannetti brings to the table. His chokes and armbars are gruesome, leaving opponents very little margin for error. On the feet, Giannetti has an aesthetically pleasing style reminiscent of a mix between Conor McGregor and Stephen "Wonderboy" Thompson.
Regardless of whether the fight hits the ground or stays standing, Giannetti's bouts are worth the watch, time in and time out. Even if he doesn't go far in the upcoming tournament, expect Giannetti to only get better from his experience on one of the most legitimate seasons of "The Ultimate Fighter" in recent memory.
Watch Giannetti vs. Keenan Raymond from Cage Titans 35: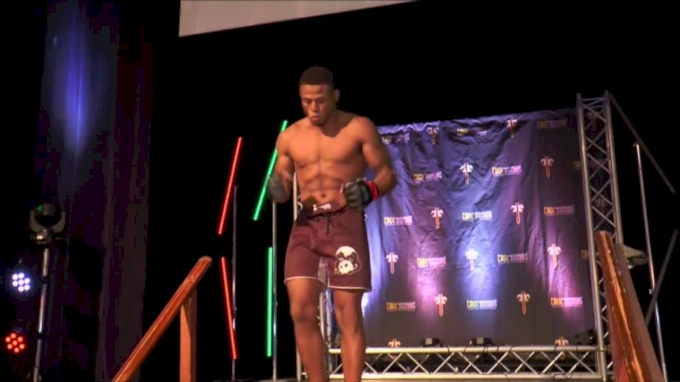 Unlock this video, live events, and more with a subscription

! Get Started

Already a subscriber? Log In
1. Carlos Candelario
7-0 Flyweight | 26 years old | Hartford, CT
At 26 years old, the sky is the limit for Connecticut's Carlos Candelario. The Underdog MMA product isn't just a young fighter with potential, he's fought tough competition and has displayed the mental fortitude of a seasoned veteran. Under contract with CES MMA, Candelario has gone undefeated in his professional career, winning his first seven bouts stretching back to early 2015.
Candelario's most recent performance under the CES MMA banner ended in a mere 72 seconds, earning him a shot on "Dana White's Tuesday Night Contender Series" this past summer. Standing across the cage from Candelario was former "The Ultimate Fighter" contestant (and fellow undefeated fighter) Ronaldo Candido.
Despite tearing his ACL in the bout, Candelario was able to hand Candido his first professional loss, winning via unanimous decision. UFC matchmaker Mick Maynard was so impressed that he offered Candelario a second chance on the show the next morning. Candelario, needing surgery on his knee, reluctantly turned down that offer.
The Skinny
Possessing a great wrestling background, Candelario has rounded all facets of his game since debuting three years ago. "The Cannon," as he is aptly nicknamed, has built the power in his hands and has vastly improved his defense as well.
His ability to fend off high-level black belt Ronaldo Candido on the ground — and to threaten submissions of his own — shows he can compete with the best on the ground. Most importantly, Candelario has shown his ability to battle and to overcome adversity. This skill is rare of someone so early on in his career.
Expect to see Candelario in the UFC by the end of 2018 — he's good enough to fight there now. Any fights prior to a UFC contract will only be an added bonus.
Honorable mentions
CES MMA's Nate Andrews, Greg Rebello, and Rico DiSciullo are certainly on the UFC's radar, but they are all over 30 years old and therefore didn't make the age cutoff for this list.
Gary Balletto Jr., Tim Caron, Justin Sumter, Vokva Clay, Ryan Sanders, Leon Davis, Sean Lally, and Don Shainis were also considered and are fighters to watch in 2018.
---
By Nolan King