UFC 230: Daniel Cormier vs. Derrick Lewis
UFC 230 Road Map: How We Got To Daniel Cormier vs. Derrick Lewis
UFC 230 Road Map: How We Got To Daniel Cormier vs. Derrick Lewis
The road to the UFC 230 main event was long and winding. Jon Jones was involved. Stipe Miocic was involved. Damon Martin breaks it down.
Oct 10, 2018
by Damon Martin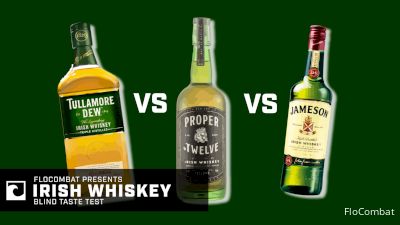 We're still working on that. Card's great and obviously we're waiting for that perfect fight to slide right as the headliner there. When have we not delivered at Madison Square Garden. We have the No. 1 and the No. 3 all time gate at Madison Square Garden. We will deliver.
– UFC President Dana White addressing the UFC 230 main event (Aug. 3, 2018)
Ever since the UFC helped spearhead the drive to legalize mixed martial arts in the state of New York, the promotion has promised to deliver some of the biggest cards possible to the Empire State.
For the past two years, those promises have been kept, with the debut card in November 2016 featuring three title fights including Conor McGregor becoming the first ever simultaneous two-division champion in company history when he knocked out Eddie Alvarez in the main event.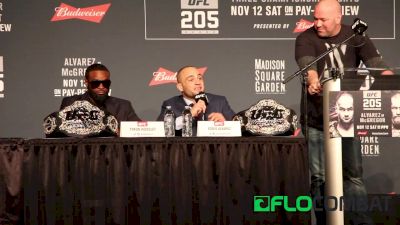 Last year saw Georges St-Pierre make his long-awaited return to the UFC after nearly four years away, as he submitted Michael Bisping to become middleweight champion.
So it wasn't a surprise that UFC President Dana White expected to deliver another blockbuster to New York for UFC 230 Nov. 3 in Madison Square Garden.
When the co-main event between Nate Diaz and Dustin Poirier was announced at that same press conference in August, just about everybody was on the edge of their seats expecting a huge headliner. If Diaz vs. Poirier took the No. 2 slot, what could top that?
Unfortunately, the UFC was never able to deliver that massive main event.
In fact, the UFC didn't even have a headliner until just a day ago, when a heavyweight title fight was cobbled together with champion Daniel Cormier taking on Derrick Lewis, who was just 72 hours removed from a three-round war with Alexander Volkov at UFC 229.
Also confirmed directly with Daniel Cormier he's accepted the Derrick Lewis fight at UFC 230 on Nov. 3 in Madison Square Garden.

— Brett Okamoto (@bokamotoESPN) October 9, 2018
But how exactly did we get here?
The history of the UFC 230 main event goes back to White's proclamation about a blockbuster headliner for the card in New York. At the time, nothing had been decided and there was no confirmation about what fight would ultimately serve as the main event.
Following UFC 225 in June, the main event appeared to be headed toward a showdown between welterweight champion Tyron Woodley and interim champion Colby Covington. The former teammates had engaged in a bitter war of words, and Covington had specifically targeted the Nov. 3 card for that title fight.
Unfortunately, the UFC desperately needed a main event for their September pay-per-view in Dallas, Texas, and the offer was made to both Woodley and Covington to move their fight to that date instead.
Unfortunately, Covington was just weeks removed from a five-round battle against Rafael dos Anjos and had already scheduled surgery to repair damages to his sinus cavity that would prevent him from competing in September.
Related: Covington tells Woodley not to 'f*ck up' their money fight
Because the UFC needed a main event, they ultimately put Woodley in a title fight against British slugger Darren Till instead. While UFC 228 was saved, the promotion was no closer to finding a headliner for the UFC 230 card in November.
Enter Jon Jones
Jones had been suspended since July 2017 when he tested positive for a banned substance following his knockout win over Cormier at UFC 214. For more than a year, Jones had been dealing with USADA (United States Anti-Doping Agency) to try to reach a decision for his doping violation.
Finally, on Sept. 19, a resolution was finally announced after an independent arbitrator determined Jones should receive a 15-month suspension for his anti-doping policy infraction, which meant he would be cleared to fight after Oct. 28.
Almost immediately, the speculation started that Jones would then headline UFC 230 in New York. It all made perfect sense considering Jones is a New York native and the end of his suspension coincided with the UFC 230 fight card.
Hot damn. Jon Jones just slung some major ? toward DC on Instagram. ? pic.twitter.com/3if0yMYDxk

— FloCombat (@FloCombat) September 28, 2018
White then shot down that possibility too, saying Jones wasn't in fighting shape and would require more time to get ready to compete again with plans to have him return in early 2019.
Despite that declaration, sources have told FloCombat that there were absolutely tentative plans in place for Jones to return and to headline that card in New York. Ultimately, a fight never came together and the UFC was left scrambling once again for a main event.
It was around this time that Diaz and Poirier both released messages on Twitter saying they were competing for a new 165-pound title that was being created for their fight. Unfortunately for them, no such plans ever actually existed, and the UFC quickly shot down that idea while simultaneously declining to make Diaz vs. Poirier a five-round main event.
Ufc just told me that Dustin doesn't want to fight at 165lbs
I b bak next year ...✌?

— Nathan Diaz (@NateDiaz209) September 28, 2018
In the midst of all this craziness, another main event idea was reportedly floated, with Covington returning at UFC 230 to face Nick Diaz. Again, that matchup never got past the early stages of discussion.
The search continued for a main event until the promotion finally decided to put Valentina Shevchenko against former The Ultimate Fighter finalist Sijara Eubanks to determine a new women's flyweight champion.
The blowback for that fight announcement was immediate, and even UFC color commentator Joe Rogan didn't understand the logic behind that matchup.
"No offense, but I don't even know who Sijara Eubanks is and I'm the commentator for the UFC," Rogan said just after the announcement was made.
Valentina Shevchenko vs Eubanks

"Yeah cause that gets my dick harder than Dustin poirier vs Nate Diaz" #UFC230 #YouGotSomeNerve pic.twitter.com/la8Mwhwfgm

— Dan From Oregon (@DanFromOR) October 2, 2018
In addition to the lack of enthusiasm about the main event, the co-headliner between Diaz and Poirier was also in jeopardy. Diaz had been rather vocal on social media about facing Poirier at a catch weight rather than fighting at 155 pounds, but the UFC wanted no part of it.
Add to that, Diaz had never gotten past the announcement of his fight and then at the close of the same press conference the UFC surprised everybody by confirming that his old rival Conor McGregor was returning against Khabib Nurmagomedov in October. From that moment on, Diaz never seemed like a lock to actually compete at UFC 230, and that was definitely a concern that was raised privately at the UFC with the card drawing nearer.
Stipe Miocic Returns?
As the hunt was still on for a main event, former UFC heavyweight champion Stipe Miocic had reached out to the UFC to offer his services for a short-notice rematch against Cormier to headline the card at Madison Square Garden.
Miocic, who was the longest reigning heavyweight champion in UFC history, had lost his belt back in July, but he anxiously awaited the chance to get a second shot at Cormier. Miocic's manager Jim Walter confirmed that the former heavyweight king made the offer to face Cormier on short notice, but apparently the UFC wasn't interested in making that rematch for Nov. 3.
"We were in talks to headline and help save that card, but DC was never offered as an opponent and was unavailable," Walter said in a statement sent to FloCombat. "Stipe would fight DC anywhere or any time—no questions asked. Stipe looks forward to getting his belt back."
While Miocic waited for his second chance at Cormier, the UFC opted to go another route by instead pursuing Lewis, who was just hours removed from a grueling battle against Alexander Volkov that ended with a last-minute knockout. Lewis had absorbed a lot of punishment through the first two rounds before rallying back to get the win, leaving many still scratching their heads at the pairing.
Meanwhile, Cormier had been dealing with a hand injury that he had previously stated would keep him from competing at UFC 230. While sources say Cormier's hand isn't exactly 100 percent, he was healthy enough to get cleared and take the fight Nov. 3 to help save the UFC 230 main event.
With Lewis on board and Cormier cleared to fight, the UFC finally had a main event, and the new heavyweight championship bout was announced Tuesday as the headliner for the card in New York via ESPN.
Following the announcement of that fight, Shevchenko was yanked from her bout against Eubanks and placed back into a separate matchup against Joanna Jedrzejczyk in the co-main event for UFC 231 in December.
I asked Dana White via text if this means he'll move Valentina Shevchenko back to Toronto, against Joanna Jedrzejczyk. He responded "yes."

— Brett Okamoto (@bokamotoESPN) October 9, 2018
Eubanks was none too pleased her title fight had been signed and then cancelled within just a few days, but the UFC opted for the flyweight championship to return to the card Dec. 8 in Toronto. Eubanks would instead draw Roxanne Modafferi in a rematch, keeping her a part of the UFC 230 fight card.
Sadly just a few hours later, the co-main event scheduled for UFC 230 was scrapped after Poirier suffered an injury in training that forced him out of his fight against Diaz.
Breaking: Dustin Poirier has suffered an undisclosed injury, per multiple sources. He is off UFC 230 co-main event against Nate Diaz in New York.

— Brett Okamoto (@bokamotoESPN) October 10, 2018
Now with tickets already on sale, the UFC has a heavyweight title fight set as the main event, with Cormier currently sitting as an 8-to-1 favorite over Lewis.
It's been a long and winding road to finally end up at Madison Square Garden, but the main event is set, and the UFC is undoubtedly hoping for no further turmoil between now and Nov. 3.