UFC 228: Tyron Woodley vs. Darren Till
UFC 228: Colby Covington Hopes Tyron Woodley Doesn't 'F*ck Up' Money Fight
UFC 228: Colby Covington Hopes Tyron Woodley Doesn't 'F*ck Up' Money Fight
UFC interim welterweight champion Colby Covington sends a warning to Tyron Woodley ahead of his UFC 228 title defense vs. Darren Till.
Aug 29, 2018
by Damon Martin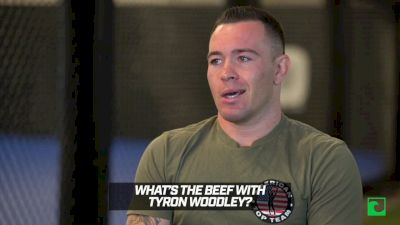 Colby Covington isn't oblivious to why Tyron Woodley will fight Darren Till Sept. 8 at UFC 228.
While he was barely two months removed from a five-round decision win over Rafael dos Anjos, Covington was headed for surgery to clear up some severe breathing problems he had as a result of sinusitis and a deviated septum.
The timing couldn't have been worse, as Covington was then offered the fight against Woodley at UFC 228 in September. As intense as his rivalry with Woodley has been, Covington knows the build up to the fight would have made a pay-per-view offering even bigger, but with options limited, the UFC ended up making a different fight instead.
Now, with Woodley facing Till at UFC 228, Covington says the entire situation will ultimately be a bad idea because he believes the pay-per-view is going to bomb.
"It's short sighted. That fight's not going to do 100,000 buys. Mark my words. If it does 100,000 buys, it will barely be over that," Covington told FloCombat. "If they would have waited a couple of months, it's going to do a minimum of 500,000 buys."
While Covington ultimately understands why the UFC did what they did, he's still baffled by the decision.
"I don't know why they wanted to rush it, but unfortunately they needed a main event for that Dallas card 'cause that women's fight, no one knows who they are," Covington said. "No one even knows they're fighting. I don't even know what the girls' names are and I don't care about that fight. So they needed a main event and everybody else is sucking on their thumbs and not ready to make the UFC and MMA great again.
"They had to put Tyron out there since he's been faking injuries and hanging out in Hollywood like a little liberal soy boy."
Yo Darrell, lay off the cake junior! .@darrentill2 #UFCliverpool #tillsburydoughboy pic.twitter.com/a1BSlM0xdq

— Colby Covington (@ColbyCovMMA) May 28, 2018
In theory, the winner of Woodley vs. Till will move on to face Covington next, as UFC president Dana White confirmed he's still next in line for a title shot after winning the interim belt back in June.
Of course, nothing is guaranteed because Till has failed to make the welterweight limit in two previous fights, and there's growing concern he may not hit the championship mark ahead of UFC 228.
Meanwhile, Woodley has said even if Till doesn't make weight, he'll still take the fight even if his title isn't on the line.
The problem is it's still a fight, so Till could miss weight and end up beating Woodley, which would almost assuredly put a nail in the coffin of a potential showdown against Covington.
That's why Covington isn't ready to pick a winner in the UFC 228 main event, but he hopes Woodley knows how much money he'd be sacrificing with a loss to Till.
"I don't know who's going to win but I do know who's going to lose, and that's the fans," Covington said. "They're really going to lose with that fight. I hope Tyrone [sic] Woodley doesn't f*ck this up. That's the money fight. We've got a real beef. We used to train at American Top Team and I whooped his ass and he hasn't been back since 'cause he knows I'll whoop his ass again.
"I hope he doesn't f*ck this up and f*ck up this money fight but I'll tell you who loses in all of this and that's the fans."