UFC 229: Khabib Nurmagomedov vs. Conor McGregor
Examining The Mental Battle Between Conor McGregor & Khabib Nurmagomedov
Examining The Mental Battle Between Conor McGregor & Khabib Nurmagomedov
Mindset Coach Mike Moor breaks down the mental battle between Khabib Nurmagomedov and Conor McGregor in detail ahead of UFC 229.
Oct 6, 2018
by FloCombat Staff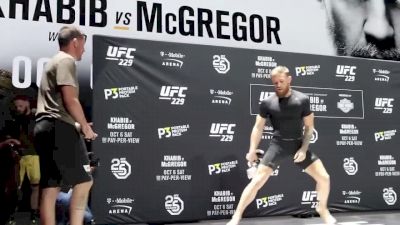 Ladies and gentlemen, welcome to the Main Event of 2018 and arguably one of the most anticipated fights of all time. The champ-champ, the trash-talking king Conor McGregor faces the undefeated and relentless UFC lightweight champion Khabib Nurmagomedov Saturday at UFC 229.
With two opposing styles that have each proven effective at high levels, it's tough to say which man will prevail. Does Nurmagomedov draw from his Dagestani grappling roots and maul McGregor like he did to Edson Barboza (and everybody else)? Does McGregor's footwork and left hand silence the critics once and for all?
Maybe neither option materializes.
While anything can happen in MMA, the winner of this fight will likely be the one who wins the mental battle with a consistent intensity and pressure from bell to bell. Right now, Nurmagomedov is ahead of that curve.
Here's why.
Conor Loses His Deadliest Weapon
Despite the mental brilliance of Conor McGregor, this fight presents an interesting dilemma for the Irish star. For the first time, his opponent is going to be unfazed by the mind games and the extreme confidence that has worked so well against everyone else.
Remember the psychological destruction of Jose Aldo before their fight at UFC 194? How about the mental wear-and-tear on Chad Mendes throughout their actual fight? People have almost become more scared of McGregor's mind games than his left hand at this point—and for good reason.
You know who is not scared of either of things? Khabib Nurmagoemdov—a seemingly emotionless mercenary hired to smash and maul his opponents.
What Happens When The Bully Can't Use Bully Tactics?
McGregor reminds me of Joanna Jedrzejczyk a bit. The former UFC strawweight queen would use her trash talk and confidence to break her opponents before the fight—and it would work!
The only person who was unfazed by those tactics to date is the only person to beat her not once but twice—Thug Rose Namajunas.
Anderson Silva, one of the all-time greats, would taunt his opponents in the cage and capitalize on their emotional response. The only person who he didn't fall into his trap was Chris Weidman who smashed Silva twice and essentially put an end to Silva's career.
When fighters can avoid getting personally invested and they can stay out of this web of emotions, they take a huge step toward winning the fight.
Time for @TeamKhabib to prove this true tonight at #UFC229 pic.twitter.com/6s9yrcrDVH

— Martial Arts Mindset (@mindset4mma) October 6, 2018
Khabib Nurmagomedov: Too Aggressive, Too Relentless
There are six steps to breaking your opponent, and Nurmagomedov is a master of all them.
He would be the pound-for-pound king of being relentless with the high pace and theconstant pressure he brings. Traditionally, McGregor is strong in the early rounds but tends to fade, so if Nurmagomedov can keep his chin clean, he can drag his foe into deep water and break him.
In the Mendes fight, McGregor was getting destroyed by Mendes until his gas tank faded. Nurmagomedov won't get tired. He is the ultimate predator fighter with no fear of losing—just a laser focus on doing harm to his opponents.
Don't Count Conor Out
Both physically and mentally, Conor McGregor is at the top of his game, and he can knock out anyone with his clean footwork and that left hand.
I don't see him winning the mental battle or surviving in the late rounds, but at any point, he has the physical tools to get the job done. That cannot be denied.
MINDSET MIKE'S PREDICTION
If Nurmagomedov can avoid a McGregor knockout, he will enter full smash mode and will apply a pace and pressure that will be too much for Conor to handle. He will not be bothered by any of McGregor's mind games and will make this look like Edson Barboza Part II—complete devastation.
He will leave with the belt and with McGregor's soul.
---
Mindset Mike is the director of Martial Arts Mindset, a systematic mindset training program used by many professional fighters in the UFC, Bellator, Legacy, Invicta, and other major promotions. For more information on the program or the concepts presented, sign up for a FREE trial session at www.martialartsmindset.com.
Follow on Twitter at @mindset4mma, @wrestlingmindse, and Instagram at @mindset_mike, @martialartmindset, and @wrestlingmindset.