UFC 223: Khabib Nurmagomedov vs. Al Iaquinta
Mindset Monday: How Rose Namajunas Beat The Unbeatable—Twice
Mindset Monday: How Rose Namajunas Beat The Unbeatable—Twice
What separates UFC strawweight champ Rose Namajunas' mindset from the pack? Mike Moor investigates and explains.
Apr 9, 2018
by FloCombat Staff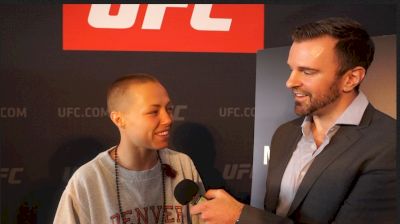 By Martial Arts Mindset for FloCombat
---
No one can deny the value Rose Namajunas' mindset has played in her dethroning of Joanna Jedrzejczyk, especially after her recent victory in their UFC 223 rematch.
Prior to their first fight at UFC 217 in November, "Thug Rose" was a heavy underdog. Among the psychological warfare used by Jedrzejczyk were jabs at Namajunas' troubled childhood, her mental weakness, and everything in between.
Through it all, Namajunas seemed unscathed. But the UFC strawweight queen doesn't have an ice-cold heart; she has a well trained mind.
"It's just me that I'm fighting against. Your mind is just another muscle that you can train and get stronger," Namajunas said after their first fight.
Finding and owning a mantra, avoiding the hype and fan mentality, and fighting for the purpose (having fun) were among the key attributes to the winning mindset of Namajunas.
Let's take a deeper look at how she accomplished what she did and what we can learn from it.
FIND YOUR MANTRA(S) & SAY THEM DAILY
During training, during the fight, and even during the verbal attacks at media events, you could see Namajunas mumbling words she would dub her "mantra," under her breath: "Confidence, Conditioning, Composure, Content—I am a Champion."
This not only allowed her to stay calm under pressure, but more importantly, it also allowed her to stay focused on her objective. That's the definition of a predator fighter.
Related – Mindset Monday: Developing A Predator Mindset
Autosuggestion, similar to positive affirmations, is the hypnotic or subconscious adoption of an idea that one has originated oneself, i.e. through repetition of verbal statements to oneself in order to change behavior.
Repeating affirmations or principles is like doing mental reps—the more you do, the stronger you feel about them.
This does one of two things: It either reaffirms a deep conviction in yourself, or it programs/trains your unconscious mind to believe something that your conscious mind is not yet ready to believe. It can also provide your source of calm amid chaos.
Actionable Advice:
Develop and use daily affirmations to boost confidence and composure. Be sure to include affirmations for fighting (or whatever your sport/career is) and life. Say them every day and anytime you need to center yourself.
AVOIDING THE HYPE & FAN MENTALITY
You can either be a competitor or a fan. You can't be both.
That means fighters must have a blatant disregard for records, rankings, or media drama associated with their fight/opponent. In this case, I'm specifically referring to the hype regarding Jedrzejczyk being unbeatable, as she had destroyed anyone that came in her way.
Additionally, Jedrzejczyk was notorious for (and successful through) the psychological warfare she would play on her opponents. Namajunas' coach Trevor Wittman actually credited Rose's loss to Carla Esparza to the coaches getting caught up in the hype during the training camp.
"I don't think Rose lost in that fight," he said (transcription via Bloody Elbow). "She got submitted and the choke was given to Carla. For me, I felt like we were cheerleaders and hype men going into that fight. I felt like I led her into a war and I made her believe it wasn't going to be that tough of a fight."
Actionable Advice:
We must not only recognize the hype we engage in and the hype that is around us but have a game plan on how to deal with it. Prey fighters have fallen victim to Jedrzejczyk's mind games. Namajunas, a true predator, did not because she had a plan: to repeat her mantra to stay calm and focused on herself.
LIVE & COMPETE WITH PURPOSE
We tend to underachieve when our purpose is based on an outcome like winning or not losing.
We tend to overachieve and thrive in tough times when our focus is based on principles and process/performance instead of an outcome. If you listened closely to Namajunas' coaches between rounds, you heard Wittman ask if Rose was having fun and encouraged her to "go out there and have fun; move your feet, keep throwing your combination, but have fun because you fight for a purpose; that's what champions do!"
If your purpose is to have fun and enjoy yourself during your fight, it is much easier to remain calm, focused on the process/performance, and be present in the moment.
Namajunas lives her life this way, which is why it is easy for her to fight this way.
Actionable Advice:
Define your purpose. What is your "why"? This is not just in fighting but in life as well. Also, list why you love to fight (or anything). Those, combined with a mantra of your own, will allow you to compete more freely, to enjoy the process, and to push through the hard times.
In between rounds, you heard Rose Namajunes's coach, Trevor Wittman, talking about fighting for a purpose.

These are the principles and purposes for which our athletes fight for! pic.twitter.com/r28klUEDMU

— Mindset Mike (@mindset_mike) April 9, 2018
Namajunas has proven the mind is not just a powerful tool but also a deadly weapon. You must drill your mental reps as much as your physical reps if you want to be successful at the highest levels.
---
Mike Moor is the director for Martial Arts Mindset, a systematic mindset training program used by many professional fighters in the UFC, Bellator, Invicta FC, and other major promotions. For more information on the program or the concepts presented, sign up for a free trial session at www.martialartsmindset.com