2018 Ring of Combat 65
Watch Louis Gaudinot, 3 Title Fights At Ring Of Combat 65 On FloCombat
Watch Louis Gaudinot, 3 Title Fights At Ring Of Combat 65 On FloCombat
Ring of Combat 65 brings three title fights, UFC vets, hot prospects, and more live to FloCombat Friday, Sept. 21. Full details, how to watch here.
Sep 20, 2018
by Nolan King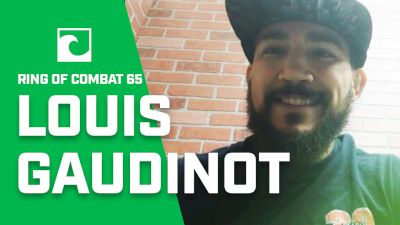 This Friday, Sept. 21, one of the most talent-filled promotions in the Northeast returns, as Ring of Combat 65 takes place at the Tropicana in Atlantic City, New Jersey.
The card will air live in its entirety right here on FloCombat starting at 8:30 PM ET.
Watch Ring of Combat 65 LIVE on FloCombat
Champion vs. Champion Main Event
In the main event, top Northeast featherweights collide with potential UFC implications hanging in the balance. Ring of Combat featherweight champion Bill Algeo (10-3) looks to defend his title for the second time against Maverick MMA king Scott Heckman (27-8).
The 29-year-old Algeo has won nine of his last 11 fights, with his lone losses coming against stiff competition in UFC veterans Jared Gordon and Shane Burgos. Ranked No. 3 in New Jersey, No. 4 in Pennsylvania, and No. 11 in the entire Northeast, Algeo's stock is high, and a win over Heckman could propel him to the next level.
That said, Alego's opponent, the 34-year-old Heckman, continues to show age is nothing but a number. The Pennsylvanian has won seven fights in a row heading into his headlining bout Friday.
Three spots behind Algeo at No. 14 in Tapology's Northeast rankings, Heckman is similarly on the cusp of breaking into the mainstream. A win at Ring of Combat 65 will likely get him there—but he will need to be sharp and focused to top the red-hot Algeo.
Related: Scott Heckman full interview
Louis Gaudinot Returns
In the co-main event, UFC and The Ultimate Fighter veteran Louis Gaudinot (8-4) makes his first walk to the cage in over two and a half years. The New York-born bantamweight will have the opportunity to win Ring of Combat gold against undefeated Dante Rivera-underling Phil Caracappa (6-0).
Gaudinot stands as the last man to finish current top UFC bantamweight contender John Lineker, and his 8-4 record is somewhat deceiving.
Gaudinot's UFC losses came to Johnny Bedford in the TUF Finale 14, Tim Elliott at UFC 164 and Kyoji Horiguchi at UFC 182.
While Bedford is no longer with the UFC, Elliott and Horiguchi continue to shine. There's no shame in losing to them, and Gaudinot proved his skills after getting bounced from the big show, winning back-to-back fights for CFFC.
At 6-0 though, Caracappa found his stride as a pro, and he's impressed each time out. The No. 7-ranked bantamweight in the Northeast, Caracappa is a puzzle nobody has solved, and a win over Gaudinot could generate the attention he deserves.
On the flip-side, if Gaudinot can spoil Caracappa's run and extend his post-UFC winning streak to three, he may prove he's ready to step back into the Octagon once again.
Jeff Lentz vs. Tim Dooling
Gaudinot won't be the only TUF veteran competing on the card.
Earlier in the evening, Season 12 veteran Jeff Lentz (11-6-1) will square off against former Ring of Combat title challenger Tim "The Jaguar" Dooling (7-4) in a 150-pound catchweight super fight.
Lentz is responsible for UFC lightweight Jared Gordon's only loss outside the Octagon, defeating him via doctor's stoppage at CFFC 48.
Dooling, meanwhile, is just 1-2 in his last three, but a closer look at those losses takes some sting away.
He dropped contests to current UFC featherweight Julio Arce—who notched two impressive victories to kick off his UFC career—and Algeo, showing he only loses to the best of the best.
Does Lentz still occupy that category or will Dooling wipe him out Friday?
Sidney Outlaw Defends His Gold
In an unprecedented third title fight, Contender Series veteran Sidney Outlaw (10-3) graces the Ring of Combat cage with his smothering style. Standing in his way will be seasoned Polish veteran Krzysztof Kulak (31-15-2).
Philadelphia's Outlaw competed on Season 1 of Contender Series, and despite winning his bout against Michael Cora, he was not signed to the UFC roster.
Adding to his four-fight winning streak, Outlaw defeated Raush Mafio earlier this summer at Titan FC 50.
Watch Ring of Combat 65 LIVE on FloCombat
In a notable prospect showcase matchup, surging Illinoisan Said Yokub (5-1) meets former CFFC bantamweight title challenger Giorgi Kudukhashvili (3-1).
Competing just weeks ago at PFL 7, Yokub suffered his first loss in a spirited effort against Omar Nurmagomedov.