2018 Ring of Combat 65
Scott Heckman: First Bill Algeo At Ring Of Combat 65, Then Contender Series
Scott Heckman: First Bill Algeo At Ring Of Combat 65, Then Contender Series
Scott Heckman wants to make a statement vs. champion Bill Algeo Friday, Sept. 21, at Ring of Combat 65 on FloCombat. Then, he's ready for bigger things.
Sep 18, 2018
by Nolan King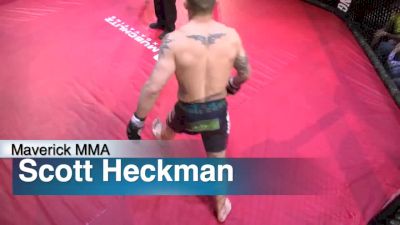 Unlock this video, live events, and more with a subscription!
Get Started
Already a subscriber? Log In
Friday, September 21, East Coast standout MMA promotion Ring of Combat brings arguably its strongest fight card ever to FloCombat with Ring of Combat 65. From top to bottom, hyped prospects, UFC veterans, and notable regional names are scattered throughout the event.
In the evening's main event, two of the Northeast's top regional featherweights collide as Scott Heckman takes on Ring of Combat's 145-pound champion Bill Algeo.
Watch Ring of Combat 65 LIVE on FloCombat
At 34 years old, Heckman has never felt better, currently riding a seven-fight winning streak. According to the Pennsylvanian, he is mentally and physically stronger than ever before.
In Heckman's case, age is simply a number.
"I feel like I'm in my prime right now," Heckman said in an interview with FloCombat. "I [used to think] I was in my prime at 27, 28, 29, into my 30's. But I'm a smarter fighter now. I'm a seasoned fighter. If you look at the past two years and my last seven fights, they've all been exciting."
Not only is Heckman putting on thrilling performances at a high level, he's displaying improvement with each outing.
"Every single fight, I've gotten better while taking on better competition," Heckman said. "My last guy was Ryan Cafaro. He was supposed to be this up-and-comer, which he is—he's going to do things later in his future, but that was supposed to be the next test. And I think hands down, I beat him up pretty well and got that unanimous decision.
"Age is how you want to play it. My body feels great and my mind feels clear and I'm focused. I'm having fun. The second I'm not having any fun, I can walk away, and I'll be okay with that."
Don't believe Heckman? He's already retired once before, when his competitive drive began to falter.
"I think I just needed a break from it," Heckman said. "Too much dealing with the politics. I never gave myself a break. If you look at my career, I just kept fighting, fighting, fighting—and then I got burnt out. I had two children, bought a house, so it was like, 'Let's spend family time.'"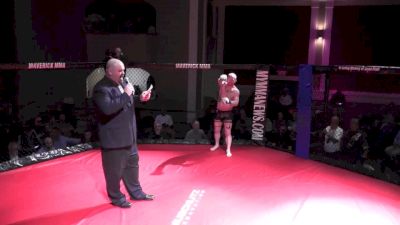 Unlock this video, live events, and more with a subscription!
Get Started
Already a subscriber? Log In
Now back and better than ever, Heckman made quite the push for himself to achieve UFC notoriety, winning six straight bouts since returning from his MMA hiatus. Heckman believes a win over Algeo at Ring of Combat 65 would be icing on the cake.
"This is an opponent which I should have fought years ago," Heckman said. "Maybe two years ago. But it's happening now, and I think it's the perfect time for both of us. We're at the point of our career where the next guy should go to the UFC."
Watch Ring of Combat 65 LIVE on FloCombat
While confident he'll walk away victorious, Heckman knows Algeo is no easy test. The 29-year-old Ring of Combat champion has been on a tear of his own, winning four out of his last five fights. He's Tapology's No. 3-ranked featherweight in New Jersey, No. 4 in Pennsylvania, and No. 11 in the entire Northeast, making him a sturdy test for the Northeast's No. 14-ranked featherweight Heckman.
"I think anybody at this point is going to be a tough matchup," Heckman, said. "It's going to be a war. It's going to be: Who breaks first?"
Should he defeat Algeo as he expects Friday evening, Heckman sees only one logical place to go next: the UFC—or at least a UFC-owned showcase.
"[With a win] there's no reason why I shouldn't have the opportunity or at least the chance to be on the Contender [Series], to show everybody what I can do," Heckman said. "I believe this is my time. Timing is everything and I think it's now."