Latest UFC Fight Announcements - April 16, 2018 Edition
Latest UFC Fight Announcements - April 16, 2018 Edition
FloCombat's Nolan King breaks down the latest UFC fight announcements, including CM Punk's return and much more.
Apr 16, 2018
by FloCombat Staff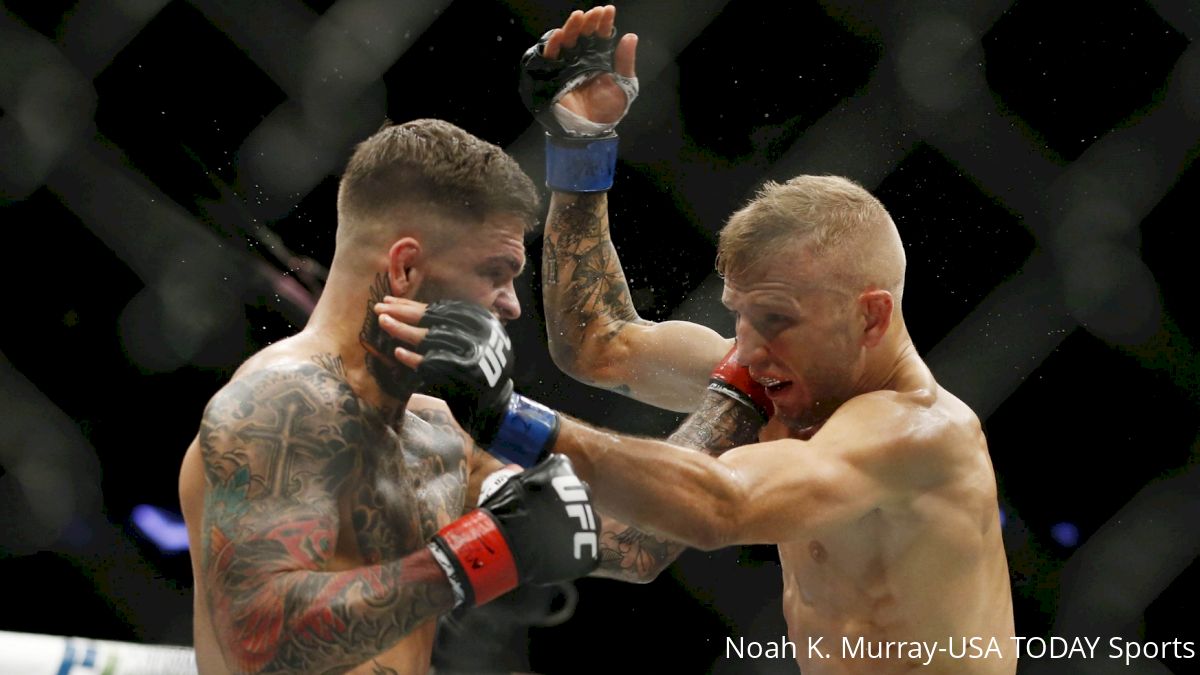 By Nolan King
---
With fight announcements breaking each and every day, it's hard to keep track of all the hustle and bustle in the world of mixed martial arts.
Luckily, here at FloCombat, we've got you covered. Following is a list of all the recent UFC fight announcements put out by notable outlets across the world.
Bouts are not confirmed by the UFC unless noted otherwise (*). Below, view the matchup announcements as well as a bonus list of fighter signings and releases.
May 19 - UFC Fight Night 129: Santiago
Featherweight Bout*: Gabriel Benitez (20-6, 4-2 UFC) vs. Humberto Bandenay (14-4, 1-0 UFC) - per MMA Fusion
Flyweight Bout*: Ray Borg (11-3, 5-3 UFC) vs. Brandon Moreno (14-4, 3-1 UFC) - per MMA Fighting
Featherweight Bout*: Enrique Barzola (14-3-1, 4-1 UFC) vs. Brandon Davis (9-4, 1-1 UFC)
May 27 - UFC Fight Night 130: Liverpool
Women's Flyweight Bout: Gillian Robertson (4-2, 1-0 UFC) vs. Molly McCann (7-1, 0-0 UFC) - per MMA Today
Bantamweight Bout*: Manny Bermudez (12-0, 1-0 UFC) vs. Davey Grant (8-3, 1-2 UFC) - per MMA Today
June 1 - UFC Fight Night 131: Utica
Welterweight Bout: Niko Price (11-1 1NC, 3-1 1 NC UFC) vs. Belal Muhammad (13-2, 4-2 UFC) - per Farah Hannoun
Bantamweight Bout*: Johnny Eduardo (28-11, 3-3 UFC) vs. Nathaniel Wood (13-3, 0-0 UFC) - per MMAnytt
Featherweight Bout*: Julio Arce (14-2, 1-0 UFC) vs. Daniel Teymur (6-1, 0-1 UFC) - per Utica Observer-Dispatch
Lightweight Bout*: Gleison Tibau (33-13, 16-12 UFC) vs. Desmond Green (20-7, 1-2 UFC) - per Utica Observer-Dispatch
Lightweight Bout*: Nik Lentz (28-8-2 1NC, 12-5-1 1NC) vs. Leonardo Santos (16-3-1, 5-0-1 UFC)
June 7 - UFC 225: Whittaker vs. Romero 2
Welterweight Bout*: CM Punk (0-1, 0-1 UFC) vs. Mike Jackson (0-1, 0-1 UFC) - per TMZ/Mike Jackson Twitter
Featherweight Bout*: Ricardo Lamas (18-6, 13-6 UFC) vs. Mirsad Bektic (12-1, 5-1 UFC) - per Combate
Women's Flyweight Bout*: Holly Holm (11-4, 4-4 UFC) vs. Megan Anderson (8-2, 0-0 UFC) - per Chicago Tribune
June 23 - UFC Fight Night 132: Singapore
Welterweight Bout*: Donald Cerrone (30-10 1NC, 20-7 UFC) vs. Leon Edwards (15-3, 7-2 UFC) - per MMA Fighting
Welterweight Bout*: Jake Matthews (13-3, 6-3 UFC) vs. Shinsho Anzai (10-2, 2-1 UFC)
Flyweight Bout*: Matt Schnell (10-4, 1-2 UFC) vs. Naoki Inoue (11-0, 1-0)
Light Heavyweight Bout*: Ovince St. Preux (22-11, 12-7 UFC) vs. Tyson Pedro (7-1, 3-1 UFC)
July 7 - UFC 226: Miocic vs. Cormier
Bantamweight Bout*: Raphael Assuncao (26-5, 11-2 UFC) vs. Rob Font (15-3, 5-2 UFC) - per Las Vegas Review-Journal
Light Heavyweight Bout*: Khalil Rountree (6-2 1NC, 2-2 1NC UFC) vs. Gokhan Saki (1-1, 1-0 UFC)
July 22 - UFC Fight Night 134: Hamburg
Light Heavyweight Bout*: Jeremy Kimball (15-7, 1-2 UFC) vs. Darko Stosic (12-1, 0-0 UFC) - per MMA Today
July 28 - UFC on FOX 30: Calgary
Featherweight Bout: Jose Aldo (26-4, 8-3 UFC) vs. Jeremy Stephens (28-14, 15-13) - per Combate
Women's Strawweight Bout: Randa Markos (8-5, 4-4 UFC) vs. Nina Ansaroff (8-5, 2-2 UFC) - per MMA Today
August 4 - UFC 227: Dillashaw vs. Garbrandt 2
Bantamweight Bout*: TJ Dillashaw (15-3, 11-3 UFC) vs. Cody Garbrandt (11-1, 6-1 UFC) - per ESPN
---
CONTENDER SERIES:
6/24 - Middleweight Bout: Kevin Holland (12-3) vs. Will Santiago (9-4) - per MMA Today
Signings:
Molly McCann – Flyweight (7-1 | Cage Warriors | Bournemouth, England)
Nathaniel Wood – Bantamweight (13-3 | Cage Warriors | London, England)
Mike Jackson – Welterweight (0-1 | Free Agent | Houston, Texas)
Departures:
Godofredo Pepey – Featherweight (13-6, 5-6 UFC) – released by promotion - per MMA Fighting