Mindset Monday: The Mental Edge Of Nick Newell & Other LFA 35 Winners
Mindset Monday: The Mental Edge Of Nick Newell & Other LFA 35 Winners
Mindset Coach Mike Moor breaks down the mental edge of Nick Newell and other LFA 35 winners, complete with onsite interviews and pictures.
Mar 12, 2018
by FloCombat Staff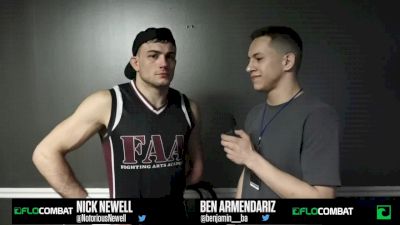 By Martial Arts Mindset for FloCombat
Legacy Fighting Alliance 35 brought an action-packed card from start to finish Friday in Houston, highlighted by the return of "Notorious" Nick Newell.
In addition to the display of their superior physical tools (technique, strength, and stamina), some of the winners at LFA 35 displayed clear signs of a mental edge throughout their fights to defeat the most important opponents: themselves.
Martial Arts Mindset Coach Mike Moor caught up with Newell and a few of the other LFA 35 winners in Houston to talk about their performance and their mindset.
NOTORIOUS NICK NEWELL'S MENTAL EDGE
"Hold yourself to a higher standard"
Nick Newell hasn't fought in over two years, and in that time he got married and opened up his own gym. For those of you who don't know, Newell was also born with his left arm ending just past his elbow.
Either one of those situations would have discouraged most athletes from coming out of retirement, let alone starting a career in MMA in the first place. But the difference between Newell and "most athletes" is that he holds himself to a higher standard.
In the 31-year-old's return to the cage for the main event at LFA 35, he was "tuned in," securing a first-round victory over Sonny Luque via a neck/face crank so vicious that it left bite marks on Newell's arm.
In an interview with Ben Armendariz for FloCombat, Newell said, "I squeezed so hard that I made him bite me; if he didn't tap, I would have broken his jaw."
Newell's willingness to dominate and destroy his opponents is a mindset that sets him apart and is shared by all top fighters.
Related: Mindset Monday - Developing a Predator Mindset
His impressive performance reminded MMA fans how great of a fighter he actually is, and combined with the fact that his only professional loss came at the hands of No. 6-ranked UFC lightweight Justin Gaethje, the MMA world went crazy on social media demanding what Newell and his camp have said all along: that he belongs in the UFC.
Adversity can either define you or you can define how it affects you. Newell has never been a victim of his physical circumstances. In fact, prior to his successful MMA career, Newell amassed over 300 victories at the high school level and in his college wrestling career at Western New England University.
Newell admits, "I do have disadvantages, but I'm not useless. I do the best job that I can to be the best version of myself. Sometimes you start a little farther back, but if you work a little harder, you can make it to the front."
With over a two-year layoff, Newell never felt a lack of confidence in his abilities.
"Confidence, you earn it, and I've already earned mine," he said.
Newell credits the motivation to re-enter the Octagon to his coaches' belief in him, his students' desire to see him compete, and most of all, his internal drive to be the best in the world.
Newell's Mental Edge at LFA 35
"Win or lose, I'm always a winner."
What that translates to is having perspective and a purpose bigger than just himself. Newell does not define his self-worth by his success or his failure in fighting. He defines it by the love and support that is around him all the time.
With the MMA community taking to all forms of social media advocating for Newell and his own desires to be the best in the world, how long and what will it take before we see Notorious Nick inside the UFC Octagon?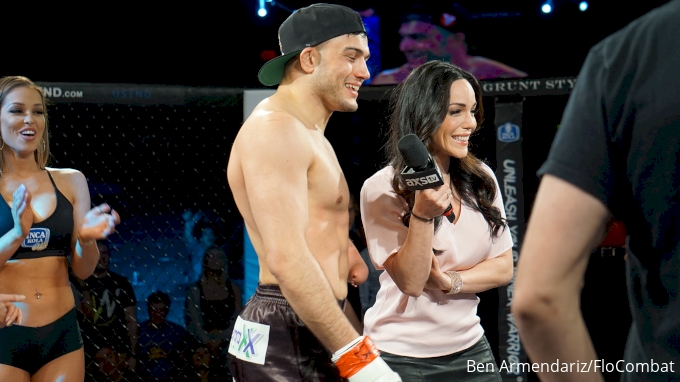 Photo Credit: Ben Armendariz/FloCombat
MENTAL EDGE OF OTHER LFA 35 WINNERS
See what other fighters had to say about how important their mindset was in their victories
---
Craig "Caveman" Grove (2-1)
"Mindset is above anything else in fighting."
#LFA35 winner Caveman Craig explains how he stays out of his own head.

Check out the full interview on Monday following my @FloCombat #MindsetMonday article about the Mental Edge of Fighters at LFA35@WrestlingMindse pic.twitter.com/7nBac2MKMg

— Martial Arts Mindset (@mindset4mma) March 12, 2018
Even as part of the un-televised undercard and the first fight of the night, Craig Grove's submission win over lightweight Fernando Cabrera was one of my favorite moments of the night. Why?
Besides the fact that a white belt coming off a one-year layoff submitted a brown belt Pan Am champion, Grove did it within seconds of reversing himself out of bad position.
That sort of calmness and predator instinct is not often seen by a 1-1 fighter.
Related: Mindset Monday - Overcoming Pressure Situations
In previous fights, Grove said he would get too pumped up, would let the little things get to him, and was constantly worried about losing.
Grove's Mental Edge at LFA 35
He said it repeatedly in his interview — this fight he focused on having fun and he didn't care about winning. When we can have fun, we tend to have no fear of losing or making mistakes and thus perform better.
---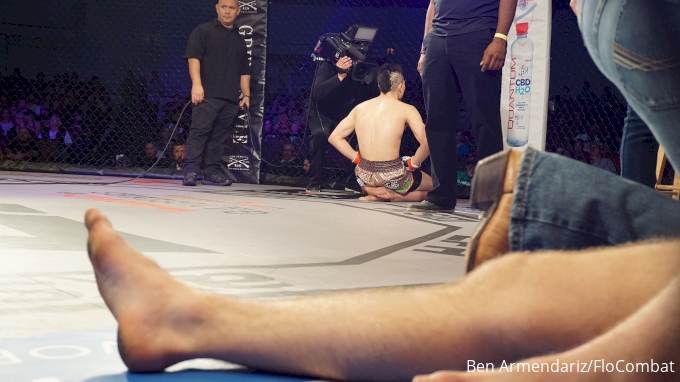 Leomana Martinez reacts to his knockout victory at LFA 35 while staff attends to his opponent, Casey Jones. (Credit: Ben Armendariz/FloCombat)
Leomana "Mana" Martinez (3-1)
"It's all mental. As long as you can defeat yourself, you can beat anyone in the world."
Martinez's brutal knockout victory over undefeated bantamweight Casey Jones exemplified the importance of mindset in the performance of both fighters.
Keeping forward pressure is something Mana mentioned four times during our interview, and he repeatedly said that was a key to his mindset coming into the fight. He also mentioned that he needed to "stay relaxed without getting too confident." Confidence is key to success, but overconfidence can destroy any fighter. Remember, the lion treats a deer no differently than a tiger — like a threat.
While a strength in Martinez's performance, mindset would contribute to the demise of his previously undefeated opponent as well.
In an Instagram post following the fight, Jones commented how he strayed from the game plan, which was to not exchange with Mana. Even great fighters like Jones can lose focus in the moment, and in the fight game, that can be all it takes.
Martinez's Mental Edge at LFA35
He believes that if he can defeat himself, he can beat anybody. How do you win the battle against yourself? Mana says you can do it by staying focused and sharp, by pushing yourself to the limits, and by keeping your eyes on how all the hard work will pay off.
---
Charles "Mr." Cheeks III (13-5-1)
"Press Forward."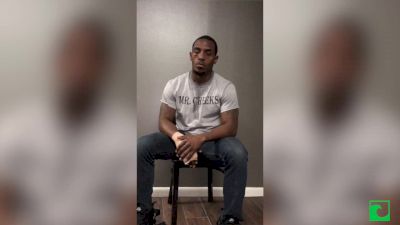 Mr. Cheeks' decision victory over featherweight Rivaldo Junior was yet another example of a big mismatch of jiu-jitsu experience that did not faze the winner.
Cheeks, a brand-new blue belt, defeated a seasoned black belt by sticking to the game plan, maintaining good position, and remembering "we're not in a gi and have to start standing, so he'll have to catch these hands before we get to the ground."
Similar to Mana, Cheeks' mindset and mantra can be summed up in two words: Press Forward.
A great example of that in his fight at LFA 35 came when Cheeks put Junior in a near stoppage situation against the cage that ended with Cheeks getting taken down to his back. Cheeks said he was able to maintain his composure after the near TKO when his killer instincts kicked in — he could see Junior's blood dripping down on the canvas. Like the true predator fighter he is, that gave him a second wind of confidence to get the job done.
Press forward is not only Cheeks' mindset in fighting but also the name of his gym, PRESS, which stands for Praise God, Relax, Evolve, Strike smart, Strength.
Cheeks' Mental Edge at LFA 35
No surprise here: press forward. The only time you get in a bad position is when you stop pressuring people or quit.
---
For more information on the Martial Arts Mindset Training Program and the concepts presented, visit www.martialartsmindset.com.
Martial Arts Mindset is a training program that is specific to combat sports and is used by UFC and professional fighters, Brazilian jiu-jitsu competitors, Olympians, and high-level athletes throughout the world.