UFC 220: Stipe Miocic vs. Francis Ngannou
UFC 220: Are We Forgetting Boop Master Volkan Oezdemir?
UFC 220: Are We Forgetting Boop Master Volkan Oezdemir?
Volkan Oezdemir heads into his UFC 220 co-main event vs. Daniel Cormier as a massive underdog. Is that wrong?
Jan 19, 2018
by Hunter Homistek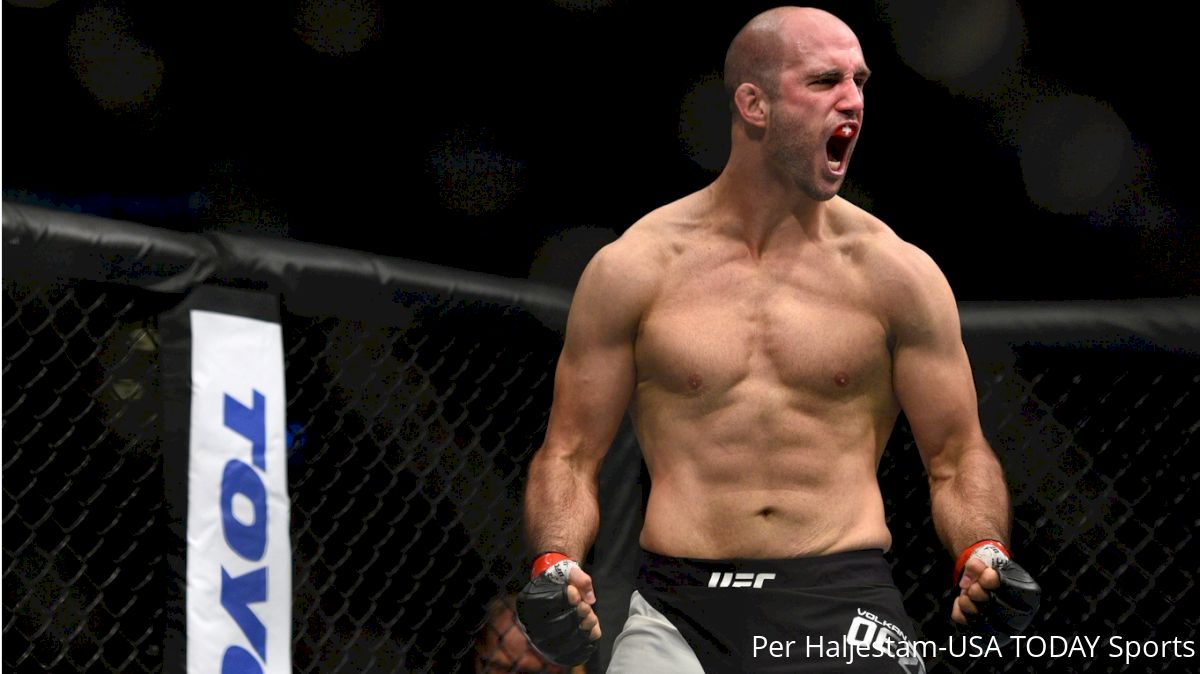 Volkan Oezdemir is a forgotten man heading into Saturday's UFC 220 fight card in Boston.
Atop the event sits a mammoth matchup between UFC heavyweight champion Stipe Miocic and challenger Francis Ngannou.
Miocic, with two title defenses to his name, has a chance to make history with a win over Ngannou. He would become the first UFC heavyweight in history to defend his strap three consecutive times, and he would do it over Ngannou, who, at this point, is more Godzilla than man.
We've showered the rising heavyweight with superlatives, crowning him the king of the big boys — if not Saturday then for sure soon after — before a punch has been thrown.
His name dominates headlines. His story transcends MMA. He looks the part. He's surprisingly calm and quiet, then, just as the bell rings, he's not. He's ferocious and deadly. He's gentle and thoughtful.
It's easy to get carried away when describing Ngannou.
Then, just below that matchup is a light heavyweight title bout, in which champion Daniel Cormier attempts to defend his 205-pound strap. In a hypothetical world where Jon Jones never existed, Cormier himself might be considered the greatest fighter of all time. He'd certainly be in the discussion.
At 19-1 with one no-contest, Cormier's resume is insane. He was 13-0 at heavyweight — taking out Josh Barnett, Frank Mir, and Roy Nelson, just to name a few — before dropping to 205 to conquer the light heavyweight elite.
However, Jones beat him at UFC 182, then he beat him again at UFC 214, only to have the latter victory overturned due to a little performance-enhancing mishap. Cormier is a wrecking machine, but it's tough to ignore the Jones fights, circumstances be damned.
Then there's Oezdemir.
Three-hundred words into an article about the man and his name appeared precisely twice. Fitting.
At UFC 220, we're treated to perhaps the best heavyweight champion ever, the scariest challenger in the history of challengers, an arguable GOAT... and Volkan.
The Swiss knockout artist out of Hard Knocks 365 just isn't on the same level of visibility as his peers in this four-man party. Oezdemir made his UFC debut in February 2017, rattling off three straight victories — and two solid knockouts — to earn this shot at Cormier in less than a year's time.
It is said, in fact, the man has "No Time," a point evidenced by his back-to-back sub-one-minute finishes of Misha Cirkunov and Jimi Manuwa.
Bloody Elbow's Michael Hutchinson detailed Oezdemir's climb beautifully in this video feature.
And about those finishes... When you watch Oezdemir, something doesn't click. It doesn't make sense. There's no reason his punches should put his opponents to sleep, yet he's busting out the pillows and blankets for some impromptu nap times at a steady clip.
If you're impressed by Ngannou, you should also be impressed by Oezdemir. Ngannou looks like he's throwing wildly, hefting every measurable unit of force toward his opponent's head. Oezdemir, though? Oezdemir is just tap, tap, tapping his foes to The Shadow Realm.
Pressed for the secret behind these mighty "boops," Oezdemir remains mum.
"It's a secret. That's it. The boop comes from the Almighty Gods," he told FloCombat in September.
Volkan Oezdemir — The Anatomy Of A Boop: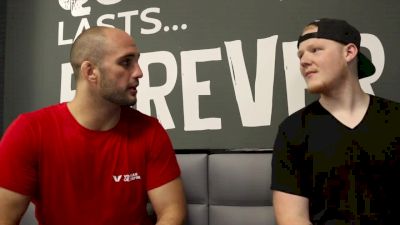 Ngannou's punches are terrifying, no doubt. His physique and his calm intensity only heighten that fear factor.
But for me, it's much, much scarier to see a guy like Oezdemir needing neither wind-up nor space to shut out the lights. He touches an opponent; they fall. You clinch him; he will hit you with a devastating short shot.
At 28 years old, Oezdemir plays an interesting part in the relatively old and shallow light heavyweight ranks. He's still improving, and he's the type of fighter — much like Ngannou — who gains serious momentum with each outing.
He boasts legitimate, funky knockout power. He's fun and engaging with his fans, and he's less than a year into his UFC career.
Cormier, meanwhile, isn't getting younger. The 38-year-old vet has been either knocked down, rocked, or finished in each of his last five fights.
Should we favor Oezdemir against an established all-time talent such as Cormier? Probably not. Cormier's wrestling is elite. His control is stifling. His chin, while potentially degrading, has eaten some bombs and held steady. He's the champion for a reason, and even if you defeat him, you'll probably have to walk through hell to do it.
But if we're dialed into the fact the UFC 220 main event comes down to who lands first, understand the same applies in the co-main.
Don't forget the power of the boop.