Frankie Edgar Fires Back At Max Holloway Ahead Of UFC 222
Frankie Edgar Fires Back At Max Holloway Ahead Of UFC 222
Former UFC lightweight champion and current featherweight title challenger Frankie Edgar shares his thoughts on his bout with Max Holloway at UFC 222.
Jan 9, 2018
by Duane Finley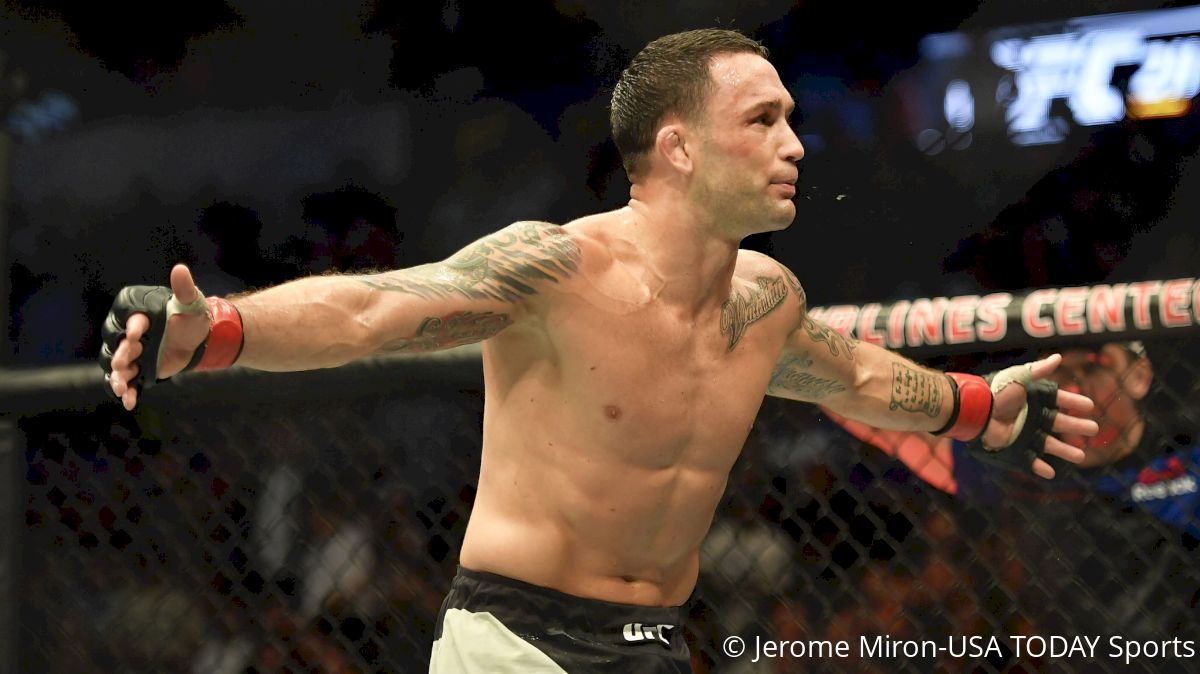 Frankie Edgar is heading into 2018 with a clean bill of health and championship gold on his mind.
The fighting pride of Toms River, New Jersey, was forced to watch last year's campaign come to a close on the sideline as an unfortunate injury suffered in training knocked Edgar out of his scheduled title tilt against Max Holloway at UFC 218 on Dec. 2.
The fight game is a chaotic and uncertain realm where few things ever work out as they should, and Edgar will be the first to admit the mound of frustration that arose when circumstance took his long-awaited shot at the featherweight belt out of his hands.
There was no guarantee the bout with Holloway would come back around to him. But that's precisely what has happened, and Edgar is fired up and ready to fulfill his championship aspiration in the 145-pound ranks.
The former lightweight champion and reigning featherweight king are slated to handle their business once and for all at UFC 222 on March 3 in Las Vegas. The scrappy veteran will be looking to dethrone the red-hot Hawaiian, and it's a challenge Edgar is more than up for.
"I have so many reasons why I feel like this is meant to be," Edgar told FloCombat. "I obviously wasn't thinking that way or being that optimistic when I got my face broken in practice. It felt like the world was crashing in around me, but I'm very happy things all still worked out because it all could have gone a much different way.
"Despite the things that happened everything pretty much stayed on track and I was able to still get this fight. That's why I feel like it's already written. I just have to go in there, follow through, and make it happen."
With his next test officially on the horizon, Edgar has begun his preparation to face an opponent in Holloway who has looked damn near invincible on his current 12-fight winning streak. Granted, the 36-year-old veteran Edgar was more than midway through his camp when his injury occurred, but the way he sees it, the more time the better when heading into a championship tilt.
"We are eight weeks out right now and that's perfect," Edgar said. "I was initially hearing the fight may go down in April but was happy to hear it is going down in early March. I got the word and said, 'Let's go!' It's obviously unfortunate how things worked out in the last camp, but I'm going to get there this time and get the job done.
"I was definitely excited to get the news and set this year off right. I'm good and ready to go. I had a great day today in training. I got promoted and earned the first degree on my black belt, and Marlon Moraes earned his black belt today as well. It was a great day for our team, and there's a lot of good energy in the gym right now."
While Holloway has run roughshod over a some of the best fighters the featherweight division has to offer, Edgar remains one of the biggest challenges the young champion has yet to face. And the same holds true for the Iron Army leader as well.
Both rely on different strengths to propel their respective games, and Edgar believes the matchup will make for an action-packed affair in Las Vegas.
That said, Holloway holds two wins over Jose Aldo, a man who has twice defeated Edgar inside the Octagon. This has painted Edgar into the familiar role of underdog and serves to provide that much more fuel and motivation for the scrap with Holloway.
"Styles definitely make fights and I love this matchup," Edgar said. "I'm hearing these people on the internet talking and asking how I'm going to beat him when I lost to Aldo. MMA math doesn't always work that way. I'm confident in my skills and I truly believe I'm still improving with each performance. I think that showed in my last fight because that was one of my strongest performances. I'm ready to go out there and have a defining fight with Holloway and he's the perfect guy for me.
"He's going to bring it. I'm not going to have to look for him out there, and it's going to be an exciting fight that's for damn sure.
"I've been doubted since day one," he added. "Before I even started fighting people were doubting me and I love proving them all wrong. Going out there and proving these losers who have never done anything in their lives wrong is almost better the victory itself."
While the upcoming bout between Edgar and Holloway is less than two months away, the buzz and excitement has already started to build. In an interview with FloCombat, Holloway took the lead and launched the first shots in his opponent's direction.
Edgar's history of success against Hawaiian fighters includes three wins over B.J. Penn, and the Waianae native Holloway was adamant that turning those tides will be part of his motivation heading into the fight. Holloway also made a play on Edgar's nickname "The Answer," saying he has some questions to bring on fight night.
Edgar not only had a reply for the standing champion but also stomped out any lingering mystery by revealing the end result to Holloway's inquiry.
"B.J. Penn and I have history, but [Holloway] is just another opponent, man," Edgar said. "He could be from Wyoming for all I care. It doesn't matter to me. I know he's a very tough competitor and he's the champion. He's been proving his worth as the champion, and that's going to make it all the more better when I go and get that belt from him.
"If he has questions he's coming to the right guy for the answers. I'm like 'Jeopardy' — 'What is... I'm gonna whoop that ass.' That's the answer he's coming to find."