UFC 222: Max Holloway Ready To Extend Blessed Era vs. Frankie Edgar
UFC 222: Max Holloway Ready To Extend Blessed Era vs. Frankie Edgar
UFC featherweight champion Max Holloway is ready to step in against Frankie Edgar at UFC 222.
Jan 9, 2018
by Duane Finley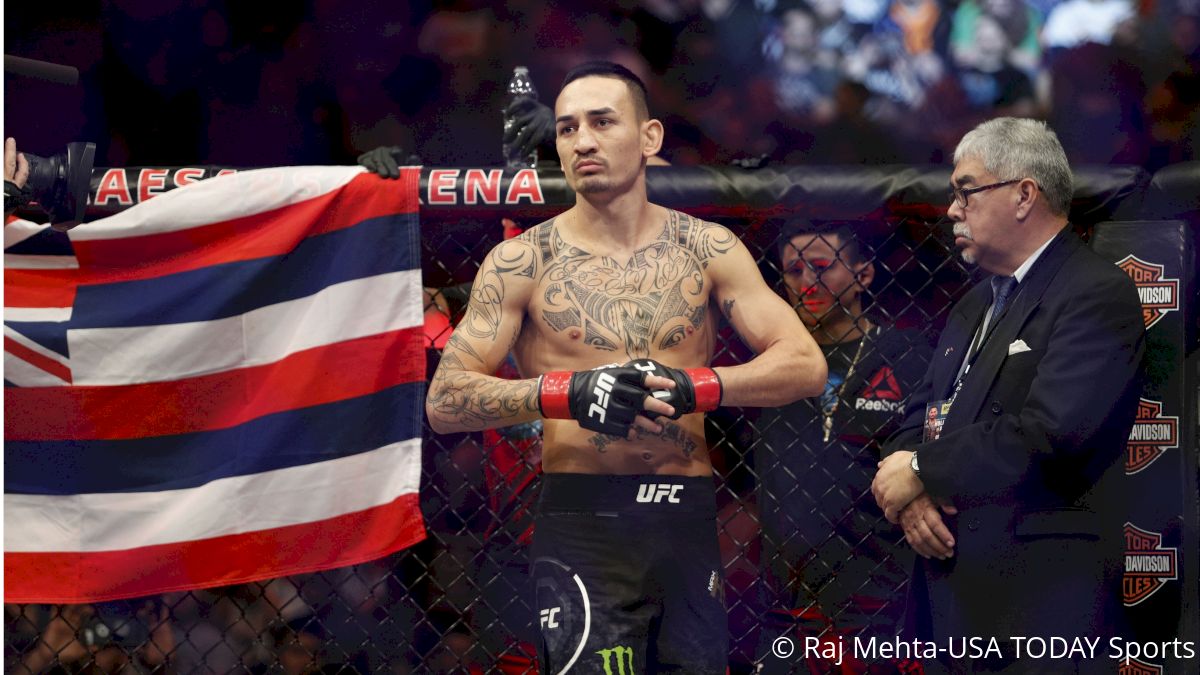 Max Holloway is the undisputed king of the UFC's featherweight division, and his path to the throne is one littered with wreckage and destruction.
Where some fighters look for the path of least resistance en route to championship gold and larger paydays, the fighting pride of Waianae took no qualms with having to dispatch the toughest competitors his division had to offer. He did this because once the mantle of king was achieved, Holloway wanted there to be no doubting the legitimacy of his reign.
"I just turned 26 and I'm going to be around a very long time," Holloway told FloCombat. "It's all about self-confidence, and I absolutely believe in myself and I put in the hard work. I don't come up short in those areas. I always bring my best, and that's what you guys get to see on fight week. I get to go out there, have fun, and put on a show."
The young featherweight ruler's first mission of his 2018 campaign will find him looking to put previously unfinished business to rest against Frankie Edgar at UFC 222 on March 3 in Las Vegas. Holloway was originally slated to face the former lightweight champion turned perennial 145-pound contender on Dec. 2, but an injury suffered by Edgar forced the New Jersey native out of their scheduled title tilt at UFC 218 in Detroit.
Rather than take to the sidelines and wait for Edgar to heal up, Holloway chose to stay on the card and find a new opponent. The promotion tapped former champion and the man Holloway had just defeated to unify the featherweight crown in Jose Aldo, and "Blessed" doubled down on putting the Brazilian away by scoring another TKO finish.
Now, with all parties healthy and ready, Holloway and Edgar will square off in the main event at UFC 222, and the reigning champion is ready to show and prove his dominance once more.
"[The UFC] needed a fight for Vegas and I've been asking to fight there," Holloway said. "I also have a lot of questions and I heard a man got answers. We're going to find out March 3. I can't wait for this fight. Things happen and we didn't get to fight the first time around, so I think it only makes sense to bring it back and do it."
"The Blessed Era" was born of blood, sweat, and determination — iron-hearted determination — and Holloway has every intention of making sure his rule stands the test of time. Claiming the crown was the first order of business, but now that he's accomplished this feat and successfully defended the throne, Holloway's mindset has shifted toward his legacy and leaving an indelible mark on the sport itself.
And Holloway plans to do this the same way he's always done everything inside the cage: by aiming for total domination through technical violence and destruction.
"To be the best, you have to beat the best and that's what I wanted to prove. That's what I've been doing," Holloway said. "Of course every fighter wants the mega-dollars, but it's going to come. It doesn't always come right away and a lot of people try to rush it. I'm taking my time.
"I'm not over here trying to say someone else deserves something over me. That's f*cking crazy ass talk, but I'm over here proving my worth. I'm going to keep on fighting and going. God's timing is perfect, and He don't make mistakes. That's why I'm here."
"I've been saying it for so long that to be the best you have to beat the best so come fight 'Blessed,' but at the end of the day, the fans are seeing and noticing what I've done," he continued. "Anyone can talk the talk, but walking the walk is what matters. I feel like I'm doing a pretty good job at that. The Blessed Era is in full effect and we're on to the next one."
Although UFC 222 will mark the first time Holloway and Edgar do battle, there is an established history the reigning champion will be looking to change on March 3.
Eight years ago, at UFC 112 in Abu Dhabi, Edgar came in as a severe underdog against legendary Hawaiian fighter B.J. Penn. The bout occurred at the peak of Penn's dominance over the 155-pound ranks, and many assumed Edgar to be just another victim in "The Prodigy's" long reign of destruction.
That said, Edgar thrives in the underdog role and scrapped his way to pulling off one of the biggest upsets of the era when he earned the unanimous decision victory to take the lightweight strap.
ninth island, what's up! pic.twitter.com/Gnvxa3NPrB

— Max Holloway (@BlessedMMA) January 9, 2018
Edgar would go on to defeat Penn on two more occasions — each victory more brutal and dominant than the last — and this established him as public enemy No. 1 in the eyes of Hawaiian fight fans. And while Holloway and Penn are two different athletes, both fly the flag of their heritage high and with pride, and Holloway is making no bones about what will be at stake at UFC 222.
The bout with Edgar will be the latest installment of the series, and Holloway will be looking to change the tides in favor of the place he calls home. Furthermore, Holloway wants to add another piece of the enduring legacy he's looking to build in this sport.
"There's a lot of history between [Edgar] and Hawaiian fighters," Holloway said. "I'm going out there to bring one back home, and hopefully next time the UFC will bring my ass all the way back home. Fighting out in the ninth island of Las Vegas is nice, but I want to fight in Hawaii. First thing is first, and 'The Answer' is back up, and I got questions for the man. Let's see if he can answer them for me."