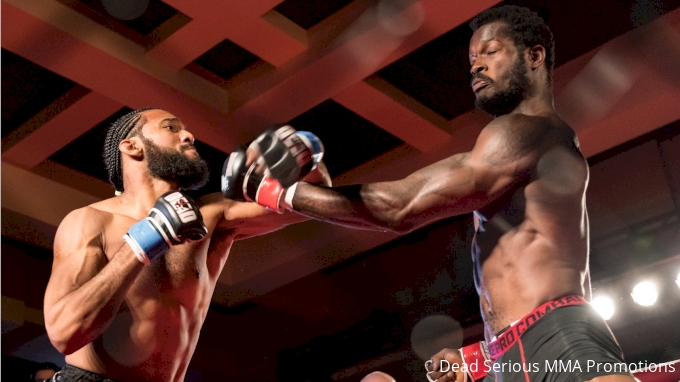 Ring of Combat returns to FloCombat Friday, Sept. 21, with a stacked Ring of Combat 65 fight card.
Results
Ring of Combat 65 brought a whole lot of "and still" but how did the champions get it done Friday evening in Atlantic City?
With three title bouts on hand, Ring of Combat 65 was as stacked a regional MMA card as fight fans can hope to see.
In the night's main event, Ring of Combat featherweight champion Bill Algeo took on Scott Heckman, while undefeated bantamweight king Phil Caracappa faced UFC veteran Louis Gaudinot in the co-main event. Completing the trifecta, Contender Series winner Sidney Outlaw defended his welterweight title against 48-fight vet Krzysztof Kulak.
As anticipated, the main event of the evening between Algeo and Heckman was an absolute barnburner.
Heckman pushed the pace early with constant pressure and takedowns, as Algeo used his long reach and his leg kicks. While Heckman scored with three early takedowns, Algeo continuously got back up and continued to work.
Toward the end of Round 1, Algeo hurt Heckman with a big knee and a follow-up combination. Heckman survived, but his face wore the damage into Round 2.
It was more of the same in the fight's second frame, as Algeo controlled the standup and landed the better shots on the feet. The end came swiftly, as Algeo landed a jumping switch kick that sent Heckman down and forced the referee to intervene. Recognizing the magnitude of the moment, the crowd chanted "U-F-C" in support of Algeo, who extends his winning streak to three.
Now 11-3 with two of those losses coming to current UFC fighters Jared Gordon and Shane Burgos, Algeo does indeed appear on the cusp of a shot inside the legendary Octagon.
Also making a claim for a UFC opportunity Friday night was the undefeated 135-pound champ Caracappa, who engaged in one of the most entertaining bouts in Ring of Combat history vs. Gaudinot.
The fight started quickly and didn't slow down, with Caracappa hurting Gaudinot with a straight right hand and immediately establishing top position. Gaudinot, being the veteran he is, never panicked, though, and he searched for a kneebar before the two eventually returned to their feet. From there, Caracappa continued to dictate the action, again stunning Gaudinot with some powerful shots.
Round 2 began much as the same, as Caracappa threw big combinations before securing a takedown and working strong ground-and-pound. Once again, Gaudinot searches for the kneebar—and he gets deeper this time—but it's not to be, and Caracappa escapes.
Things really got wild in Round 3. The two fights stood and traded early before Caracappa caught Gaudinot with an eye poke while lunging in with a knee. Taking exception to either the poke or to something Caracappa told the referee, Gaudinot threw his mouthpiece in anger before he took a breather to recover.
The fight started back up, and Gaiduont threw a spinning back kick to the body before following it with a big right hook. Caracappa looked for the takedown, and Gaudinot latched onto an arm-in guillotine, transitioning into mount with the submission, but Caracappa escaped and weathered the late storm from his opponent.
The judges all agreed on the decision, as Phil Caracappa remained the Ring of Combat Bantamweight champion with a unanimous decision.
Before Algeo and Caracappa defended their thrones, Sidney Outlaw set the tone for the champions on the evening by wiping out Krzysztof Kulak with a second-round armbar.
As is the case for most opponents vs. Outlaw, Kulak simply couldn't withstand the constant pressure and takedowns, and Outlaw dictated the pace from the jump. After five minutes of top control and ground-and-pound, Outlaw found his opening in Round 2 and snatched the arm, finishing things in a flash and defending his title in style.
Full Ring Of Combat 65 Results (click any fight to watch replay)
Bill Algeo (c) def. Scott Heckman via. KO (jumping switch kick) – Round 2
Phil Caracappa (c) def. Louis Gaudinot via. unanimous decision (29-28 29-28 29-27)
Sidney Outlaw (c) def. Krzysztof Kulak via. submission (armbar) – Round 2
Joseph Schick def. Chris Disonell via. Majority decision (29-27 28-28 29-27)
Christopher Daukaus def. Edwin Smart via KO – Round 1
Saidyokub Kakhramonov def. Giorgi Kudukhashvili via. submission (rear-naked choke) – Round 1
Mike Gonzalez def. Mario Hernandez via. submission (rear-naked choke) – Round 2
Thomas Powell def. Liam Anderson via. KO – Round 1
Gabriella Gulfin def. Brittany Gianino via. submission (armbar) – Round 1
---