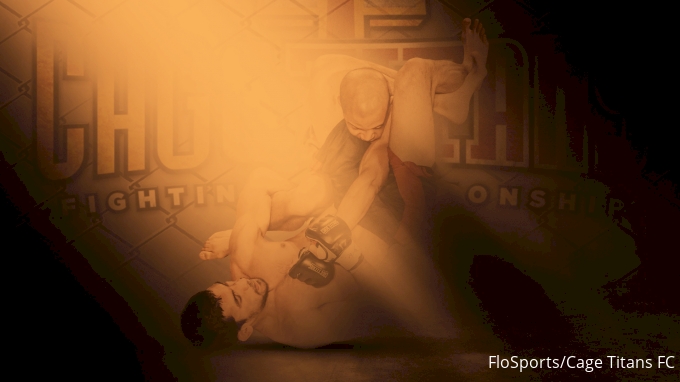 Undefeated top-ranked bantamweight prospect Manny Bermudez returns Saturday, Jan. 20, at Cage Titans 37, live on FloCombat at 6 PM ET.
Results
Cage Titans 37 streamed live from Plymouth, Mass., Saturday, Jan. 27, on FloCombat, bringing the return of 10-0 Manny Bermudez to MMA fans worldwide.
In the Cage Titans 37 main event, Seth Basler stepped up on a few days notice to face undefeated super prospect Manny Bermudez, who was originally scheduled to take on Mike Hernandez at the event.
Despite the late switch, Bermudez was quick to submit his opponent, needing just over one minute to sink in a triangle choke following a slick takedown.
As he left the cage, the crowd chanted "U-F-C," and it this point, that seems the only option left for Bermudez. He is now 11-0 with nine first-round finishes in his professional career.
In the co-main event, Avery McPhatter did not make the weight for his scheduled middleweight title bout, but Sean Lalley did, making him eligible to win the title with a victory.
After an early stand-up affair which saw both men landing, McPhatter dove for a takedown and injured his shoulder in the process, slumping over and forcing the ref to step in. With the TKO victory, Lalley became the new Cage Titans middleweight champion.
Full Cage Titans 37 Results (click any fight to watch replay)
Manny Bermudez def. Seth Basler via Submission (triangle choke) - Round 1
Sean Lalley def. Avery McPhatter via TKO (shoulder injury) - Round 1 (wins pro middleweight title)
Danielle Hindley def. Sheena Brandenburg via Submission (triangle choke) - Round 1
Dan Dubuque def. Keenan Raymond via TKO (injury) - Round 1
Chris O'Brien def. Chris Sniger via Submission (triangle choke) - Round 2 (wins amateur lightweight title)
Taylor Thompson def. Tiffany McCoy via Submission (armbar) - Round 1 (wins amateur bantamweight title)
Brian Harrington def. Josh Jones via Unanimous Decision
Mitch Raposo def. Will Graustuck via Unanimous Decision
Zach DiSabatino def. Montoyia Schilling via Submission (D'arce choke) - Round 1
Connor Barry def. Jay Ellis via Submission (rear-naked choke) - Round 1
David Espino def. Myles Reid via TKO (strikes), Round 1
Dan Cormier def. Michael Whaley via Submission (flying triangle choke) - Round 1
Jay Perrin def. Mark Frisk via Submission (rear-naked choke) - Round 2
Antoine Caparotta def. Stavros Batsinelas via Unanimous Decision
John Clarke def. Ryan Dunn via TKO (strikes) - Round 2
---