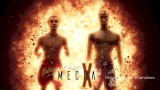 Mecca X Live MMA & Thai Boxing at Canterbury Park
Shakopee, MN
Sep 9, 2017
Show Results
: Driller Promotions: Mecca X
Driller Promotions: Mecca X streaming live on FloCombat.
There was a lot of hype surrounding Elias Garcia heading into Driller Promotions: Mecca X.

The undefeated bantamweight prospect had been steamrolling his opposition on the regional circuit, and his familial relationship to Anthony and Sergio Pettis only amplified that buzz. Many believed the Roufussport product was destined for much bigger things, but he needed another big victory on the regional circuit before receiving his long-awaited call from the UFC.

He may have just earned that contract.

The 25-year-old prospect faced off with fellow undefeated talent David Williams in a showdown between two of the most touted up-and-comers in the Midwest. Both men came firing out of the gates with guns blazing, and each found their marks in the early goings. Williams dropped Garcia with a big shot in the opening minute and Garcia returned the favor less than a minute later.

Once the action his the canvas Garcia started to work for a submission, and Williams did all he could to survive. Nevertheless, Garcia's determination won out as he forced Williams to tap to a leg triangle late in the opening round.

With the win, Garcia has now won all five of his professional showings and should be on the short list of fighters to be signed by the UFC.




MMA Card:
Elias Garcia def. David Williams via submission (triangle choke) Rd 1
Jason Huntley def. Chris Collins via submission (rear naked choke) Rd 2
Craig Eckelberg def. Ted Worthington via TKO (verbal submission) Rd 2
Thomas Herrera def. Kaleb Dingman via TKO (punches), Round 2
Dustin Klapperick def. Robert Confer via unanimous decision
Elliot Jurries def. Ricardo Pacheco via submission (rear-naked choke), Round 1
Alexander Brown def. Arkady Pichurin via submission (guillotine), Round 1
Robert Andrews def. Brad Pitan via TKO (punches), Round 1
Yamah Sadozai def. Jeremy Lucas via TKO (punches), Round 1
David Vinje def. Jens Nestingen via KO (punch), Round 1
Ryan Schafer def. Derek Goetleb via TKO (punches), Round 1
Coty Milhausen def. Sean Keogh via KO (punch), Round 1
Randy Rivera Santiago def. Denis Montero via submission (rear naked choke), Round 2
Fernando Moreno def. Jacob Schorsch via TKO (doctor stoppage), Round 2
Muay Thai Card:
Kaitlin Young def. Djamara Vers via TKO, Round 2
Ben Locken def. Devin Turner via unanimous decision
Tom Jenkins def. Adam Vanderveen via TKO (body shot), Round 1
Tommy Matlon def. Jeremy Lundergren via knockout (head kick), Round 2
Akeela Al-Hameed def. Shelby Pickard via unanimous decision
Angela Bahr def. Darcie Thomson Cellar via unanimous decision
Jamie Krause-Simmons def. Joe Wawrzyniecki via split decision
Tremayne WIlliams def. Marcus Young via split decision
Tyler Pelichek def. Gabriel Meza via unanimous decision
Megan Stein def. Alisha Hayes via unanimous decision
Jesse Poolaw def. JJ Stamper via unanimous decision
Leon Delgado def. Mike McCormick via knockout (punch), Round 1
Brong Vang def. Scott Walenski via unanimous decision
Chad Hildebrant def. Davonte McClam via unanimous decision
Manuel Candaele def. Dylan Merrick via split decision
Deval Bugsrucker-Garvey def. Hunter Pederson via split decision
Mark Ricafort def. Isaiah Morales via unanimous decision