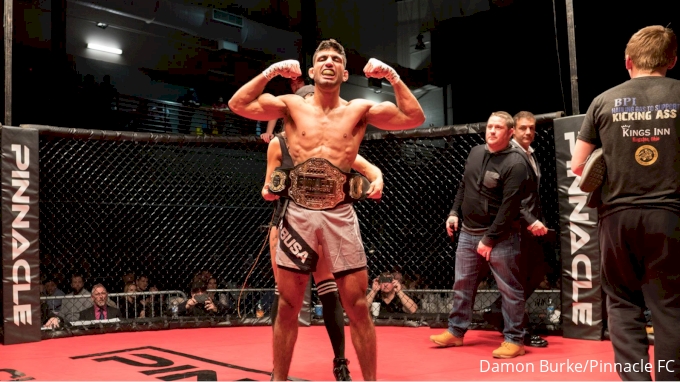 Pinnacle FC 17 returns to FloCombat Saturday, June 9, bringing a two pro title fights, an amateur title fight and much more right to your favorite device.
Results
Pinnacle FC 17 brought three title fights and plenty more live to FloCombat Saturday, June 9. Here's everything that went down.
FloCombat's No. 4-ranked lightweight prospect Nick Browne did work in the night's main event.
Taking on Strong Style's Jeff Pelton, Browne took the back late in Round 1 and sunk in the rear-naked choke, defending his title and moving one step closer to the big show.
In the co-main event, The Academy's John DeJesus put on a striking clinic, battering and bloodying Ruben Warr throughout the three-round fight.
While Warr scored with takedowns throughout the fight, DeJesus was able to avoid any damage from the bottom, pop back to his feet, and continue his onslaught of fists, knees, and shins.
In Round 3, DeJesus found his groove in full, dropping Warr and nearly ending the fight. Warr survived to see the judges' scorecards, however, where they rewarded DeJesus' efforts with a unanimous decision victory.
Also on the card, Keith Froelich spoiled Fadi Shuman's much-anticipated pro debut, stopping the local product via second-round TKO. The victory wasn't without controversy, however, as referee Chip Snyder potentially jumped in to stop the fight too early.
Snyder came cageside to clarify he saw Shuman's eyes roll back into his head, prompting the stoppage, but the crowd was none too happy.
Before Froelich's upset victory, Nolan Stahl went full Pittsburgh mode, whipping out the Pittsburgh Steelers signature Terrible Towel and sending the local crowd into a frenzy after tapping out Luke Chokan to win the amateur flyweight title.
Full Pinnacle FC 17 Results
Nick Browne def. Jeff Pelton via submission (rear-naked choke) (retains Pinnacle FC lightweight title)
John DeJesus def. Ruben Warr via unanimous decision (wins Pinnacle FC featherweight title)
Keith Froelich def. Fadi Shuman via TKO, Round 2
Nolan Stahl def. Luke Chokan via submission (rear-naked choke), Round 3 (wins amateur flyweight title)
Sydney Ross def. Robin Stevenson via unanimous decision
Jake Schilling def. Mikey Flores via unanimous decision
Alejandra Betancourt def. Meghan Williams via decision
John Leancu def. Roy Nichols via unanimous decision
Phil Marra def. Michael Baker via unanimous decision
Mason DeLess def. Nicco Libertini via TKO, Round 2
Christian Bosco def. Nick Walls via submission (guillotine), Round 1
Jacob Lowry def. Josh Moyer via submission (Americana), Round 1
---