Garry Tonon said it would not be difficult for him to submit the undefeated UFC Lightweight Champion Khabib Nurmagomedov, in a grappling match.
In an interview with ONE Championship commentator Gianni Subba, Tonon appeared confident that the potential match wouldn't be a challenge.
"I think if we had a pure grappling match I'd pretty handily submit Khabib," he said.
Tonon, who holds a 5-0 record as an MMA fighter with ONE Championship, has had grappling matches with several former of current UFC fighters during his grappling career, including Davi Ramos, Gilbert "Durinho" Burns, and Beniel Dariush. Tonon also faced Rousimar Palhares to a draw at Polaris 3 in 2016.
"Maybe he could not get submitted. That would be the best hope that he would possibly have," Tonon said. "I think it would be a very dominant performance on my part if I fought Khabib in a jiu-jitsu or a submission grappling context."
Tonon said he would have a significant edge over Nurmagomedov, who has been focused on his MMA training, rather than pure grappling, for the last decade. He added that he would have a particualrly easy path to victory through leglocks, an often used submission by Tonon which he feels has been neglected in MMA training.
"It's completely different from being in a room like I'm in on a day to day basis trying to submit each other with leglocks all the time, Tonon said." The level of preparation for something like that is completely different."
Nurmagomedov recently retired from mixed martial arts with an undefeated 29-0 record. We don't know yet if he will make the trending switch to pure grappling competition. But Tonon has managed to juggle both MMA and grappling throughout his fighting career. He's currently the no. 1-ranked welterweight grappler in the FloGrappling rankings. And he's earned the no. 5 spot in ONE Championship's featherweight division.
Tonon could move up in the rankings with a successful outing this weekend against the no. 3-ranked Koyomi Matsushima. That would put him on the short list for a title shot.
Tonon will face Matsushima at ONE Championship: Big Bang on Friday, December 4.
WatchL Garry Tonon Says He'd Easily Submit Khabib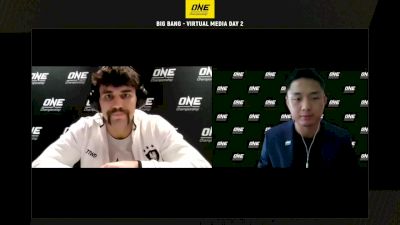 Unlock this video, live events, and more with a subscription!
Get Started
Already a subscriber? Log In