Create a free account to unlock this article!
Get Started
Already a subscriber? Log In
You can search the MMA world far and wide for a five-fight professional with the confidence of Max Rohskopf. While you might find one or two that fit the bill, you are unlikely to find one that can back up that confidence with skill to march it.
With really only about a year's worth of MMA under his belt, some might see Rohskopf as inexperienced, but with nearly every one of those fights coming against a guy with twice as many fights as he's had, the experience is solid. In addition, having twice qualified for NCAA's as a member of NC State's wrestling team, where he also won an ACC championship, he's not short on combat experience. Add in ADCC trials and various other grappling tournaments, and it's unsurprising he faces the MMA world, and his weekend UFC debut against Austin Hubbard, like a seasoned veteran.
Check out Rohskopf's wrestling skills: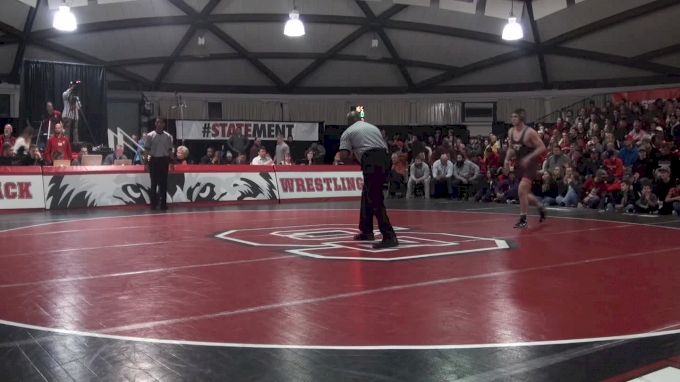 Unlock this video, live events, and more with a subscription!
Get Started
Already a subscriber? Log In
However, it's not even really that experience that gives him the bulk of his confidence. Instead, that confidence starts in preparation.
"I've been lucky to train with some of the best guys in the world - guys who used to be title challengers, guys who are title challengers, still guys who have been staple top 15 on the UFC roster for a long time," he said. "I get to train with a lot of guys and have trained with a lot of guys that are really good. And, you know, you can't completely gauge on how good you are based off of training in the gym, but I get a good indicator. I know what I'm capable of. It's just a matter of doing it in the octagon in front of a lot of people."
What he's been capable of so far includes five submission victories in as many fights. That he attributes to the fact that he, as a collegiate wrestler, never approached the fight game like a lot of the other crossovers have in the past. As a result, he's more comfortable in every part of being on the ground in MMA.
"I think a lot of wrestlers shy away from [jiu jitsu] because they're already really good at one grappling art and now they're going to suck at the new grappling art," Rohskopf said. "So they just kind of learn how to defend it, and that's just not ever how I how I've seen it. I think the most dangerous combination in all of fighting is high level wrestling with high level jiu jitsu. I've just taken to the idea of getting on top of someone and not letting them do what they want to do and making them not want to be there."
He also believes that one of his greatest assets is that he is able to stay true to himself, which many grapplers (including Hubbard's past opponents) have forgotten about.
"A lot of these guys, when they come in as a jiu jitsu guy or a wrestler - they fall in love with striking, and that's not me. And I am more well rounded with my submissions. I think I've shown that. So I do think there's a much higher probability for me finishing with a submission than these other guys that he's fought," he said. "There's about twenty submissions that I'm really good at, so it's gonna be whatever he gives me."
Of course, it would be callous to believe that the newcomer, no matter how brimming with confidence, has nothing to worry about in his short notice debut. However, for Rohskopf it isn't making weight on seven days notice or his veteran opponent, who this time has three-times the fights as he does. Instead, it is whether or not the self-proclaimed sweets and fast food can get his fix once he's at fight week.
"They were telling me that they wanted me to cut out carbs and then they're gonna have all meals at the hotel for me and shit," he said. "And I was like, alright I'm going to have to sneak some Reese's Peanut Butter Cups in there."