Heavyweight champ Erberth Santos will defend his title against former champ Tim Spriggs of Team Lloyd Irvin at Fight 2 Win 130 in Denver.
Nov. 2 | 4pm ET
In the discussion about whether a jiu-jitsu contest is a "fight" or a "match" guys like No. 6-ranked super-heavyweight Erberth Santos and No. 12-ranked heavyweight Tim Spriggs make it clear: They're fighters.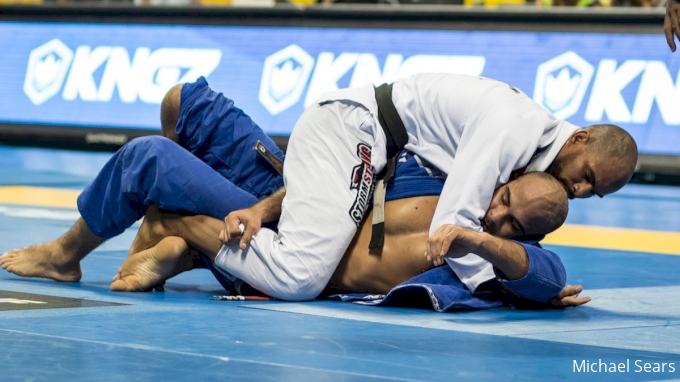 Erberth mounted on Bernardo Faria
Between the brutal style of Erberth that just allows him to force his way past guards and into dominant positions, or the gritty wrestling and out-of-no-where submission attacks of Tim Spriggs, there's little room for debate. These guys don't come to play – they come to scrap.
At the pinnacle of his career, Erberth Santos was competing about 20 times per year, an arduous schedule for even the most active competitors. Not only that, but he was winning it all: Pans, Euros, World Pro, Worlds… you name it, he probably won it.
Nov. 2 | 4pm ET
Defeating some of the sport's GOATs (like Andre Galvao at World Pro, Romulo Barral at Worlds, and besting Felipe Pena 7-2, all in 2016) he was well on his way to cementing his name alongside them, but in the last couple years Santos has slowed down. Don't get me wrong — he's still active and successful. Last year he won the Heavyweight King of Mats, and in May of this year he defeated black belt on the rise, Gutemberg Pereira, for the Fight 2 Win Heavyweight strap.
Even so, this will be only Erberth's sixth tournament this year. With about a four-month absence there's no telling what the time off has done for him. Stronger than ever or still finding his steps? For his return he'll take on former teammate Tim Spriggs to defend his F2W Heavyweight title.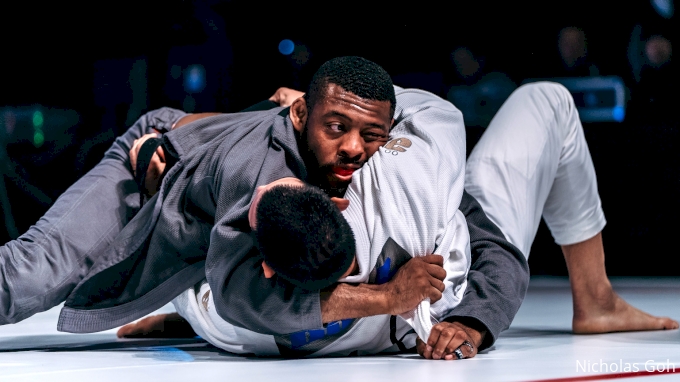 Spriggs in control versus Diniz
While Erberth has already achieved many of his goals, Tim Spriggs is still in hot pursuit. Although he undoubtedly would have preferred the "W," his ADCC campaign featured two spectacular submissions. In the gi, he picked up big wins this year (I'm thinking of his successes against Matheus Diniz, Claudio Calasans and Rudson Mateus earlier this year) have been affirmations that he is well on his way toward his goals.
Known as a "juggernaut," he's got an overwhelming style that allows him to exchange positions easily, while throwing himself at submission: a perfect style for Fight 2 Win. As both former teammates and opponents, Spriggs is privy to Santos' come-at-you game, "It's going to be a high impact match, with no backward steps".
Nov. 2 | 4pm ET
More must-see matchups on this card:
In a duel of undefeated middleweights under the F2W promotion, No. 3-ranked Manuel Ribamar (Rodrigo Pinheiro BJJ) and No. 7-ranked Mauricio Oliveira (GF Team) duke it out to keep their record clean. Just last weekend Oliveira defeated Matt Leighton at F2W 129 and looks to repeat that performance this weekend, while Ribamar is coming off of some all-time career wins as the Grand Slam LA Champ, defeating Ronaldo Junior, Mathias Luna, and Marcos Tinoco in the same day on his way to gold.
Michael Liera Jr.(Atos) breaks into his new hometown with a gi match against Phil Lietz (The Sanctuary). Liera Jr. recently relocated to Denver to open up shop, and what better way to start the new phase than a superfight in his new city.
Hometown favorite, John Combs (Easton BJJ) takes on Garrett Aldrich (Gracie Barra) in a 175lb no-gi match.
Top-notch women round out this exciting card with a 130lb no-gi match between Karen Antunes (Checkmat) and Tubby Alequin (Palm Beach MMA). Both veterans to the stage, and women who put on a show!