2019 ADCC World Championships
The Ultimate ADCC 2019 Results, Stats, & Recap Hub
The Ultimate ADCC 2019 Results, Stats, & Recap Hub
The ultimate hub for complete results from the 2019 ADCC world championships on FloGrappling, along with stats and daily recaps from Anaheim.
Sep 29, 2019
by Wrestling Nomad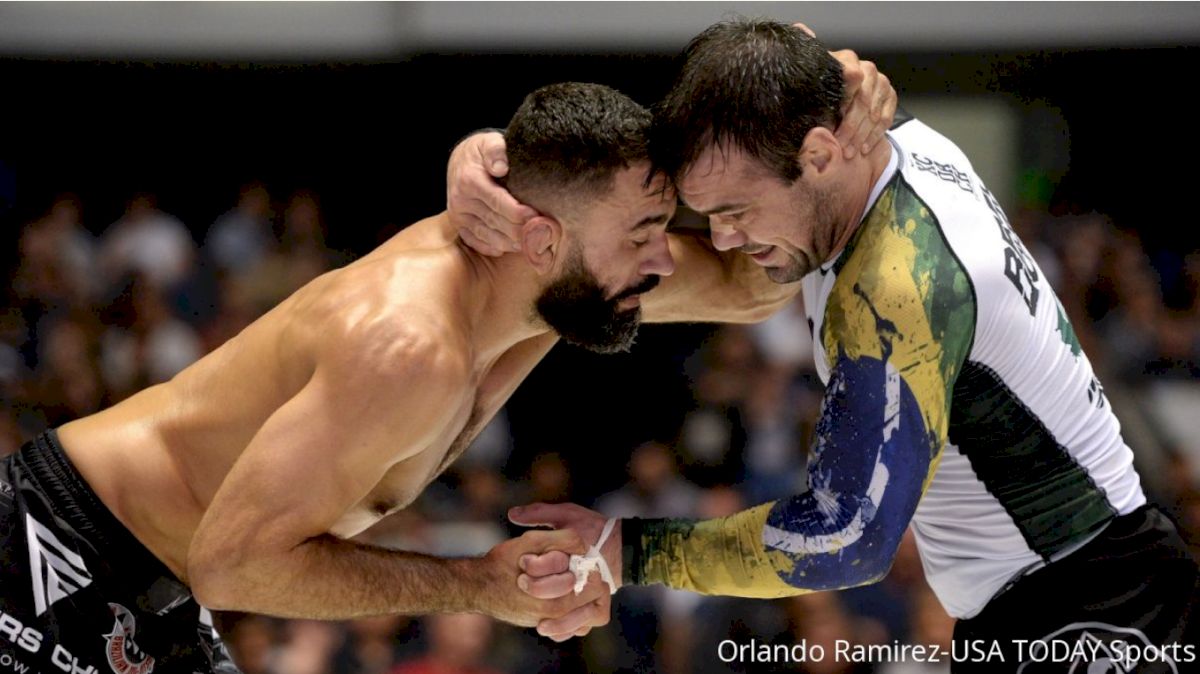 ADCC 2019 is here. This will be your ultimate hub for results, stats, and daily recaps of the Olympics of Grappling. The anticipation for this event has been building for months, starting with the first European Trial nearly a year ago, and the entry list has gone through many changes.
Through six Trials, weight changes, injuries, and illnesses, the final list of participants ranges in age from 16 to 39. Oh and don't forget, the rules for ADCC are a little different than your typical submission grappling event.
Seeding Predictions: 66kg | 77kg | 88kg | 99kg
This year's ADCC will feature $10,000 for the winners of the five men's weights, and $6,000 for the winners of the two women's weights. Additionally, the winner of the Absolute category will receive $40,000, as will the winner of the Superfight between Andre Galvao and Felipe Pena.
We had some pros predict the outcome for Galvao vs Pena as the former attempts to win a record fourth Superfight. We're all curious to see where it falls in the pantheon of Superfights.
Bracket Reactions | Best 1st Round Matches
This will be the 13th edition of the Abu Dhabi Combat Club Submission Wrestling World Championship, and is the third time it has been held in America. The action will be on three mats this weekend at the Anaheim Convention Center in California.
The Absolute field should be stacked once again and will be contested on Sunday. We also can't wait to see the dark horses, disruptors, and wild cards in action.
Watch Live | Brackets in FloArena
In addition to a running tab of the results, we will also be providing some stats. Atos laid claim to the best team, going 9-1 on day one in matches that weren't teammate vs teammate (10-3 including those two 66kg matchups). Right behind them is the Danaher Death Squad, as Renzo Gracie went 7-1 overall on Saturday.
There will be two head to heads between the top flight clubs in Sunday's semis, when Gordon Ryan faces Hulk Barbosa at -99kg, a rematch of Fight 2 Win Pro 30, and Garry Tonon will see defending -77kg JT Torres in a rematch of the 2017 semis.
Total Subs: 14
Fastest Sub - Kaynan Duarte in 1:33
Most Lopsided Win - Pablo Mantovani 13-0 Thomas Halpin
Ref's Decisions: 8
Overtime Wins: 18
Day One: Biggest Upsets | Best Submissions | Top Performers
In total, 18 different gyms put fighters in the semis. Atos led the way with five, followed by Alliance and Renzo Gracie with three each. On the men's side, 20 gyms were represented in the quarters as over two dozen clubs won fights on Saturday.
Our team on the ground is getting tons of interviews with the athletes, which you can find HERE.
Below are complete results from the round of 16 and quarterfinals, 68 fights in total. Tomorrow's semis begin at 1PM Eastern time. Be sure to check out our semifinal breakdown.
+99 predictions? pic.twitter.com/3emSYDCCCV

— FloGrappling (@FloGrappling) September 28, 2019
R16 - Marcus "Buchecda" Almedia (Checkmat) 2-0 over #9 Antonio Braga Neto (AB-MMA)
The reigning champ kicked off the day with a win WATCH MATCH HERE
R16 - #10 Victor Hugo (Ribeiro Jiu-Jitsu) 4-0 over Jared Dopp (Alliance)
A late 4 won it for Hugo WATCH MATCH HERE
R16 - #4 Yuri Simoes (Caio Terra BJJ) SUB Eliot Marshall (Easton Training Centre), 8:07
The two-time ADCC champ gets a sub in his first match at +99kg WATCH MATCH HERE
R16 - #1 (at 99kg) Kaynan Duarte (Atos) SUB #8 Eldar Rafigaev (Jungle BJJ), 1:33
The fastest sub of the first round goes to Kaynan WATCH MATCH HERE
R16 - Orlando Sanchez (Gracie Barra) 2-0 over Mateusz Juskowiak (Murowana Goslina Team), 15:00
The returning silver wins in overtime WATCH MATCH HERE
R16 - #7 Nick Rodriguez (Renzo Gracie) REF Mahamed Aly (Lloyd Irvin), 15:00
One of the most anticipated first round matches went the distance WATCH MATCH HERE
R16 - #2 Roberto "Cyborg" Abreu (Fight Sports) 2-0 over Hudson Taylor (Marcelo Garcia)
Cyborg beats one of the last men in WATCH MATCH HERE
R16 - John Hansen (Vaghi Axios) REF Max Gimenis (GF Team), 15:00
That makes two ref's decisions at super heavyweight WATCH MATCH HERE
QF - Marcus "Buchecda" Almedia (Checkmat) 3-0 over #10 Victor Hugo (Ribeiro Jiu-Jitsu)
13-time IBJJF champ Buchecha with another decision on points WATCH MATCH HERE
QF - #1 (at 99kg) Kaynan Duarte (Atos) 3-0 over #4 Yuri Simoes (Caio Terra BJJ)
Kaynan ends Simoes bid at three straight on a re-start when they roll out of bounds WATCH MATCH HERE
QF - #7 Nick Rodriguez (Renzo Gracie) SCORE Orlando Sanchez (Gracie Barra)
South Jersey BJJ puts one in the semis as Rodriguez takes out the 2015 champ WATCH MATCH HERE
QF - #2 Roberto "Cyborg" Abreu (Fight Sports) 6-0 over John Hansen (Vaghi Axios)
Cyborg with a dominant win over Hansen WATCH MATCH HERE
Semifinals
Marcus "Buchecda" Almedia (Checkmat) vs #1 (at 99kg) Kaynan Duarte (Atos)
#2 Roberto "Cyborg" Abreu (Fight Sports) vs #7 Nick Rodriguez (Renzo Gracie)
Who wins -99? ? pic.twitter.com/096UBHm82I

— FloGrappling (@FloGrappling) September 28, 2019
R16 - #1 (at +99kg) Gordon Ryan (Renzo Gracie) SUB Ben Hodgkinson (Absolute MMA), 1:47
The defnding champ starts off ADCC with yet another submission off a rear naked choke WATCH MATCH HERE
R16 - #9 Tim Spriggs (Lloyd Irvin) SUB #6 Fellipe Andrew (Zenith JJ), 1:56
Spriggs off to a hot start WATCH MATCH HERE
R16 - #4 Lucas "Hulk" Barbosa (Atos) 3-0 over #15 Perttu Tepponen
Barbosa with the win WATCH MATCH HERE
R16 - #5 Patrick Gaudio (GF Team) 8-0 over #14 Mraz Avdoyan (Matrix Jiu Jitsu)
Gaudio keeps only Brazilians and Americans in the quarters WATCH MATCH HERE
R16 - Vinny Magalhaes (Team Quest) 4-0 over Dan Martinez (Gracie PAC)
Magalhaes is unranked because he hasn't fought in over a year, and he beats the last man in WATCH MATCH HERE
R16 - James Puopolo (Ribeiro Jiu-Jitsu) 3-0 over Aaron "Tex" Johnson (Unity)
Puopolo shows Tex who's boss WATCH MATCH HERE
R16 - #11 Jackson Sousa (Checkmat) REF Paulo Jose Bauana (Alliance), 15:00
Not much to speak of here WATCH MATCH HERE
R16 - #3 Vinicius "Trator" Ferreira Gazola (Alliance) SCORE Paul Ardila-Ibarra (ATT), 15:00
A couple passivity warnings against Ardila did the job WATCH MATCH HERE
QF - #1 (at +99kg) Gordon Ryan (Renzo Gracie) SUB #9 Tim Spriggs (Lloyd Irvin), 7:12
Ryan with his 9th career submission in just his second ADCC WATCH MATCH HERE
QF - #4 Lucas "Hulk" Barbosa (Atos) REF #5 Patrick Gaudio (GF Team), 15:00
Hulk outlasts Gaudio WATCH MATCH HERE
QF - Vinny Magalhaes (Team Quest) 2-0 over James Puopolo (Ribeiro Jiu-Jitsu)
Is anyone really surprised Magalhaes is in the semis? WATCH MATCH HERE
QF - #3 Vinicius "Trator" Ferreira Gazola (Alliance) REF #11 Jackson Sousa (Checkmat), 15:00
Trator with his second 15 minute win of the day WATCH MATCH HERE
Semifinals
#1 (at +99kg) Gordon Ryan (Renzo Gracie) vs #4 Lucas "Hulk" Barbosa (Atos)
#3 Vinicius "Trator" Ferreira Gazola (Alliance) vs Vinny Magalhaes (Team Quest)
Who makes the final at -88kg? ? pic.twitter.com/PpUKW8Pmm7

— FloGrappling (@FloGrappling) September 28, 2019
R16 - #3 Craig Jones (Absolute MMA) SUB Ben Dyson (Roy Dean), 6:22
The top seed opened up his tournament with some flair WATCH MATCH HERE
R16 - Mason Fowler (Caio Terra BJJ) REF Valdir Araujo (Fight Sports), 15:00
Fowler wins on referee's decision WATCH MATCH HERE
R16 - Jon Blank (10th Planet) SUB Rustam Chsiev (K-Dojo), 6:32
A quick heelhook off a leg entanglement entry and Blank moves on to the quarters WATCH MATCH HERE
R16 - #4 Murilo Santana (Barbosa JJ) SCORE Keller Locke-Sodhi (Grappling Education), 10:00
Santana wins on a passivity WATCH MATCH HERE
R16 - #2 Josh Hinger (Atos) SUB #11 Gabriel Almeida (Checkmat), 9:39
Second ranked Hinger got the sub right before time WATCH MATCH HERE
R16 - #9 Adam Wardzinski (Checkmat International) REF #12 Mike Perez (Atos), 15:00
The Polish entry wins a tight one WATCH MATCH HERE
R16 - #1 Matheus Diniz (Marcelo Garcia) 5-0 over Pedro Marinho (Gracie Barra)
Top ranked Diniz makes the quarters WATCH MATCH HERE
R16 - #7 Gabriel Arges (Gracie Barra) 5-0 over Alec Baulding (Alliance)
Arges with the decision over the first North American Trials winner WATCH MATCH HERE
QF - #3 Craig Jones (Absolute MMA) SUB Mason Fowler (Caio Terra BJJ), 9:28
Our first non-Brazilian or non-American in the semis WATCH MATCH HERE
QF - Jon Blank (10th Planet) REF #4 Murilo Santana (Barbosa JJ), 15:00
Blank pulls his second massive upset of the day WATCH MATCH HERE
QF - #2 Josh Hinger (Atos) SUB #9 Adam Wardzinski (Checkmat International), 9:17
Hinger with another sub in the final minute WATCH MATCH HERE
QF - #1 Matheus Diniz (Marcelo Garcia) REF #7 Gabriel Arges (Gracie Barra), 15:00
We narrowly missed out on the top four ranked 88kg all making tomorrow's semis WATCH MATCH HERE
Semifinals
#3 Craig Jones (Absolute MMA) vs Jon Blank (10th Planet)
#1 Matheus Diniz (Marcelo Garcia) vs #2 Josh Hinger (Atos)
The -77kg "Group Of Death" ? pic.twitter.com/a1MBFdOSMC

— FloGrappling (@FloGrappling) September 28, 2019
R16 - #2 JT Torres (Atos) SCORE #13 Ross Nicholls (Roger Gracie Academy), 15:00
The 2017 gold survived a heelhook attempt in overtime by the 1st European Trials winner, winning on a passivity warning WATCH MATCH HERE
R16 - DJ Jackson (Lloyd Irvin) 5-0 over John Combs (Easton Training Center)
Jackson won a first round match for the second ADCC in a row WATCH MATCH HERE
R16 - Garry Tonon (Renzo Gracie) SUB Mateusz Gamrot (Czerwony Smok Poznan), 7:01
Tonon still got it WATCH MATCH HERE
R16 - #1 Renato Canuto (Checkmat) 2-0 over Oliver Taza (Tristar), 15:00
Top ranked Canuto sets up an excellent quarter against Tonon WATCH MATCH HERE
R16 - Lucas Lepri (Alliance) 3-0 over Lachlan Giles (Absolute MMA)
The returning silver from Brazil got a back mount with hooks to get his three points for the win WATCH MATCH HERE
R16 - #4 Dante Leon (GF Team) 3-0 over #8 Jonathan Satava (Alliance/Marcelo Garcia), 15:00
The Canadian gets the win in overtime WATCH MATCH HERE
R16 - #3 Vagner Rocha (Fight Sports) SUB Servio Tulio (Gracie Barra), 11:04
One of the few overtime subs on the day WATCH MATCH HERE
R16 - #15 Celso Venicius (XCoach Team) REF #5 Edwin Najmi (Gracie Barra)
Both Gracie Barra 77kg go down in overtime WATCH MATCH HERE
QF - #2 JT Torres (Atos) 3-0 over DJ Jackson (Lloyd Irvin)
As expected Atos put yet another in the semis WATCH MATCH HERE
QF - Garry Tonon (Renzo Gracie) SCORE #1 Renato Canuto (Checkmat), 15:00
Don't let the lack of points fool you, this might've been the fight of the day, and Tonon accused Canuto of biting him WATCH MATCH HERE
QF - #4 Dante Leon (GF Team) 3-0 over Lucas Lepri (Alliance)
One of the most notable upsets of day one WATCH MATCH HERE
QF - #3 Vagner Rocha (Fight Sports) SCORE #15 Celso Venicius (XCoach Team)
Rocha gets a passivity warning against Venicius to make the semis WATCH MATCH HERE
Semifinals
#2 JT Torres (Atos) vs Garry Tonon (Renzo Gracie)
#3 Vagner Rocha (Fight Sports) vs #4 Dante Leon (GF Team)
66kg ? pic.twitter.com/YonkhOV15G

— FloGrappling (@FloGrappling) September 28, 2019
R16 - #1 Paulo Miyao (Unity) 5-0 over Kenta Iwamoto (Tri-Force Jiu-Jitsu)
The no gi Pans champ dominated this from start to finish WATCH MATCH HERE
R16 - #4 Nicky Ryan (Renzo Gracie) 2-0 over Jamil Hill (Lloyd Irvin)
He may think wrestling sucks, but wrestling is what won this for Nicky Ryan WATCH MATCH HERE
R16 - Augusto Mendes (Soul Fighters) SUB #15 Keith Krikorian (10th Planet), 7:55
Mendes with the opening round sub WATCH MATCH HERE
R16 - Matheus Gabriel (Checkmat) REF #6 Geo Martinez (10th Planet), 15:00
Gabriel continues a strong first round for Checkmat WATCH MATCH HERE
R16 - Pablo Mantovani (Atos) 13-0 over #12 Thomas Halpin (Fightsports)
An upset in rankings only, Mantovani had the largest margin of victory by points in this round WATCH MATCH HERE
R16 - Tye Ruotolo (Atos) 2-0 over Bruno Frazzato (Atos), 15:00
The youngest grappler of the competition took out the 2015 finalist in overtime WATCH MATCH HERE
R16 - #8 Richard Alarcon (One Jiu Jitsu) 4-2 over #2 Gianni Grippo (Marcelo Garcia), 15:00
The struggles continued for Grippo in this overtime loss WATCH MATCH HERE
R16 - #7 Kennedy Maciel (Alliance) SUB #9 Ruan Alvarenga (Alliance), 8:54
Cobrinha Jr gets a submission in his first career ADCC fight WATCH MATCH HERE
QF - #1 Paulo Miyao (Unity) 2-0 over #4 Nicky Ryan (Renzo Gracie)
Several near scores for Ryan but only one advantage, and Miyao confidently pulling guard paid off with his second straight trip to the semis WATCH MATCH HERE
QF - Augusto Mendes (Soul Fighters) REF Matheus Gabriel (Checkmat), 15:00
2015 bronze Mendes makes the semis again in his third career trip to ADCC
QF - Tye Ruotolo (Atos) REF Pablo Mantovani (Atos), 15:00
The 16 year old upset his Atos teammate, who was 4th back in 2017 WATCH MATCH HERE
QF - #7 Kennedy Maciel (Alliance) 2-0 over #8 Richard Alarcon (One Jiu Jitsu)
The son of the five time finalist and three time champ makes the semis in his first career trip to ADCC WATCH MATCH HERE
Semifinals
#1 Paulo Miyao (Unity) vs Augusto Mendes (Soul Fighters)
#7 Kennedy Maciel (Alliance) vs Tye Ruotolo (Atos)
+60kg
Most exciting first round female matchup? ? pic.twitter.com/yn96lB89Ux

— FloGrappling (@FloGrappling) September 28, 2019
QF - Gabi Garcia (Alliance) 2-0 over Stephanie Egger (Buddy Gym), 15:00
The GOAT had to go to overtime in her first fight WATCH MATCH HERE
QF - Ana Carolina Vieira (GF Team) SUB Amanda Leve (Ricardo Almeida BJJ), 13:11
One of the nastiest rear naked chokes of the day WATCH MATCH HERE
QF - Tayane Porfirio (Roger Gracie) REF Jessica Flowers (Gracie Barra), 15:00
Both received passivity warnings against them WATCH MATCH HERE
QF - Carina Santi (G13) 8-0 over Nathiely De Jesus (Unity)
Three separate scores and Santi cruises WATCH MATCH HERE
Semifinals
Gabi Garcia (Alliance) vs Ana Carolina Vieira (GF Team)
Tayane Porfirio (Roger Gracie) vs Carina Santi (G13)
-60kg
-60kg Female Division! ? pic.twitter.com/MPuiMxLkNP

— FloGrappling (@FloGrappling) September 28, 2019
QF - Beatriz Mesquita (Gracie Humaita) SUB Jena Bishop (Alliance), 1:46
Lightwork for Bia with the second fastest tap of the day WATCH MATCH HERE
QF - Ffion Davies (ECJJA) 12-0 over Rikako Yuasa (Dragon's Den)
The Brit completely dominated her Yuasa WATCH MATCH HERE
QF - Bianca Basilio (Almeida JJ) SUB Livia Gluchowska Giles (Absolute MMA), 2:17
Rear naked chokes are the sub du jour WATCH MATCH HERE
QF - Elvira Karppinen (MMA Team 300) 2-0 over Catherine Perret (Checkmat)
The only competitor from Finland into the semis WATCH MATCH HERE
Semifinals
Beatriz Mesquita (Gracie Humaita) vs Ffion Davies (ECJJA)
Bianca Basilio (Almeida JJ) vs Elvira Karppinen (MMA Team 300)