UFC Newark Prelim Results & Quotes
UFC Newark Prelim Results & Quotes
The early risers were rewarded today with UFC on ESPN 5 prelims live from Newark.
Aug 3, 2019
by Daniel Vreeland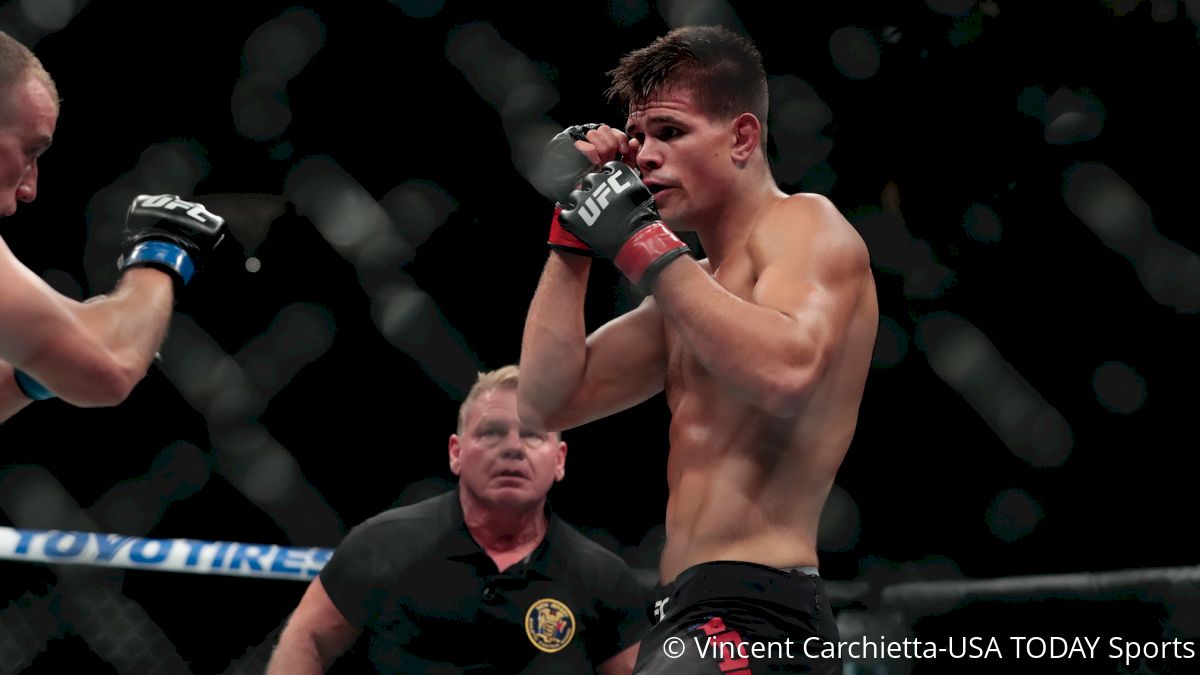 The early risers were rewarded today with UFC on ESPN 5 prelims live from Newark. Kicking off at the uncommon start time of noon eastern time, those who decided to enjoy some face punching with their brunch were not disappointed. The fights brought action sure to wake you up early.
Miranda Granger vs Hannah Goldy
Granger by Unanimous Decision (30-27, 30-27, 30-27)
In a back and forth bout with big shots landed by both women, it was Miranda Granger who made the better impression on the judges scorecards. The forward pressure and cage control gave her the edge in a bout in which there wasn't a huge discrepancy in the striking numbers. While she made the successful debut at 125, it looks like she'll be heading back to strawweight in her UFC return.
"This is a dream come true. This is where I belong. I'm ready to show the world what I'm all about. It felt surreal walking out there. I go to the fights with my family and watch on TV. To follow in the footsteps of so many legends is just an honor. I'm truly blessed to be here," Granger said. "Hopefully I can get a fight at strawweight next. I took this fight on two weeks' notice, but I was ready. I want to fight all the strawweights—no one in particular. Whoever they put in front of me."
Watch her full interview here: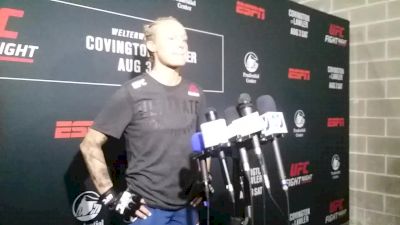 Claudio Silva vs Cole Williams
Silva by Submission (Rear Naked Choke) - Round 1 (2:35)
Despite the grappling skills, Claudio Silva has been showing off with his superb striking as of late, but he decided to show off his preferred gentle art in Newark. After tagging Williams a couple times of the feet, a takedown led to back control almost instantly. A couple of hammerfists softened up the UFC newcomer and then the choke finished the job.
"I've been training this for a long time. I gave him a couple punches and went for the rear-naked choke. I'm Brazilian Jiu-Jitsu black belt and that's what I showed tonight," Silva said.
And while it was a quick night, Silva is in no rush to get right back in there.
"I've beaten a lot of big names and I want to stay busy. I was away from my family for a while. Now I want to relax a bit, but I'd love to fight in December."
Lauren Murphy vs Mara Romero Borella
Murphy by KO (Knee and Elbows) - Round 3 (1:46)
The fight looked as expected with Borella getting some solid grappling going early and Murphy trying to make it a gritty fight, but a big shot in the third changed that tale quickly. Murphy landed a nice shot on the feet that wobbled Borella. Murphy didn't let off the gas after that chasing Borella until she dove on a takedown. Murphy quickly stuffed it and on the scramble landed a huge knee that was the beginning of the end.
Following the big win, Murphy set her sights on a top 10 opponent.
"Anyone in the top 10 is a good fight, but I have not fought Alexis Davis or Roxanne Modafferi yet. I really respect them both. They're ranked above me and are long-time veterans of the sport. I'm a respected veteran of this sport and proved I can finish in the top 10," she said. "That's a big deal and I'd like to test myself against these women that have been around longer than me. They're proven, gritty and mean fighters. They'd be tough tests for me.
Watch her full post fight interview here: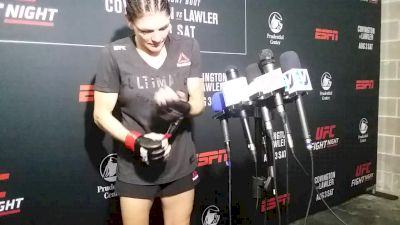 Jordan Espinosa vs Matt Schnell
Schnell by Submission (Triangle Choke) - Round 1 (1:23)
It didn't take long for Jordan Espinosa to break into his grappling chops, but it took even less time for Schnell to show off his jiu jitsu. After giving up on a guillotine, Schnell transitioned to a traingle, cut the angle, and finished the job.
Despite his short vacation to bantamweight, the win makes it 3-straight for Schnell, which puts him behind only champion Henry Cejudo. Knowing that, he took aim at the man he thinks can catapult him to that big fight.
"I want Deiveson Figueiredo next. I figure that sets up someone to fight Joseph Benavidez. Henry's hurt and touring South America with Brazilian supermodels. If he won't keep this division afloat, somebody's got to step up and that's me," Schnell said. "I can finish all these guys. It's taken me getting my feet wet and taking my lumps to prove it to myself. I have respect for everybody, but they can all get it. I'm the best in the world."
Antonina Shevchenko vs Lucie Pudilova
Shevchenko by Submission (Rear Naked Choke) - Round 2 (1:20)
It seemed that the book was out on Antonina Shevchenko. After losing a decision to Roxanne Modafferi last time by getting outworked on the ground, it looked like Shevchenko's opponent Lucie Pudilova was going to attempt a similar gameplan. The first round seemed to work out for Pudilova who defended an armbar attempt and spent a good portion on the round on top. Pudilova's first attempt in the second round would spell disaster though. Shevchenko transitioned to her back immediately and, with an arm trapped, sunk in a nasty choke that put Pudilova clean out.
"I feel great. It's a great victory. I didn't feel the elbow as hard, but I knew I was bleeding. I saw she was pretty open for submissions in the first round, so I took it. I felt that she was out," Shevchenko said. "I didn't expect her to grapple like that. I thought we would put on a striking fight. As soon as she clinched, I understood she didn't want to strike. She thought she could wrestle me. I showed her that I'm strong in the clinch, too."
Mickey Gall vs Salim Touahri
Gall by Unanimous Decision (29-28, 29-28, 29-28)
The hometown crowd was out in full force for Gall as he made his New Jersey homecoming, and they had plenty to cheer about.
After Gall secured the back in the first round, it looked like it would be a grappling clinic. Touahri came back in the second, not only landing some heavy shots, but doing some work on the mat himself. Ultimately, though, it was the grappling work again in the third that earned Gall a hard fought decision in his backyard.
"I love Jersey. It means everything to win here. This is my home. People here grew up like me. We have that shared experience and I take a lot of pride in being from Jersey," Gall said. "Jersey toughness is our moniker. It's an honor to put on a show in front of those animals"