Written by Rose Miller vs FloGrappling
Fight 2 Win is back to their usual format this Saturday, July 20 in Minneapolis, Minnesota with a men's 160lb black belt gi main event between Kennedy Maciel (Alliance) and Marcio Andre (Gustavo Dantes).
Watch it LIVE or On Demand on FloGrappling.com and FloCombat!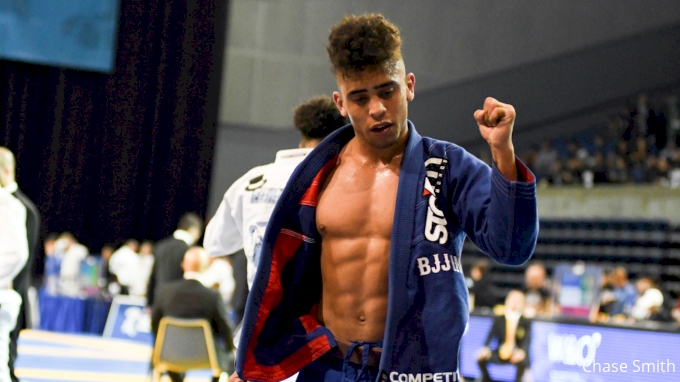 Kennedy Maciel
As the son of the legendary Rubens "Cobrinha" Charles, Kennedy Maciel was born into jiu-jitsu stardom, but it is his captivating style and competitive success that has kept him there, and established him as one of the very best up-and-coming black belts. He burst onto the scene as a juvenile taking Worlds by storm in 2014, and went on to earn the coveted title twice more: once as a purple belt (2016) and again at brown belt (2018).
After losing his black belt Pan Ams debut he came back with a savage performance at Worlds. The brackets had him paired against his senior teammate, Isaac Doerderlein, who received the bye to go on in the division, so we were starved of the Worlds performance we all hoped for.
Despite all of that Kennedy is still revered as a top contender in the featherweight division recently winning American Nationals, both in gi and no-gi, and the ACB World Championships. Although, he is known for his menacing de la riva and well-rounded guard, Kennedy is an absolute savage on top. His first win as a black belt as Worlds perfectly showcased his captivating game: patient timing, seamless transitions, and relentless submission attempts eventually ending with a beautiful botinha, or ankle lock, against Thiago Abud.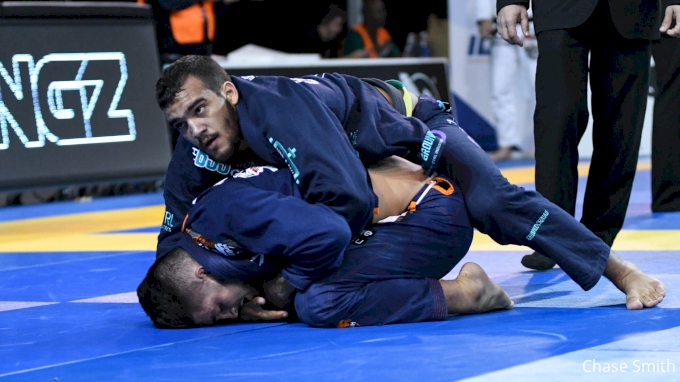 Marcio Andre
Marcio Andre is another name that made waves at this past Worlds. With the exception of a couple appearances, Marcio Andre took off nearly the entire first quarter of the year while expecting the birth of his first daughter. Shortly after her birth in March he came back in a fury with a silver medal campaign at
Despite his absence from Pans he has remained at the top of his division as FloGrappling's no.3-ranked featherweight. In addition to being known for his threatening guard, he is also one of the most adaptable players in the game. Whether he is challenged by a fellow guard player, like Isaac Doederlein, or in an explosive battle against aggressive passing, like Renato Canuto, Marcio Andre has been on the scene long enough to have faced it all. Fan should expect a gauntlet of guards between two of the best featherweight prospects.
Also on the card…
The card also hosts a very international co-main event for the men's 135lb black belt gi title between the Brazilian, Jose Carlos Lima (GF Team), and Tomoyuki Hashimoto (Carpe Diem), hailing from Japan. Both men are known for their berimbolo game.
The women's F2W Flyweight title is going in circles! The flyweight belt is slippery, making its way from Talita Alencar, to Karen Antunes, and is now currently around the waist of Amanda Monteiro.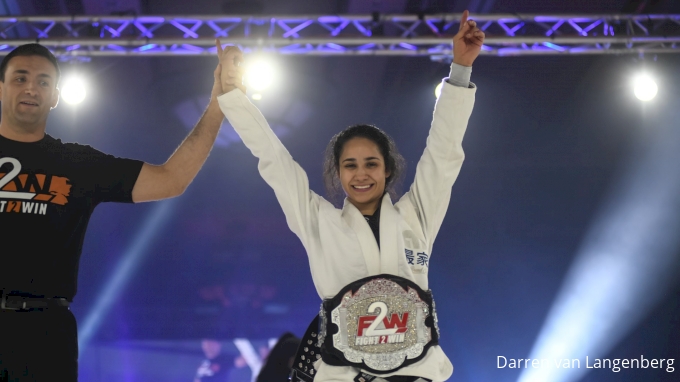 Amanda Monteiro
This weekend it might come full circle as former title holder, Talita Alencar (Alliance) takes on former teammate and reigning F2W Flyweight Champion, Amanda Monteiro (GF Team) to establish who the true champion is. These women have duked it out countless times on the world's biggest stages. In recent meetings Monteiro has had the winning edge, but with a shift in ruleset, and more motivation than ever backing Alencar, anything is possible.
As always, Fight 2 Win is bringing over 30 more matches to the stage, showcasing both the best up-and-comers and well as local talent looking to make a statement.