FloCombat Prospect Of The Week: CES Champion Tony Gravely
FloCombat Prospect Of The Week: CES Champion Tony Gravely
CES MMA champion Tony Gravely deserves his shot. Michael Fiedel breaks down why during FloCombat's latest Prospect of the Week.
Jul 16, 2019
by Michael Fiedel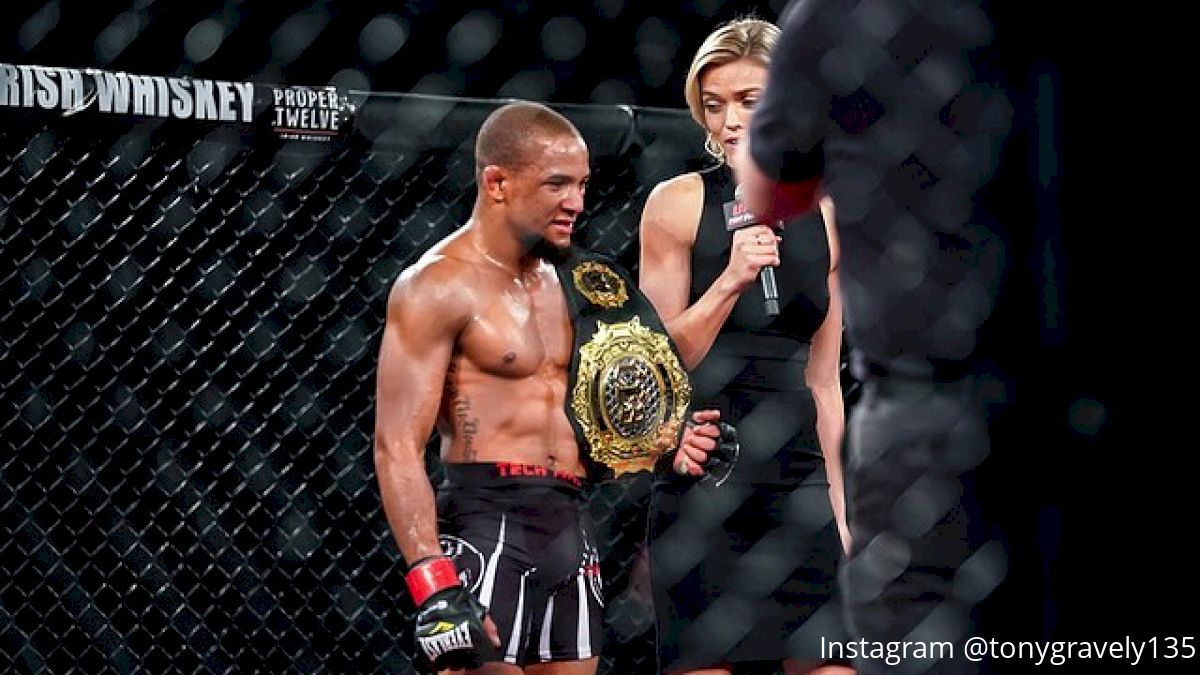 Mixed martial arts is a rapidly evolving sport with an unbelievably high rate of turnover. Today's stars will soon be yesterday's, and tomorrow's will soon be today's. At FloCombat, we're committed to showcasing some of the best young talents the sport has to offer. We want to introduce you to the next wave of MMA superstars — which we've done with names such as Deron Winn, Luis Pena, Manny Bermudez and countless others over the years of streaming live events from across the U.S.
In "Prospect of the Week," a new weekly installment here on FloCombat, we'll focus on one fighter a week who has the potential to do great things and deserves the spotlight.
In this series, a prospect is defined as a fighter under the age of 30 years old fighting in a promotion outside of the UFC or Bellator. It's an imperfect definition of an imperfect term, but it's the one that will govern this series.
This week, FloCombat highlights a fighter who should have been signed to a major promotion long ago, Tony Gravely (18-5).
Gravely, 27, is a Virginian bantamweight fighter and a King of the Cage and CES bantamweight champion.
Gravely is ranked in Tapology's top five as an overall U.S. bantamweight prospect, its top two as a U.S. Northeast prospect, and first in both the U.S. Southeast and the talent-rich New England scene.
The son of a Tae Kwon Do instructor and a wrestler since his middle school days, Gravely has long been surrounded by mixed martial arts. He began fighting MMA in the amateur ranks in 2014, largely competing under the Fight Lab banner.
Following a 6-1 amateur career, during which he avenged his lone loss to Da'Mon Blackshear (6-3), Gravely began a professional career in 2015. He was victorious in his debut, scoring a unanimous decision win in his first pro fight.
In his second bout, Gravely fell to Pat Sabatini (11-2) by first-round rear-naked choke submission in his Cage Fury Fighting Championships (CFFC) debut. The loss was merely a blip on the early record of Gravely, who went on to put together a six-fight winning streak, complete with four finishes.
On the heels of this impressive winning streak, Gravely suffered the roughest patch of his career, dropping three of his next four fights. Gravely was submitted by Ricky Bandejas (11-3) in the second round, outpointed by Merab Dvalishili (9-4), and armbarred by Manny Bermudez (14-0), with a lone decision win sandwiched between the Bandejas and Dvalishili fights.
As he did following the Sabatini loss, Gravely put his losses behind him with a multi-fight winning streak. Gravely scored four straight unanimous decision victories in four different promotions, including Legacy Fighting Alliance (LFA), King of the Cage (KOTC), and CFFC.
On the strength of that run, Gravely challenged Patrick Mix (11-0) for the KOTC bantamweight title at KOTC: No Retreat in May of 2018. Gravely was submitted by the first round, falling to Mix's dangerous guillotine.
The loss to Mix would be the last of Gravely's career to date. Since, he has rattled off six straight wins - and finishes - looking better and better each time out. Along the way, the Virginian has captured KOTC and Classic Entertainment & Sports (CES) MMA bantamweight championships, with wins over Drako Rodriguez (5-1) and Kody Nordby (9-5), respectively.
Gravely has defended his CES title twice, most recently in March, with back-to-back stoppages. As a defending champion in CES and a champion in KOTC, as well, it's clear why Tony Gravely is such a compelling talent.
It's also fair to say that his 18-5 professional record isn't the prettiest looking record in the sport. However, when looking at Gravely's five defeats, each one has come at the hands of either a top UFC prospect, a top Bellator prospect, or regional champion.
Gravely's first loss was to Sabatini, the CFFC featherweight champion. It's also worth noting that the loss came at featherweight - one division above Gravely's true weight class. Next was the loss to Bandejas, one of Bellator's top bantamweights, who recently obliterated highly-touted prospect James Gallagher (9-1).
Then came the losses to Dvalishvili and Bermudez, who are both top UFC bantamweight prospects, respectively. Dvalishvili is riding a two-fight winning streak over Terrion Ware and Ultimate Fighter Season 27 winner and previously undefeated Brad Katona, while the undefeated Bermudez is on a three-fight, all-submission streak inside the Octagon.
Gravely's last loss was to Patrick Mix, who, like Bermudez, is undefeated. Now signed to Bellator, Mix recently defeated the aforementioned Bandejas to establish himself as the top prospect in the promotion's bantamweight division.
So, upon further inspection, Gravely's five losses look much better than previously thought. Tony Gravely is a two-promotion bantamweight champion, a unanimously considered top prospect, and a proven finisher on the feet and on the mat.
For those reasons, the CES champion is FloCombat's Prospect of the Week.