Valor Fighting Challenge 61 Full Preview, How To Watch
Valor Fighting Challenge 61 Full Preview, How To Watch
Valor Fighting Challenge 61 streams live from Tennessee Friday, July 12, only on FloCombat.
Jul 12, 2019
by Daniel Vreeland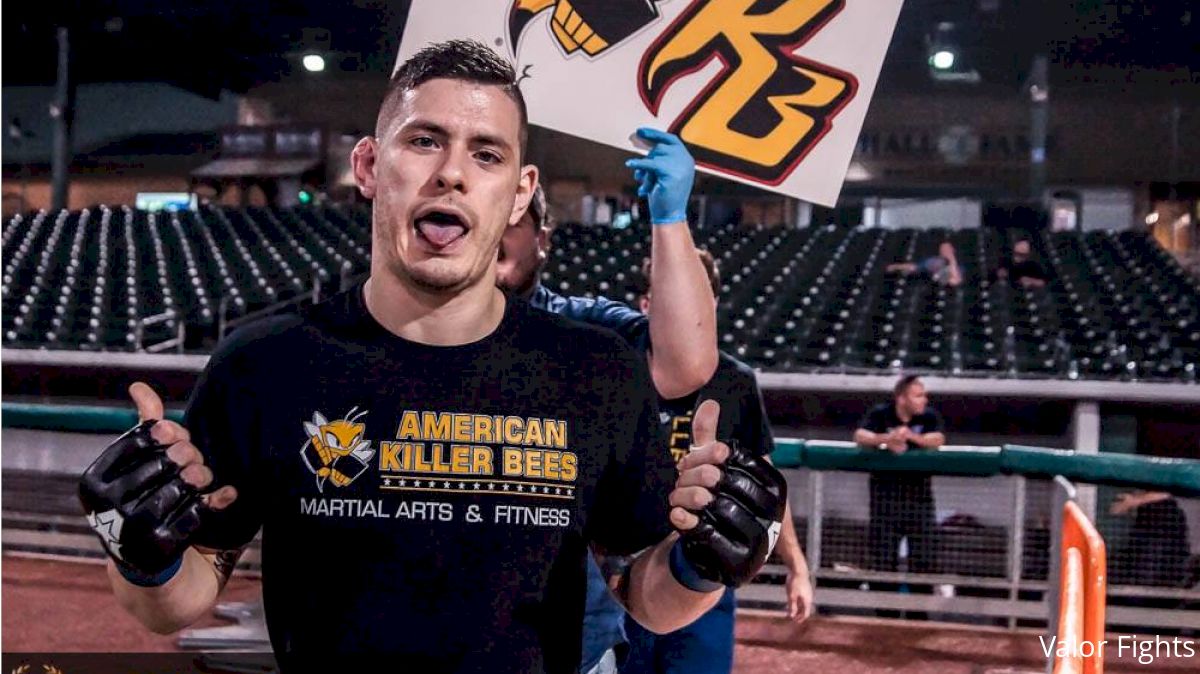 What's more American than spending your Friday night watching people punch each other in the face smack dab in the middle of Tennessee's greatest country music night club?
Nothing. The answer is nothing.
And if you sadly can't make it to Knoxville for Valor Fighting Challenge 61, FloCombat has you covered with all of the action. This Friday, we'll bring you 14 fights ranging from MMA to Muay Thai Kickboxing to Pankration, all live from the Cotton Eyed Joe.
Watch Valor Fighting Challenge 61 LIVE on FloCombat
In the main event, David Robins (4-0) will make his fifth walk to the VFC cage as a professional, all of which have taken place in the last year. His aggressive style combined with a killer instinct has led him to an undefeated record, with each of his professional victories coming by way of first-round stoppage. None of his bouts have made it even half of one round, and he's working to keep that streak alive.
Looking to stop him is Adam Denton (2-3), who'll be making his VFC debut. The scrappy veteran is always game to throw down, which guarantees this fight will be a front runner for Fight of the Night.
In the co-main event, another VFC favorite looks to keep her record perfect. Liv Parker (2-0), fresh off her rear-naked choke victory back in May at Valor Fighting Challenge 59, returns to the cage to face Jamie Driver (1-3).
Although Driver's record is far from perfect, her resume includes bouts with highly touted prospects from impressive promotions. She's tangoed with Amber Lynn Orr from Invicta FC as well as Jessy Miele from CES MMA, and she's hoping those dance partners have got her ready for the Cotton Eyed Joe.
All this, plus Chase Wender and Majin Dunham trying to keep their professional records clean, and plenty of other professional and amateur action. Friday night face-punchin' is upon us, friends. Let's have some fun.
Watch Valor Fighting Challenge 61 LIVE on FloCombat
Professional Card
Adam Denton vs David Robins
Jamie Driver vs Liv Parker
Tyler Smith vs Steven New
Antowuan Mosley vs Chase Wender
Majin Durham vs Keith Olson
Amateur Card
Zack Fox vs Joe Long **(Muay Thai Bout)
Dakota Luna vs Stevean Wilson Jr.
John Napier vs Dale Dodds
Joel Winters vs Anthony Cochran
Brandon McGhee vs Dan Boehle
Travis Gregoire vs Harrison Aiken
Anthony Rodgers vs Gabe Gibson
Derrick Smith vs Cody Linder **(Muay Thai Bout)
Zacariah Hammock vs Blake Randall **(Junior Pankration Rules)