2019 Cowboy Fight Series 2
Cowboy Fight Series 2: Watch Four Title Fights Live On FloCombat
Cowboy Fight Series 2: Watch Four Title Fights Live On FloCombat
Cowboy Fight Series 2 comes live to FloCombat Saturday, June 29. Here's why you need to watch.
Jun 29, 2019
by FloCombat Staff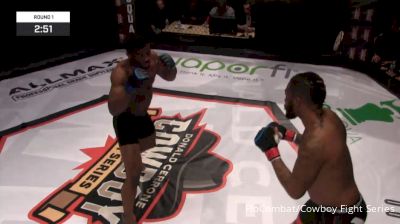 Unlock this video, live events, and more with a subscription!
Get Started
Already a subscriber? Log In
The brainchild of perennial UFC lightweight contender and legend Donald "Cowboy" Cerrone, Cowboy Fight Series, is back with its second event this Saturday, live at 5:30 p.m. from Gold's Gym in Sterling, Virginia, and streaming on FloCombat.
Watch Cowboy Fight Series 2 LIVE on FloCombat
Cowboy Fight Series, launched in July of 2018, is Cerrone's idea for a way to give the world's top amateur mixed martial artists a bigger, more accessible platform to showcase their skills. The promotion seeks to pit high-level amateur talent against one another to reveal the world's most impressive prospects.
The promotion will return to action this weekend after a five-month layoff from their inaugural event, Cowboy Fight Series 1: Jimenez vs. Tomlinson, with a stacked card that features four title fights.
First up...
In the first title fight of the evening, 23-year-old Tyus Thomas (8-3) will take on undefeated 21-year-old Carlos Martinez (2-0) for the CFS light heavyweight title.
Thomas, a native of Virginia, began his amateur MMA career in 2013. Thomas initially started his career at middleweight, but bumped up a weight class to 205 pounds in 2016. Since the switch, Thomas has gone an impressive 5-2 with four finishes (two knockouts and two submissions, respectively).
Training out of the Richmond-based MMA Institute, Thomas will look to score his second straight victory and capture the CFS amateur light heavyweight belt against Martinez.
Martinez, 21, made his MMA debut just this year. In fact, his first MMA fight was in April just two months ago. Since beginning his MMA career, Martinez has fought once a month, with his third fight in as many months scheduled against Thomas.
Watch Cowboy Fight Series 2 LIVE on FloCombat
Like Thomas, Martinez is a highly touted amateur prospect in the U.S. Southeast at 205 pounds. In another parallel between the two, Martinez has also competed at 185 pounds, winning his second fight at middleweight.
In his first two fights, Martinez has won both times by an accumulation of strikes. He was victorious in his debut via first-round (T)KO, and he won his second bout when his opponent failed to answer the bell to start the third round.
And then...
The second title fight of the night will be contested at bantamweight, as two of the best names in amateur MMA square off in the CFS cage. Mohammad Ali (3-1) drops down to 135 pounds to challenge fellow CFS 1 veteran Corey Champion (9-3) for the belt.
Ali, 19, is one of the youngest fighters on the card, if not the entirety of televised MMA. Fighting out of Virginia, Ali will look to build upon his successful CFS debut with a second straight promotional - and third straight overall - victory.
Ali is a career featherweight, but at 5'6", bantamweight is likely a fluid transition for him. To date, Ali has gone to a decision in each of his amateur bouts. All three of his wins came by way of unanimous decision, while his lone loss was also his lone split decision.
Standing across from Ali will be Corey Champion, who is just 20 years old himself. Champion, who fights out of Gordonville, Virginia, also competed on CFS 1, where he suffered his first loss in two years in an incredibly close fight with Chase Bouthwell.
Prior to his loss to Bouthwell, Champion had looked phenomenal, compiling a seven-fight winning streak with five submissions and one knockout, to boot. Champion will look to become one, and get back into the win column, against Ali.
But wait! There's more...
In the co-main event of CFS 2, CFS 1 main event winner Oscar Jimenez (7-0) will meet fellow undefeated prospect Tyler Bunting (4-0) for the CFS amateur middleweight title.
Jimenez, 20, is considered the top amateur middleweight in not only Virginia, but the entire U.S. Southwest. The American maintains a 100% finishing rate, rounding out his performances with three submissions and four (T)KOs.
Jimenez originally began his career in 2018 at light heavyweight, but has since moved down to 185 pounds with ease. In his second promotional bout with CFS, Jimenez will look to make it eight straight wins - and possibly eight straight finishes - to kick off his amateur career.
Tyler Bunting, on the other hand, is aiming to do everything in his power to make sure that doesn't happen.
Bunting, who began his MMA career in 2017, also sports a 100% finishing rate. The high-level amateur has scored three of his four wins by submission, securing an americana, a D'Arce, and a rear-naked choke, and one by knockout.
Bunting will look to make his CFS debut a successful - and title-capturing - one against Jimenez.
Main event
Cowboy Fight Series 2's main event pits two top women's flyweight prospects, Sumiko Inaba (5-1) and Kelsey Gilmore (4-3) against one another for the CFS amateur flyweight title.
Watch Cowboy Fight Series 2 LIVE on FloCombat
Inaba, who fights out of Hawaii, made her amateur MMA debut in 2014. Following her debut win, she spent two years on the sidelines before returning to action in 2016. After suffering his first and only loss, a majority decision to undefeated Kendra Elizabeth Linn, Inaba has rattled off four straight wins.
On her current winning streak, Inaba has scored two knockouts and one submission. Inaba will look to continue her impressive momentum and add the CFS title to her mantle.
Standing in her way is Kelsey Gilmore, who will also make her promotional debut at CFS 2. Gilmore made her MMA debut in 2014, but, like Inaba, she took a multi-year break between her first and second fights.
Following her debut loss, Gilmore won three straight fights in a variety of regional promotions. She then suffered back-to-back decision losses, including one on CFS 1. However, Gilmore righted the ship this March with a decision win, punching her ticket to a main event title fight at CFS 2.