Luis Pena's Newfound Philosophy: Have Fun Hitting People In The Face
Luis Pena's Newfound Philosophy: Have Fun Hitting People In The Face
Luis Pena — AKA 'Violent Bob Ross' — explains how he remained patient and collected in finishing Matt Wiman at UFC Greenville.
Jun 27, 2019
by FloCombat Staff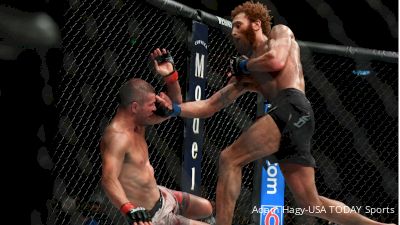 By Mike Heck
Luis Pena lived up to his "Violent Bob Ross" moniker in a big way on Saturday afternoon in Greenville, South Carolina, at UFC on ESPN+ 12.
The soon-to-be 26-year-old lightweight took on veteran Matt Wiman — his first fight in nearly five years — and put on a clinic en route to a third-round TKO stoppage victory. If you happened to jump on social media throughout the 155-pound battle, you probably saw multiple fans and media members virtually ask referee Dan Miragliotta to stop the fight on a few different occasions.
A fair amount of fighters will tell you that after inflicting the amount of damage that Pena inflicted upon Wiman in the first two rounds, it can get a bit frustrating. "What do I have to do to finish this guy?!" is a tough question to ask yourself, one that may even take a fighter's focus off of the game plan that was working so well throughout the fight.
Pena didn't get frustrated, though. He got more patient and selective while he continued painting his violent masterpiece.
"I didn't get frustrated at all," Pena told FloCombat. "I think that's a big thing for young fighters, fighters my age because you see that happen a lot. You see these guys hurt another dude and they get frustrated because they can't put them down. All of a sudden, they're on the receiving end. For me, I have great coaches: Rosendo Sanchez, Ron Keslar, I talk to Daniel Cormier a lot, and that was one of the big compliments 'DC' gave me saying, 'You did a great job staying within yourself and staying composed. You hurt him and were just picking your shots.'
"We talk about it all the time, if you hurt someone and they don't go down, keep having fun hitting them in the face."
After losing the first fight of his professional career to fellow The Ultimate Fighter 27 contestant Mike Trizano at UFC Fight Night 139 in November, Pena has bounced back with back-to-back wins. Prior to Saturday, Pena attempted a move to 145 pounds when he took on Steven Peterson at UFC on ESPN+ 6 in March. It proved to be a difficult task for Pena, as he missed weight by 2.5 pounds but still was able to pick up the unanimous decision win.
With the move back up to 155, a weight class that seems very healthy and powerful for the AKA-trained athlete, Pena came through in a big way. Having the type of one-sided performance Pena had, one might think everything went smoothly during fight week and he woke up ready to take on the world.
This particular fight week, however, was a little bit different.
"What's funny is, fight day was very, very weird for me," Pena explained. "I don't know what it was but I wasn't able to sleep for three days heading into the fight. I literally stayed up from Thursday to Saturday and didn't get any sleep. My coaches came into the workout room on Saturday and I was passed out for like a 30 minute power nap waiting for them to do a little workout. I was groggy. All fight day I was doubting myself. I kept asking myself, 'Man, have I f*cked myself here? Am I gonna have the energy to fight?' But every time I go to the back and I hear 'Luis, it's time to go,' something flips. None of that matters anymore.
"This was an anomaly. It's never happened to me before because I usually sleep like a baby. For some reason my hotel was scorching hot. I'm talking 75, almost 80 degrees. I'm sweating bullets the whole time I'm trying to sleep. All of this happening while I'm trying to cut weight and I just could not get comfortable. I was up for all three nights just thinking about this fight."
One thing that certainly helped Pena get jacked up for his fight was watching his teammate and roommate Deron Winn make his UFC debut taking on the returning Eric Spicely. The middleweight slugfest kicked off the event's festivities and set the tone for what would be one of the more entertaining cards of the year. While some fighters don't want to watch teammates and friends fight heading into their own battle, Pena couldn't help himself.
"If you follow the UFC Instagram account, you'll see I don't have any pre-fight rituals, other than just dancing and acting like a fool," Pena said. "I was screaming my head off (watching that fight). Coach Ro was telling to calm the hell down and save the energy for my fight but I was like, 'Man, this is my roommate! This is my brother! This is my blood! How are you gonna tell me to calm down?!' I'm sitting there going crazy, going ham watching my boy in there because he was doing it. People don't realize that me and Deron get into it. I look at him like an older brother and we get into it all the time, constantly yell and fight with each other. But at the same time he's one of my closest confidants. I come to him with everything. I ask him advice on everything, talk about everything going on in our lives. We have a very close relationship and to be able to see him go out there and do that, prove to everyone that 'I'm not a wrestler, I'm a f*cking fighter,' it was everything I wanted. It gave me the juice going into my fight. It gave me energy and I fed off of that.
"It was a ridiculous fight. I've watched it five times since I got home. I knew as soon as that fight happened that I need to go in there and beat this man's ass because I wasn't going to get Fight of the Night."
Following the victory, Pena was able to buy a car — not a new car, but a used BMW that represents the struggle and the grind he went through to get him to that place. It's not a status thing for Pena—it's a sense of pride and something he will certainly not take for granted.
Pena has been extremely active with four fights inside the Octagon over the last 11 months. So what's next for good ol' "Violent Bob Ross"? After, hopefully, a small pocket of r-and-r, Pena will be ready to get back in there with whomever the UFC puts in front of him.
"I have a very good relationship with my managers — we talk all the time — and we talked about it. I'd like to have like a month," Pena said. "Give me a month to just sit back ,relax and have a little fun. After that, I'll jump right back into camp and we can get another fight knocked out in September, October. But just give me some time to relax a little bit. It's pretty much been I fight, I take a week or two to go home and visit my family and friends, then I jump right back into camp. I'd like to take a little bit of time because I'm going back home to Little Rock to celebrate my birthday next week and I'd like to take that time to relax. Then we can kind of focus on getting better before jumping right back into a camp.
"Let's knock out one or two more before the year is over and then we'll see what 2020 is looking like."