2019 Valor Fighting Challenge 59
Valor Fights 59 Recap: Outdoor Brawls, KO's, and One Nasty Broken Toe
Valor Fights 59 Recap: Outdoor Brawls, KO's, and One Nasty Broken Toe
A cage on a baseball diamond, nasty submissions, failed backflips, and exploded toes -- Valor Fights 59 had it all!
May 20, 2019
by Nolan King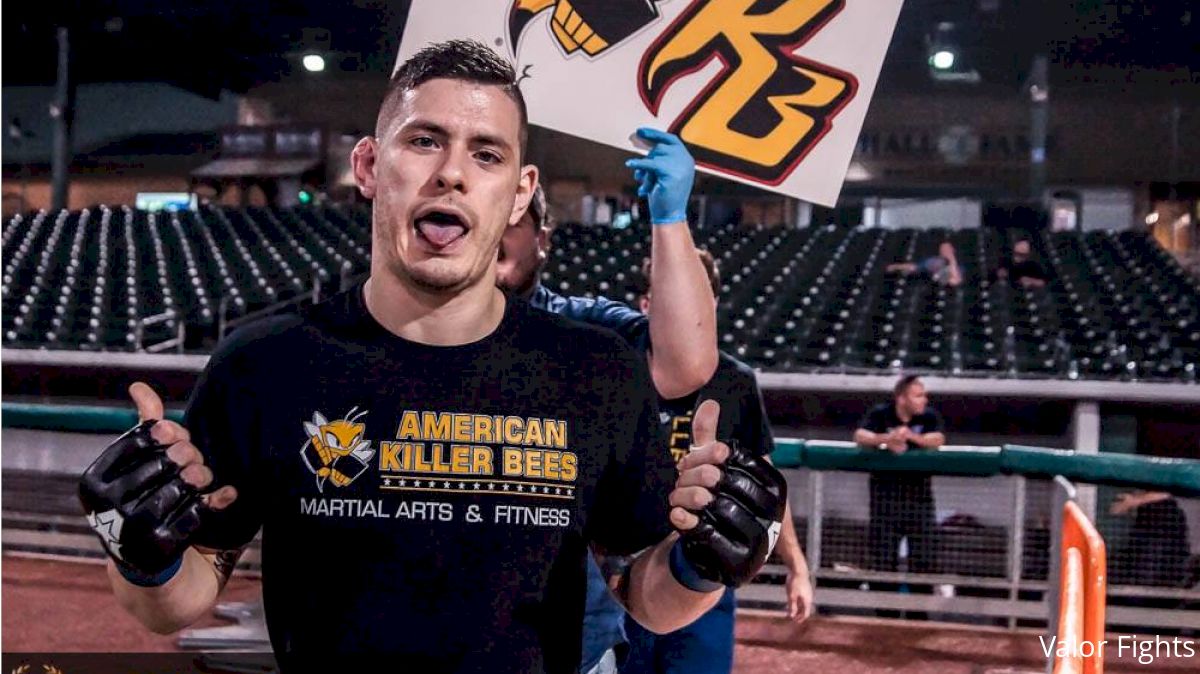 Whoever said baseball and MMA don't mix?
From exploded toes to failed backflips, Saturday night's Valor Fights 59 had a little bit of everything--even a rain delay!
The event took place at the Tennessee Smokie's baseball park in Kodak, Tennessee.
The evening featured over a dozen top-notch MMA bouts, airing live and exclusively on FloCombat.
The main event saw surging welterweight David Robins continue his winning ways. After being taken down by opponent James Conway, Robins was able to lock in a beautiful kimura from guard. Conway tapped out in route to Robins's fourth pro victory in as many fights.
The co-main event featured a 150-pound women's catchweight bout between Olivia Parker and Taryn Conklin. Midway through the second round, Parker picked up her second professional victory, submitting Taryn Conklin by rear-naked choke.
In a night full of finishes, the most impressive performance of the night may have been Hope Chase's nine second TKO of Morgan Hickam. The 20-year-old Ohioan starched her fight night foe, ending the fight via a barrage of punches.
Also on the card, former NFC flyweight title contender Cody Durden returned to action, submitting Jeremy Rogers via armbar in the opening minute of the fight.
Check out the entire Valor Fights 59 results below:
Pro Welterweight Bout: David Robins def. James Conway by submission (kimura) at 2:15 of Round 1
Pro Women's 150-Pound Catchweight Bout: Olivia Parker def. Taryn Conklin by submission (rear-naked choke) at 1:43 of Round 2
Pro 160-Pound Catchweight Bout: Damir Ferhatbegovic def. Jordan Weeks by unanimous decision
Pro Light Heavyweight Bout: Eric Olsen def. John Hall by TKO (injury) at 0:36 of Round 1
Pro 165-Pound Catchweight Bout: Josh Steele def. Chris Wolff by submission (americana) at 2:06 of Round 1
Pro Women's Bantamweight Bout: Hope Chase def. Morgan Hickam by TKO (punches) at 0:09 of Round 1
Pro Bantamweight Bout: Dre Miley def. Diego Bautista by unanimous decision
Pro Bantamweight Bout: Cody Durden def. Jeremy Rogers by submission (armbar) at 0:59 of Round 1
Pro Women's Strawweight Bout: Emilee King def. Anastasia Bruce by submission (rear-naked choke) at 1:40 of Round 2
Pro Welterweight Bout: Caleb Miller def. Billy Combs by submission (arm triangle choke) at 1:35 of Round 1
Amateur Welterweight Bout: Josh Miller def. Pat Johnson by submission (rear-naked choke) at 2:26 of Round 1
Amateur Lightweight Bout: Andrew Sturdivant def. Clay Malone by unanimous decision
Amateur Middleweight Bout: Chris Buttry def. Drew Czornohus by submission (rear-naked choke) at 2:40 of Round 1
Amateur 195-Pound Bout: Alex Lewandowski def. Chris Lowe by TKO (knees and punches) at 2:06 of Round 1
Amateur Heavyweight Bout: Dale Dodds def. Robert Davis by TKO (ground & pound) at 1:22 of Round 1
Amateur Light Heavyweight Bout: Gabriel Atkinson def. Justin Emmons by TKO (punches) at 0:35 of Round 2
Amateur Bantamweight Bout: Anthony Rivera def. Kam Wallace by submission (rear naked choke) at 2:45 of Round 3