2019 AKA Rite of Passage 7
AKA Rite of Passage 7 Recap: Tony Kelley Makes Quick Work of Andy Brossett
AKA Rite of Passage 7 Recap: Tony Kelley Makes Quick Work of Andy Brossett
Friday night, American Kombat Alliance returned for AKA Rite of Passage 7, airing live on FloCombat.
May 19, 2019
by Nolan King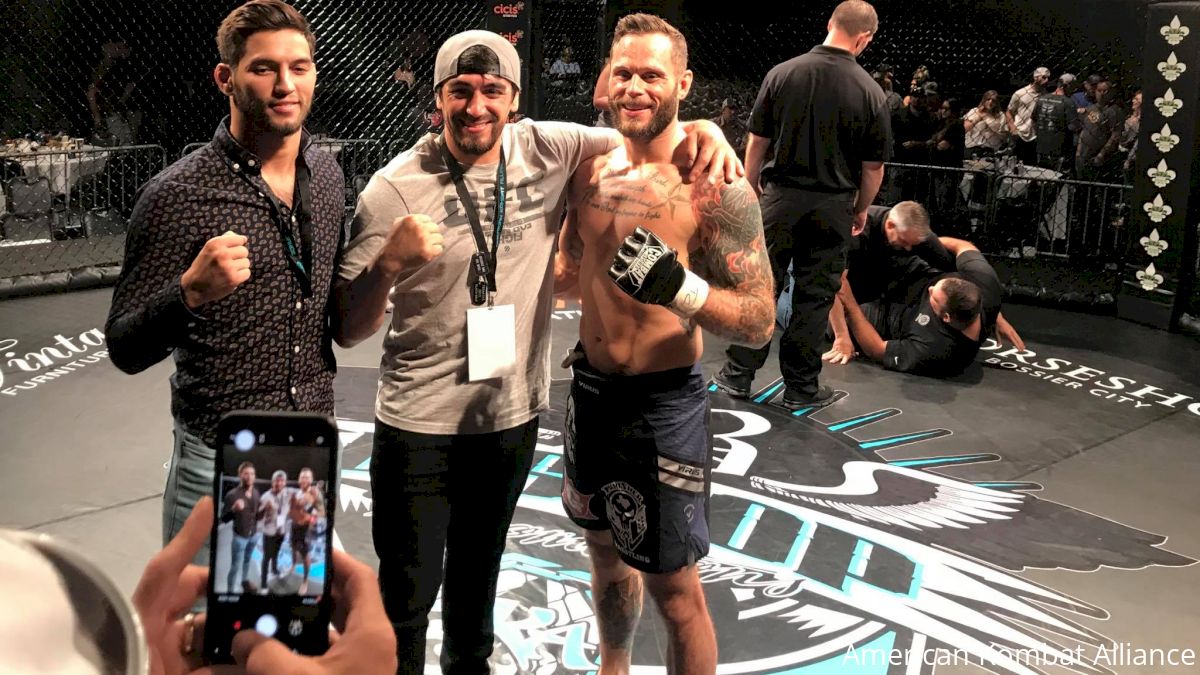 Friday night, American Kombat Alliance returned for AKA Rite of Passage 7. One of the southeast's premiere promotions, the event took place at the Horseshoe Casino in Bossier City, Louisiana.
The entire event aired live and exclusively on FloCombat.
In the main event, highly touted featherweight prospect Tony Kelley returned to action to meet Andy Brossett in a 150-pound catchweight.
Kelley, 32, had not competed since 2016 when he lost to Kevin Aguilar via split decision in a Legacy FC title bout.
After a feeling out process on the feet, it was Rosepine's Brossett who landed the first big takedown of the fight, slamming Kelley on his back. In Kelley's guard, Brossett looked to advance while avoiding a plethora of traps.
Scooting up, Kelley was able to grab a hold of Brossett's neck, locking in a deep guillotine choke. While he tried to fight the hands, Brossett was unable to do so and tapped out.
The night's co-main event saw Michael Stahl end Cory Roscoe Johnson's undefeated run as a professional. "Dozer" didn't waste any time. The 6'3" big man was able to take Stahl to the ground, mount him, and finish the fight with ground and pound in Round 1.
On the amateur undercard portion of the evening, AKA promoter Amber Bishop wrapped the belt around two amateur champions' waists.
In the welterweight amateur title fight, Michael Manno defeated Josh Thompson via unanimous decision.
Earlier in the evening, Don Doyle defeated Jacob Charles by second round TKO to earn the 155-pound strap.
Check out the entire AKA Rite of Passage 7 results below!
AKA: Rite of Passage 7 Full Card Results
Pro 150-Pound Catchweight Bout: Tony Kelley def. Andy Brossett by submission (rear naked choke) at 2:38 of Round 1
Pro Heavyweight Bout: Michael Stahl def. Cory Johnson by TKO (ground & pound) at 3:51 of Round 1
Amateur Welterweight Title Bout: Michael Manno def. Josh Thompson by unanimous decision
Amateur Lightweight Title Bout: Don Doyle def. Jacob Charles by TKO (ground & pound) at 2:44 of Round 2
Amateur Featherweight Bout: Josh Isaacs def. Jack Entzel by unanimous decision
Amateur Bantamweight Bout: Gavin Leverich def. Mike Martinez by TKO (ground & pound) at 2:58 of Round 2
Amateur Flyweight Bout: Rashaad Robinson def. Jacob James by split decision
Amateur Featherweight Bout: Blaine Wallace def. Chris Keeton by submission (rear naked choke) at 1:24 of Round 3
Amateur Bantamweight Bout: Darrian Hayes def. Zeke Wilson by unanimous decision
Amateur Featherweight Bout: Gary Thompson def. Diagwon Weatherspoon by submission (rear naked choke) at 2:23: of Round 3