UFC 237: Kurt Holobaugh Inspired By Dustin Poirier, Desmond Green
UFC 237: Kurt Holobaugh Inspired By Dustin Poirier, Desmond Green
UFC lightweight Kurt Holobaugh discusses his decision to move back to 155 and how Desmond Green and Dustin Poirier influenced that choice.
May 11, 2019
by Daniel Vreeland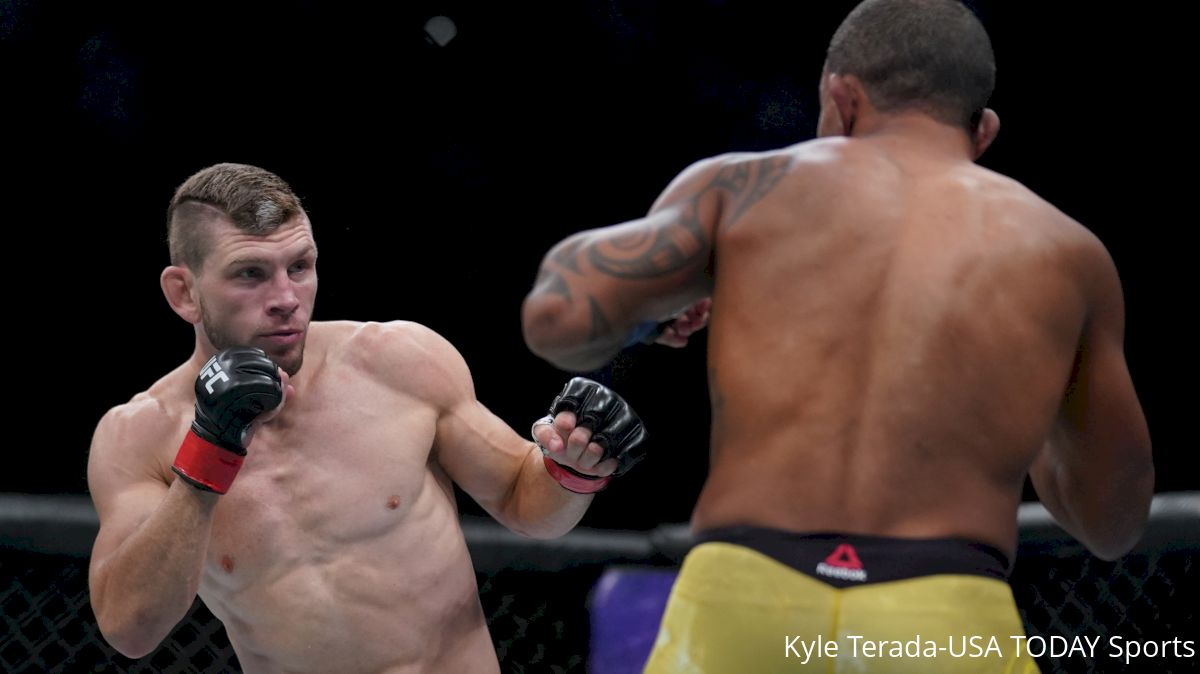 Kurt Holobaugh is the latest in the growing trend of fighters moving up a weight class. While he has a history in the division, including a prior stint in the UFC back in 2013, his last three fights have come at featherweight. Now nearly fully through his training camp for UFC 237 this weekend, Holobaugh feels like he's in the right place.
"Man, I think it's just more of a natural weight class for me," Holobaugh told the Top Turtle MMA Podcast on FloCombat. "I only have one loss at 155 pounds and that was to a No. 1 Strikeforce contender, Pat Healy."
In addition to all of his past successes in the division, the physical aspect has been a big part of returning to his original home. As he's gotten older, getting down to featherweight has been harder and harder.
"I just think the weight cuts were getting a little too hard," Holobaugh said. "My training camp was becoming more and more about me making weight than actually focusing on the fight itself."
The inspiration to go up a weight class comes from the success stories around him, especially the UFC's new interim lightweight champion.
"A lot of those guys, for example you can take Desmond Green and Dustin Poirier, two guys that used to fight at 145 pounds," he said. "Both guys wind up going on up to 155 pounds and you hear them both say the same thing."
And while the successes of those two fighters guided him to this decision, it was really the words of Green that helped him make the change.
"One cool thing that Desmond Green said that kind of stuck with me—this was way back when we went to Russia a few years ago," he shared. "He was like, 'Just because you can make 145 pounds doesn't necessarily mean you need to fight there."
After that fight for WFCA and hearing the advice from Green, Holobaugh made up his mind: He wasn't going back to featherweight. However, life has a way of messing up plans.
"After that fight in Russia, I said to myself how I don't think I'll ever go back to 145 pounds unless I needed to for an opportunity," he said. "That's kind of what happened. I needed that opportunity on the Contender Series and I took it."
After that fight, he wound up going down to featherweight twice more, largely in part to his team's opinion of the performance.
"My management and my team they said, 'You looked amazing at 145 pounds, so let's just try to stick around and let's see if we can make a run," he said.
Although that two-fight run didn't include any victories, he is pleased with the performances.
"I had two really great fights—sh*t happens," Holobaugh said.
Holobaugh hopes to right those wrongs this weekend when he faces Thiago Moises on the prelim portion of this weekend's UFC 237 card.