2019 Shamrock FC 318
Shamrock FC 318 To Feature NBC Star, Light Heavyweight Brawl
Shamrock FC 318 To Feature NBC Star, Light Heavyweight Brawl
Need to pregame this weekend's UFC and Bellator events? No problem, Shamrock FC 318 will be whipping up delicious action for your consumption.
May 7, 2019
by Nolan King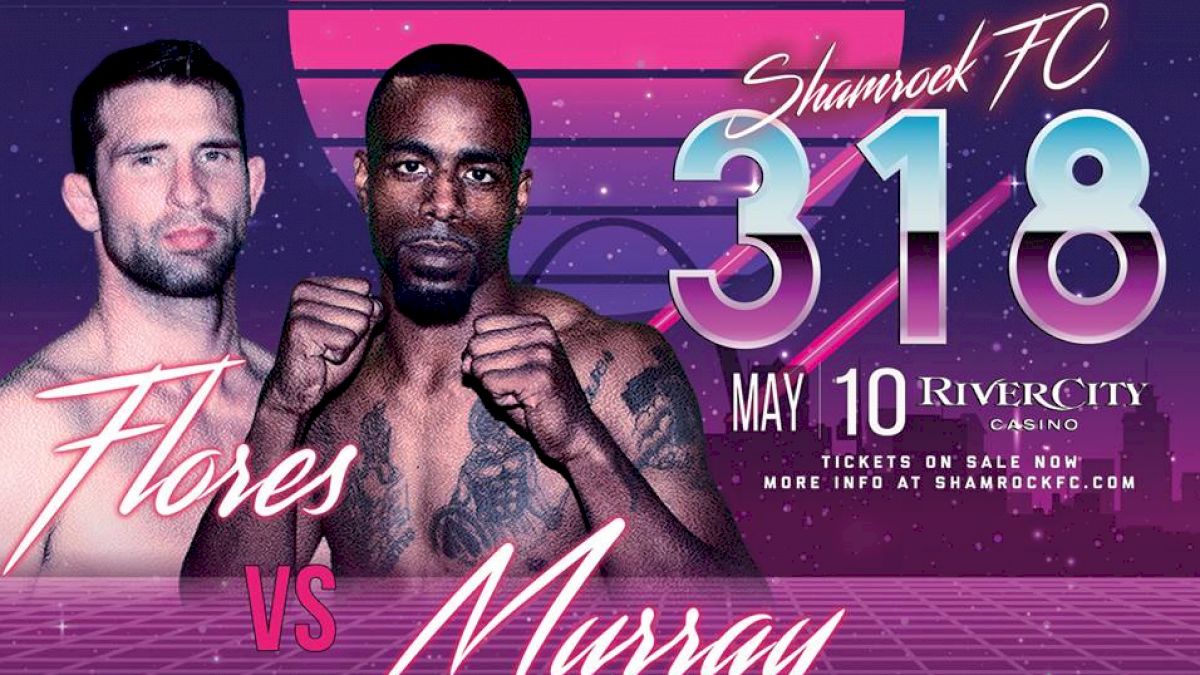 Need to pregame this weekend's UFC and Bellator events?
No problem, Shamrock FC 318 is set to whip up some delicious violence Friday, May 10, right here on FloCombat. The stream kicks off at 8 PM ET.
Watch Shamrock FC 318 LIVE on FloCombat
The night's main event pairs two of the Midwest's premier 205-pounders, as Ty Flores battles Erick Murray Jr.
A member of Easton Training Center in Denver, Colorado, Flores takes the mat with monsters on a day-in, day-out basis. Sparring and grappling with the likes of Neil Magny, Curtis Blaydes, and Dominick Reyes, Flores is ready to carve out his own name in the mainstream lens of MMA.
His opponent, Murray Jr., has split his last four bouts—none of which went to the judges' decision. While Murray Jr. has lost two fights in his seven-fight pro career, both defeats have been against top-tier regional talent.
LFA Light Heavyweight Champion Julius Anglickas and Contender Series veteran Alton Cunningham are the only two men who have been able to hand Murray Jr. an "L."
Earlier in the evening, highly touted homegrown talent Dustin Lampros returns to the cage to take on professional debutant Colton Minster. Training under Henri Hooft, it should come as no surprise the 25-year-old bantamweight boasts an undefeated professional record.
Another notable name on the main card is athletic renaissance man Derik Scott. The part-lawyer, part-MMA fighter has not competed in MMA since March of 2018.
The 31-year-old lightweight was featured on the hit NBC series "The Titan Games," hosted by none other than Dwayne "The Rock" Johnson. Scott was the runner-up on the inaugural season, losing a competitive head-to-head matchup in the finale episode.
Friday night, Scott will face off against Antonio Atkins.
Watch Shamrock FC 318 LIVE on FloCombat
Full Shamrock FC 318 fight card:
Pro Light Heavyweight Bout: Ty Flores vs. Erick Murray Jr.
Pro Bantamweight Bout: Dustin Lampros vs. Colton Minster
Pro Middleweight Bout: Shaun Scott vs. Derek Holly
Pro Lightweight Bout: Travon Crawford vs. Dan Busch
Pro Featherweight Bout: David Evans vs. Sergio Robles
Amateur Welterweight Bout: Murodbek Choriev vs. Peter Keepers
Amateur Heavyweight Kickboxing Bout: Austin Blau vs. Vince Bantu
Amatuer Middleweight Bout: Scott Marler vs. Tristan Overig
Amateur Middleweight Kickboxing Bout: Jason Brown vs. Chuckie Brooks
Amateur 120-pound Catchweight Bout: Karen Simoncelli vs. Shannon Robinson
Amateur Lightweight Kickboxing Bout: Tyler Horton vs. Bruce Ha
Amateur Lightweight Bout: Kenan Kapic vs. Dalton Seafler
Amateur Lightweight Bout: Melissa Lorber vs. Liz Goodman
Amateur Bantamweight Kickboxing Bout: Melissa Lorber vs. Liz Goodman
Amateur Lightweight Bout: Peter Lucitt vs. Chris Lorenzo
Amteur Welterweight Bout: Tyree Davis vs. David Frasier
Watch Shamrock FC 318 LIVE on FloCombat