2019 Valor Fighting Challenge 58
Valor Fights 58: Joe Long Predicts Second-Round Finish Of Micah Downs
Valor Fights 58: Joe Long Predicts Second-Round Finish Of Micah Downs
Undefeated Valor Fighting Challenge champion Joe Long defends his belt Friday night, live on FloCombat.
May 2, 2019
by Nolan King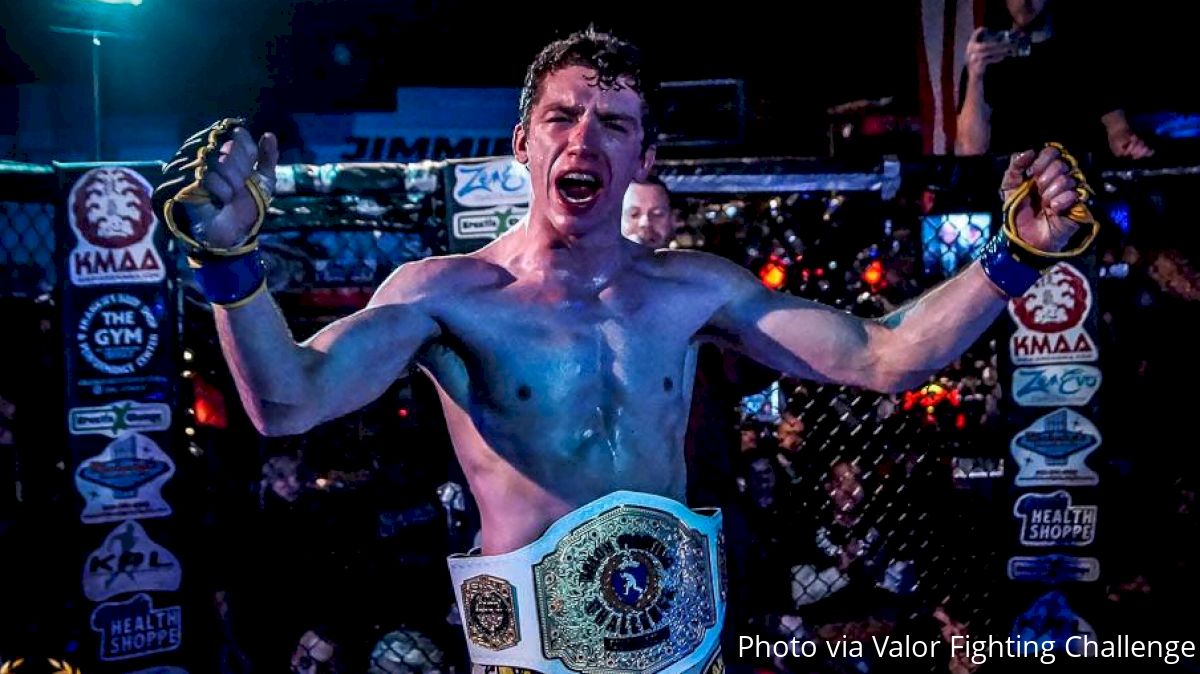 Friday night, Valor Fighting Challenge (VFC) is back with another phenomenal card of Tennessean face-punching. Atop the VFC 58 card sits Joseph Long (4-0, four finishes), who takes on Micah Downs (3-1, three finishes) in the evening's main event.
Even though he's only 23 years old, Long has already begun making a name for himself. Venturing into the world of MMA only three years ago, Long is one of the area's finest amateur combatants.
Watch Valor Fighting Challenge 58 LIVE on FloCombat
Fighting out of American Killer Bees in Cleveland, Tennessee, Long signed up for his first martial arts classes after seeing a sign on his way home from work. Long says he fell in love with the sport due to its individualistic nature.
"[I liked] the idea of the sport being one versus one and you can't blame your team for anything that happens in it," Long told FloCombat.
Undefeated in his career thus far, Long earned the Valor Fights Amateur Lightweight Championship in his last outing.
What makes him different from the rest of the pack? Volume, says Long.
"I'll sit in there and throw constantly," Long said. "I keep moving and have a gas tank that doesn't ever end, no matter how tired I am. I find a way to keep going, keep throwing, and keep moving. I'm always putting pressure on them."
Watch Valor Fighting Challenge 58 LIVE on FloCombat
While his record is unblemished, things haven't been all sunshine and rainbows for "Rambo Joe." He's had to overcome some learning curves in order to thrive
"My coach has turned me into a kickboxer," Long said. "Now, my hardest adversity is going from standing up to working takedowns into my striking. I can do really good in jiu-jitsu and really good in kickboxing, but trying to add the takedowns is my biggest issue I've been working on lately."
Friday night, Long defends his belt against the aforementioned Downs. Knowing he's in for a fight, Long plans on bringing his A-game.
"He's tough as nails and he's got heavy hands," Long said. "That's all I really have to watch out for. As long as I don't let that right hand land, he's not going to have an answer for my crisp and clean striking. If we stay standing, I'm going to knock him out. If we go to the ground, it's definitely going to be a submission in there. I'll say second round. He's tough so it's going to take a little beating to get there."
Though a win over Downs will put him at 5-0 in mixed martial arts, Long says he won't turn pro until he gains an extensive amount of experience.
"Being 23, young and impatient, I'd love to go pro now," Long said. "[But] my coach and [I] agree that I haven't been in the predicaments enough, or had the experience I need to go pro yet. The timeline of going pro is 30 [fights]. I've got 15 now, and 15 more fights later. We'll see what he says then."
While Long said he deeply admires the careers of UFC legends Conor McGregor and Anderson Silva, his coach is his martial arts role model.
"My role model in fighting has to be David Robins, my coach," Long said. "Ever since I started, he's been right there by my side. Any time I went through anything, he was right there. He gave me guidance and anything he's said I believed him 100 percent. I've followed through with everything he's said and if you follow what your coach says, you never lose. We're definitely showing that right now."
Watch Valor Fighting Challenge 58 LIVE on FloCombat