Cage Titans 43: Mitch Raposo A Whole New Monster at 135 Pounds
Cage Titans 43: Mitch Raposo A Whole New Monster at 135 Pounds
With the 125-pound weight class becoming a thing of the past, Cage Titans 43's Mitch Raposo is feeling better than ever transitioning to bantamweight.
Apr 4, 2019
by Nolan King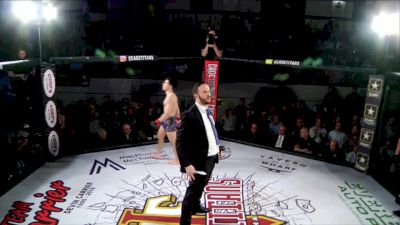 Unlock this video, live events, and more with a subscription!
Get Started
Already a subscriber? Log In
The UFC's flyweight division is dismembered, but Cage Titans' Mitch Raposo doesn't care.
The 20-year-old New Englander is one of the country's top amateur flyweights, but for months, he's been bulking up for his pro debut.
The move to 135 pounds was a no-brainer for Raposo, who has long dreamed of achieving UFC greatness. Instead of worrying about the redirection of his career trajectory, Raposo overcame the weight changing adversity in swift fashion.
In fact, on second consideration, Raposo realized 135 pounds would be his ideal weight class in the long run.
"I just turned 20, down the line I wouldn't even be able to make it," Raposo told FloCombat. "It's not like I'm five feet tall. The normal height for an average bantamweight in the UFC is 5'6". I'm 5'5". It doesn't really make a difference."
Never having lifted weights or taken protein in his life, Raposo began hitting the weight room four days a week. The bulk came much faster and easier than expected.
"I'm walking around in the high 140's with 6 – 7 percent body fat," Raposo said. "I'm in the best shape of my life and honestly, I feel like my skills have improved dramatically with this added size. I just feel better. My power in sparring, when I'm hitting people in sparring, it's just different. Everyone I've rolled with and grappled with is telling me I'm stronger than I've ever been.
"It's only been three months, so imagine six months down the road. You see guys like the CES Bantamweight Champion Tony Gravely. I've seen him in a person, and I'm bigger than him. He's a little older with more muscle mass than me, but with my frame, I'm going to be bigger than him. By my third or fourth pro fight, I'm going to be too big to even make flyweight."
Raposo, 20, was scheduled to make his professional debut—at flyweight—back in January at Cage Titans 42. However, as the clock approached fight time, Raposo received a phone call no fighter wants.
"At 8 AM in the morning, I get a phone call from my coach," Raposo told FloCombat. "I've been hearing stories like this since I was a little kid, so when I heard the tone of his voice, I knew what happened. But you gotta roll with the punches in this sport. This sport is unpredictable and nothing is expected in this sport. It's the craziest sport in the world and I know that I gotta adapt."
Watch Cage Titans 43 LIVE on FloCombat
With the delay, more anticipation has come. Fall River's Raposo is raring to get back in there. Luckily for him, on Saturday night at Cage Titans 43, he'll have the opportunity to do just that.
"I feel like I've never even had my amateur debut," Raposo said without hesitation. "After April 6, I'm going to be what everybody is talking about on Sunday morning. They're going to be like, 'Wow.' I'm going to be a totally different fighter. Everyone knows my skill set as being the best in New England, amateur or pro.
"People are going to see that power to put people away on April 6. They're going to think 'Holy Shit.' I'm going to be the scariest fighter in the Northeast—125, 135, whatever. I'm the best pound-for-pound prospect in the Northeast. And I'm going to prove that April 6."
While the short-term goal is for Raposo to defeat his opponent, Rob Fuller, Saturday, his eyes are still on the prize down the line.
"We're looking at Dana White's Tuesday Night Contender Series in 2020. I said I'd be close to the UFC or in the UFC by 2020. I'm gonna go good on my goal. I'm going to be even better at bantamweight, especially by the end of the year. I'm taking over."