Undefeated Joey Davis: 'I'm Not Anywhere Near' MacDonald, Lima & Company
Undefeated Joey Davis: 'I'm Not Anywhere Near' MacDonald, Lima & Company
Undefeated blue-chip wrestling prospect Joey Davis (4-0) talks about his return to the cage at Bellator 219.
Mar 27, 2019
by Nolan King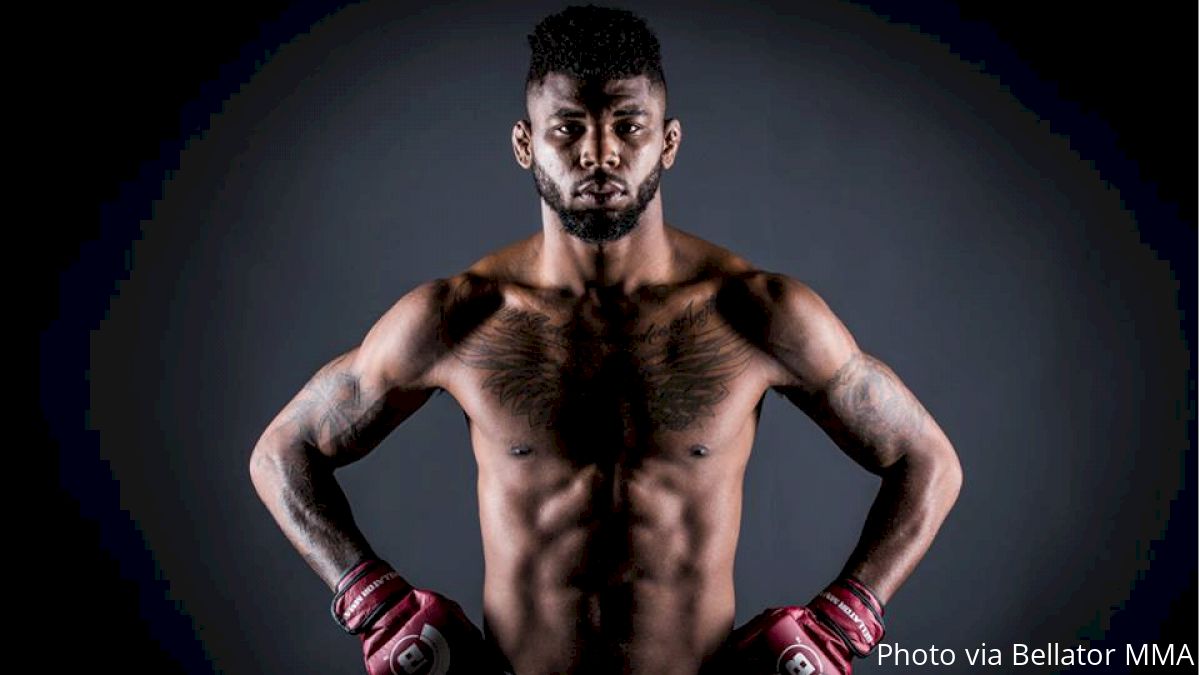 The term "undefeated" doesn't do Bellator MMA blue-chip welterweight prospect Joey Davis (4-0) justice.
The Notre Dame alumnus sports a 133-0 record in NCAA Division II wrestling—the only man in the division's history to accomplish the feat. Transitioning to mixed martial arts, Davis has found similar success, finishing the first four opponents Bellator has placed in front of him thus far.
In a day and age where grandiose, self-centered post-fight soliloquies garner the most attention, Davis stays focused on the main task at hand: improvement. Maybe, just maybe, that's why the man can't lose.
Ask every fighter in the Bellator welterweight division how they'd fair against the crème de la crème, and you'll most likely hear the same answer. You know, something along the lines of, "I'm the best 170-pounder in the world" or "I can compete with anyone, anywhere, anytime."
Having followed the Bellator MMA Welterweight Grand Prix thus far, Davis doesn't hesitate in stating he has a long way to go before he competes with the likes of Rory MacDonald, Douglas Lima, and company.
"I could say a lot," Davis told FloCombat. "I could say, 'I think I could be the champ now. I think I could do this and [that].' But I got my coach like, 'Look, you can't even do this right, You're can't even throw that right, you ain't even doing this when this happens.' So no, [I'm not ready]. It's humbling—truly humbling.
"I'm not [anywhere] near those guys. Those guys put so much work into being where they are now, I'd feel stupid saying that I'm ready now. I'm not. I gotta get more focused, more serious. It's not that I'm not [serious], but there's another level to this game. I just want to do it the best way possible that I can."
Less focused on long-term victories, Davis is concentrating on day-to-day practices. In fact, his dialed-in and focused attitude may be partially responsible for his nine-month hiatus from competition.
"You want to do things that are fit for you," Davis said. "You can't just do things because everyone else is doing them. You have to sit back and see how it's rolling. You just gotta roll with the punches.
"I've just been working a lot on my game, making it more of a life change. Like this is me now. I've done a lot of studying and sitting back on my own and plotting. [Now,] I just want to see how it's gonna go."
To the surprise of many, Davis' last performance met push-back from an unexpected, stalwart force in the form of opponent Craig Plaskett. "Black Ice" attributes the closer-than-should-be performance to two things: a lack of preparation and a surplus of confidence.
"I went out there a little too arrogant—not cocky like 'I'm the best.' I just felt like there was no way this guy should last with me," Davis said. "There was no way this guy should be able to get out of the first or second round. That's not because of who he was but more so because I believed in my skills."
Friday night, Davis returns to action for the first time since June, when he takes on promotional newcomer Marcus Anthony (1-0) at Bellator 219 in Temecula, California.
"It's going to be high class, high fashion," Davis said. "I think all of my fights are pretty cool to watch. They're not too boring. Even when I do wrestle, I keep a lot of action going. I'm moving, I'm moving, I'm moving. So I'm going to give props to myself.
"I put a lot of work into getting to where I'm at right now, and I'm pretty proud. I'm not going to shame myself."
Win, lose, or draw, Davis hopes fans will enjoy being a part of his continuing journey toward MMA stardom
"This fight is going to be something to different for me," Davis said. "So I don't know what fans can expect to see. Just know that I'm doing the best that I can and I like what I do.
"I'm excited to get back in there because it's been a long time. I'm ready to release some things out and get back after it."