2019 XFN 23
XFN 23 Full Preview, How To Watch On FloCombat
XFN 23 Full Preview, How To Watch On FloCombat
XFN 23 streams live on FloCombat Saturday, March 16, from Ft. Lauderdale, Florida. Here's why you need to watch.
Mar 15, 2019
by Nolan King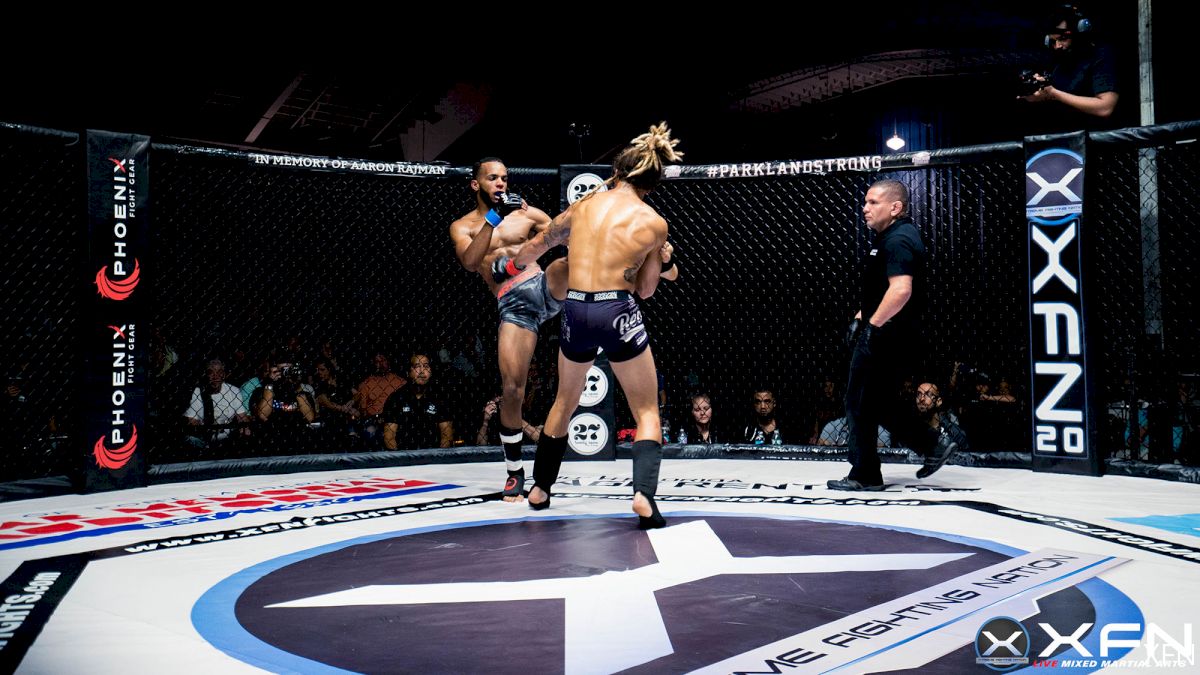 Saturday night, one of the Southeast's most exciting MMA promotions, XFN, returns for another action-packed night of combat.
XFN 23 takes place at the War Memorial Auditorium in Ft. Lauderdale, Florida. The event will air live and exclusively in its entirety on FloCombat starting at 6 PM ET.
Watch XFN 23 LIVE on FloCombat
In the main event, 13-fight veteran Taylor Krahl (5-1) steps into the XFN cage to battle Ukrainian Mykyta Chub (17-4) in a thrilling 180-pound kickboxing showdown.
In the co-main event, women's featherweights throw down, as the highly touted Miranda Barber battles professional debutant Jennifer Hauss Nixon.
Aptly nicknamed "She Hulk," Barber won "Breakthrough Fighter of the Year of 2018" at this year's Florida MMA Awards.
After posting a 4-3 record as an amateur, Barber turned professional late last year. In her pro debut, Barber defeated Fernanda Araujo by unanimous decision.
Her opponent, Nixon, is turning pro after a six-fight stint. Despite coming off of three straight losses, Nixon is eager to break her losing streak and get back in the win column.
While the main card pairs up some of the Southeast's finest, the prelims are stacked with all sorts of amateur violence. Sparking interest on a national level is the women's bantamweight bout between Anne Ribeiro and Hannah Jackson.
A second-generation mixed martial artist, Ribeiro is the daughter of former UFC heavyweight title challenger Antonio "Bigfoot" Silva. The 19-year-old fighter has MMA flowing through her veins and is excited to show the world what she can do in her amateur debut.
Three fights into her amateur career, Hannah Jackson won her MMA debut against Bethany Buchanan in November of 2015. After taking two and half years off, Jackson lost to Elle Wagman at ShoFight: Ultimatum in March of 2018.
In her last outing, Jackson lost to now-Bellator MMA star Valerie Loureda by unanimous decision.
Watch XFN 23 LIVE on FloCombat
Full XFN 23 Fight Card:
Pro Catchweight Kickboxing Bout (180lbs): Taylor Krahl vs. Mykyta Chub
Pro Middleweight Bout (185lbs): Shane O'Shea vs. Miles Amos
Pro Lightweight Bout: (155lbs): Orlando Santana vs. Lamar Brown
Pro Lightweight Bout (155lbs): Ryan Favale vs. Elvin Espinoza
Pro Light Heavyweight Bout (205lbs): Gustavo Trujillo vs. Davaun McKoy
Pro Featherweight Bout (145lbs): Justin Vazquez vs. Benny Delgado
Pro Featherweight Bout (145lbs): Jennifer Hauss Nixon vs. Miranda Barber
Amateur Bantamweight Title Bout (135lbs): Ryan Kuse vs. Bryce Gamboa
Amateur Light Heavyweight Bout (205lbs): Tim Travarca vs. Alex Cejas
Amateur Lightweight Title Bout (155lbs): Charles Decca vs. John Marquez
Amateur Catchweight Bout (130lbs): Hannah Jackson vs. Anne Ribeiro
Amateur Bantamweight Bout (135lbs): Alexis Fernandez vs. Nelton Marsh
Amateur Lightweight Bout (155lbs): Ailton Mendes vs. Franklin Ramirez
Amateur Featherweight Bout (145lbs): Ryan Conforti vs. Joey Y'Shua
Amateur Flyweight Bout (125lbs): Sebastian Sanchez vs. Daniel Michel
Amateur Welterweight Bout (170lbs): Alex Abreu vs. Daniel Morrison
Amateur Lightweight Bout (155lbs): Ethan Bennett vs. Charles Cirelli