2018 Shamrock FC 316
Shamrock FC 316's Evan Elder Inspired By Teammate Kamaru Usman
Shamrock FC 316's Evan Elder Inspired By Teammate Kamaru Usman
Shamrock FC 316 competitor Evan Elder discusses the impact his teammate Kamaru Usman and his team at Hard Knocks 365 has had on his career and more.
Mar 15, 2019
by Nolan King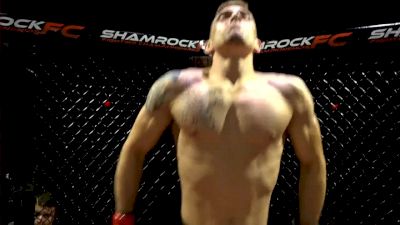 Unlock this video, live events, and more with a subscription!
Get Started
Already a subscriber? Log In
When Dana White wrapped the belt around Kamaru Usman's waist at UFC 235, the victory extended beyond an individual accomplishment. After years of being one of the best coaches in the world, Henri Hooft finally had a UFC champion, and his team, Hard Knocks 365, could finally claim they won gold at the highest level.
The moment was a powerful one—not only for "The Nigerian Nightmare"—but his training partners as well, including Missouri's Evan Elder.
A relatively new member of Hard Knocks 365, the 21-year-old lightweight was deeply inspired to see the ultimate success of a friend who he battles inside the gym.
"For one, it was awesome knowing I train at the same gym as that guy," Elder told FloCombat. "Number two, that guy is an awesome guy anyways. It even made me a little emotional seeing how emotional he got after the fight. Just like all of us, we put so much time and effort into all of this. It's awesome to see that pay off.
"To be completely honest, it was really inspirational. I know that I can do that. Especially training at the same gym as the guy. Coming from what he's coming from. We train with the same guys and the same coaches. I know that one day, I can aspire to be there."
Watch Shamrock FC 316 LIVE on FloCombat
For over a decade, Elder has dreamed of earning a UFC title of his own. Introduced to mixed martial arts by his father at a young age, Elder began wrestling in seventh grade. The plan was always to transition into MMA, but he wanted to have a strong base to lay the foundation.
Fast forward a few years, and Elder's pursuit of MMA greatness found him in Stockton, California, training alongside the likes of the Diaz Brothers at Nick Diaz Academy.
"My jiu-jitsu in general has gotten much better since training at Nick Diaz Academy," Elder said. "Almost all of my jiu-jitsu is learned from the Nick Diaz Academy—their jiu jitsu is just off the chains."
Eventually, the Missourian returned home and began training at Finney's MMA—a gym owned by Shamrock FC President Jesse Finney. It should come as no surprise Elder was quickly picked up by the Missouri-based promotion.
Winning six-out-of-seven on the amateur scene, Elder's lone loss came to now-UFC fan-favorite Luis Pena. Elder has a tremendous amount of respect for his fellow FloCombat veteran, and views the loss to "Violent Bob Ross" as a phenomenal learning experience.
"I'm a firm believer everything happens for a reason," Elder said. "That loss to Luis Pena was super good for me. Fortunately enough, it was to a good guy. I'm happy he went on to do big things. I think it's freaking awesome. I like to see anyone doing anything good in life, because you know they're putting in the time and the work for it."
Friday night at Shamrock FC 316, Elder will return to the cage when he takes on Derek Clardy. "The Phenom" will look to top his freshman pro appearance, which ended via first round knockout. The entire card will air live and exclusively on FloCombat beginning at 8 PM ET.
Watch Shamrock FC 316 LIVE on FloCombat
"I know if I get in there and do what I do, there's no reason I should lose to anybody," Elder said. "I'm super confident being down here now and getting looks from all of these super-high-level guys. All I have to do is stick to what I do. This is more for me than anything else. I want to get in there and make sure I have all of my bases super solid."
Expecting to fight three to four more times this year, Elder expects 2019 to be his breakthrough year.
"I'm going to try to stay active," Elder said. "I'm praying that I don't run into any injuries from fights or training. I want to stay as active as possible. I'm not overlooking my opponent by any means, but I think the projected next fight will be in July. Then, I'll try to get in at least one or two more.
"I'm hoping to at least be 4-0 or 5-0 by the end of the year. I'll just see where it goes from there. If something awesome pops up, I'm definitely going to take it. If not, I'm going to keep fighting whoever they put in front of me wherever that's at. Whether it be Shamrock or another organization, I'm going to conquer whoever they put in front of me until I get seen."