2018 Shamrock FC 316
Shamrock FC 316 Full Preview, How To Watch: Dowdy, Elder Highlight Card
Shamrock FC 316 Full Preview, How To Watch: Dowdy, Elder Highlight Card
FloCombat's Nolan King breaks down the stacked Shamrock FC 316 fight card streaming live Friday, March 15.
Mar 15, 2019
by Nolan King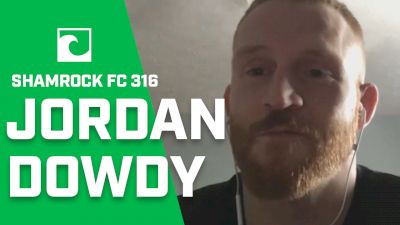 Oh boy. It's happening again!
Shamrock FC is back, with their unprecedented 316th event and an unsurprisingly stacked lineup.
Kicking off at 8 PM ET, Shamrock FC 316 takes place Friday, March 15, at the River City Casino in St. Louis, Missouri. The entire card will air live and exclusively here on FloCombat.
Watch Shamrock FC 316 LIVE on FloCombat
In the main event, Bellator MMA veteran Jordan Dowdy returns to the Shamrock FC cage to take on short-notice replacement Josh Weston. Earlier this week, Weston replaced former V3Fights title contender Ben Brewer.
A winner of three out of his last four bouts, Dowdy last competed at Bellator 197 in April. It took a mere 29 seconds for the 32-year-old welterweight to choke out opponent Jeff Crotty. The submission marked Dowdy's first Bellator win in three attempts with the promotion.
Now he faces a gritty follow-up test in the form of 13-fight veteran Josh Weston. A professional since 2012, Weston has proved to be a tough outing for any opponent placed in his path. Coming off back-to-back losses, the 37-year-old will try to reinvent himself against Dowdy.
In the co-main event, highlighted prospects Isaac Purnell and Cort Wahle collide in an exciting 155-pound affair.
Undefeated in both his professional and amateur career, Purnell has won all six of his mixed martial arts bouts. The 28-year-old lightweight made his pro debut in March, submitting Brandon Schehl via guillotine at 4:30 of the first round.
His opponent, Bellator MMA veteran Wahle has not gone to the judges' scorecards since his pro debut in January of 2016. A submission specialist, Wahle has won three out of his last four outings.
Arguably the most highly touted prospect on the entire card fights outside of the main and co-main event. Hard Knocks 365's Evan Elder looks to continue his hot streak against his fellow Missourian Derek Clardy.
A training partner of Kamaru Usman and Nate Diaz, Elder is getting some of the best training and coaching available on a day-in, day-out basis. A winner of six-out-of-seven, Elder turned professional in September, defeating Antonio Atkins by first-round TKO.
His opponent, Derek Clardy, will look to stop the hype train in its tracks in his Shamrock FC debut.
The full Shamrock FC 316 fight card is as follows:
Catchweight (180lbs): Jordan Dowdy vs. Josh Weston
Catchweight (150lbs): Isaac Purnell vs. Cort Wahle
Lightweight Bout (155lbs): Evan Elder vs. Derek Clardy
Atomweight Bout (115lbs): Dakota Zimmerman vs. Nikki Smith
Featherweight Bout (145lbs): Justin Lankford vs. Auhston Elleby
Welterweight Bout (170lbs): Oscar Ahuatzi vs. Laree Hutchinson
Bantamweight Bout (135lbs): Jesse Martinelli vs. Makye Simmons
Featherweight Bout (145lbs): Cory Tinnon vs. Jacob Clary
Featherweight Kickboxing Bout (145lbs): Jessica Lasater vs. Melissa DeRousse
Catchweight Bout (180lbs): Ian Zarvos vs. Chris Wetherington
Welterweight Bout (170lbs): John Kelly vs. Josh Mitchell
Featherweight Boxing Bout (126lbs): Kyle Warren vs. Michael Faulkner
Heavyweight Bout (265lbs) vs. Brian Duncan vs. Will Monroe
Special Exhibition Bout: Evan Besson vs. Adam Cella