John Douma Says He'd 'Like To Stay' With Bellator After Upset Victory
John Douma Says He'd 'Like To Stay' With Bellator After Upset Victory
John Douma recaps his impressive upset of Mike Kimbel at Bellator 215, revealing some interesting details in the process.
Feb 22, 2019
by Nolan King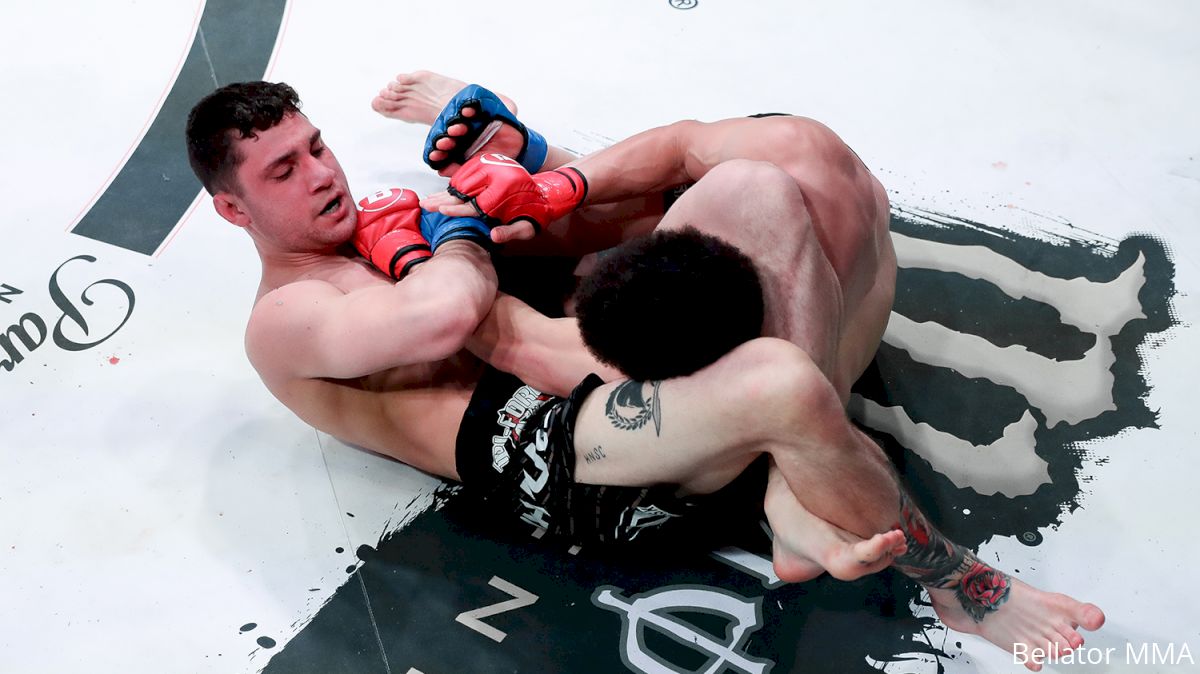 With Matt Mitrione's kick to Sergei Kharitonov's groin ending Friday night's Bellator 215 and a lackluster affair between Michael Page and Paul Daley headlining Saturday's Bellator 216, there weren't as many highlights to Bellator MMA's back-to-back as MMA fans expected.
Friday night, one of the diamonds in the rough, however, manifested in the form of an unlikely individual: Rhode Island's John Douma (4-1).
The Triforce MMA product choked his way into national relevancy, submitting rising Bellator MMA star Mike Kimbel in highlight-reel fashion. The tap came from a triangle choke, which Douma locked in after being emphatically slammed to the mat by Kimbel just moments prior.
"I was pretty surprised he was going for the takedowns the way he did," Douma said. "I thought that second time he would have just taken me down and let me back up. As far as striking was concerned, we did just that. We stayed elusive and stayed moving until the shot came.
"He started trying to take me down which was surprising. I wasn't going to get knocked out on the ground or anything, so he postured up wrong and I seized my opportunity."
??@JohnDouma145 is your winner at #Bellator215 via triangle!

Watch the main card LIVE now on @ParamountNet and simulcast on @DAZN_USA. pic.twitter.com/Osvhnn6Izp

— Bellator MMA (@BellatorMMA) February 16, 2019
The finishing sequence was so spectacular it even resulted in Douma appearing on ESPN's SportsCenter. The response has been slightly overwhelming for the 22-year-old bantamweight, but it has been made all the more sweet when he considers how many people counted him out entering the fight.
"I didn't know so many people thought I was going to go in there and lose," Douma said. "We don't try to read into it too much, but I come to find out at the end, there were sponsors who didn't want me to wear their shorts because they didn't want to see me lose in their shorts. It felt really good to be like, 'I told you so.'"
During training camp for the bout against Kimbel, Douma mentally prepared for a potential slam—a move by which Kimbel had won his professional debut.
"I saw it with Kimbel and then with [Kody Nordby] in CES," Douma said. "So I just made a mental note to always hook that leg. I was hoping for that far-side leg and I had hooked the wrong one. That's why he slammed me the way he did. I took that to absorb a little bit of the shock, but we still came down pretty hard."
As Douma hit the ground (suffering a compression fracture in the process) he realized he was about to earn his first Bellator MMA victory. The submission was locked.
"Just from experience, I know that if that slam doesn't knock me out, I'm going to finish that choke," Douma said. "John McCarthy even said that on that TV part. Once he slammed me down, there was that kind of shock where I could tighten it up.
"I saw him start to go red. I knew that was a wrap. I've done that choke so many times."
After the fight, Bellator MMA matchmaker Rich Chou came to the locker room to speak with Douma. Unlike Kimbel who signed a multi-fight deal last year, Douma was brought into Bellator on a one-fight deal—very similarly structured to that of many of the local preliminary card fighters.
In a short conversation, Chou expressed his admiration for Douma's performance, giving Douma tickets to the next evening's event. No promises were made, but Douma is optimistic his team and the Bellator brass will come to an agreement soon.
"[Chou] said he'd keep me updated in the next few weeks or so," Douma said. "We're just going to wait and see what they come up with. Then we'll make a decision. I'd like to stay there. Let's just see what happens."