Joseph Benavidez Wants Henry Cejudo Fight: 'Do The Right Thing'
Joseph Benavidez Wants Henry Cejudo Fight: 'Do The Right Thing'
UFC flyweight contender Joseph Benavidez, the last man to defeat current champ Henry Cejudo, makes his case for a rematch in this interview with FloCombat.
Jan 22, 2019
by Damon Martin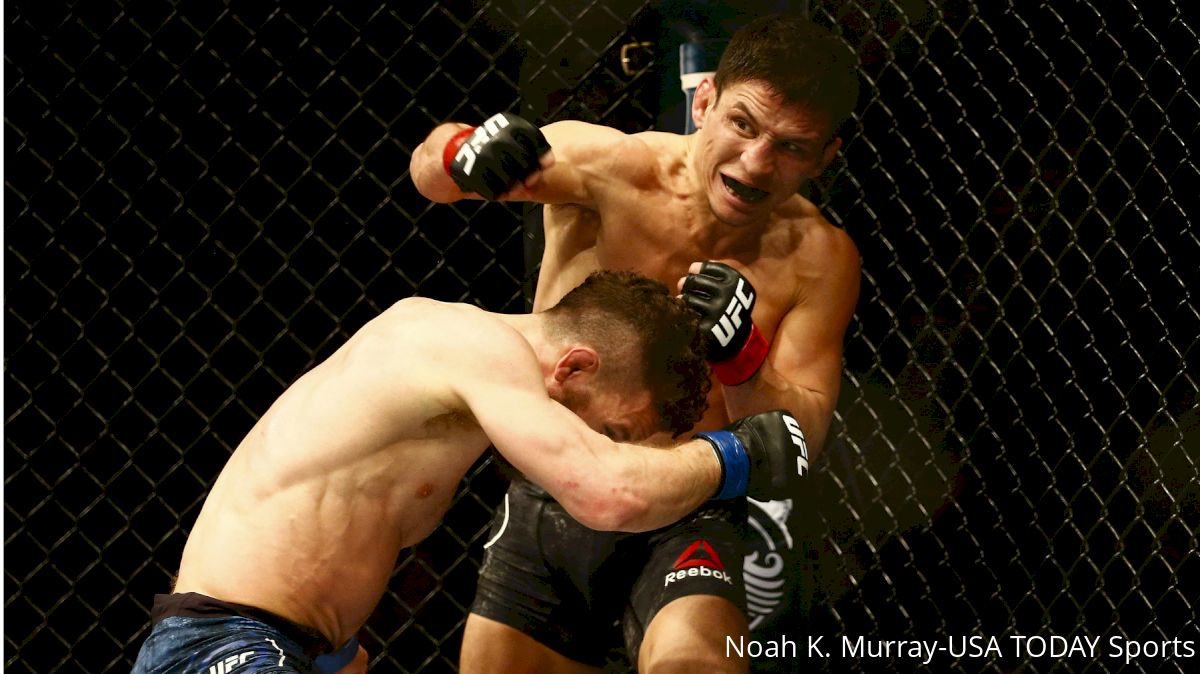 If Henry Cejudo truly wants to save the UFC's flyweight division, Joseph Benavidez wants him to fulfill that promise.
This past Saturday night in Brooklyn, Cejudo made quick work of bantamweight champion T.J. Dillashaw with a stunning 32-second knockout in the first ever UFC on ESPN+ main event.
Prior to the fight, Dillashaw had said he was being paid to move down to 125 pounds and kill off the flyweight division, while Cejudo promised to resurrect the weight class with his victory.
Immediately afterward, Cejudo once again touted the future of the flyweight division now that he dispatched Dillashaw but then called for his own opportunity to become a two-weight world champion by moving up to 135 pounds to challenge for the bantamweight strap.
Benavidez, who is the last fighter to hold a win over Cejudo, says if the reigning flyweight champion really wants to help their division stay alive, he needs to stick around to defend his belt rather than abandon the weight class to pursue a second title at 135 pounds.
So Benavidez sent an impassioned message to Cejudo while speaking to FloCombat Monday night.
"I'm all about respect and I never get outside myself as far as calling people out," Benavidez said when addressing Cejudo. "I'm always going to be myself when calling someone out. I haven't got to talk to Henry a ton since [our fight] and I don't know if people have the idea that me and Henry are enemies. Obviously when we coached 'Ultimate Fighter' a lot of things were said and done but after that fight, if you watch that fight, me and Henry give each other a part of ourselves. We don't stop hitting each other for 15 minutes.
"I gained so much respect for him after that obviously. We're not going to go bowling together — we're not friends — but I have so much respect for him. It's not about me and you right now fighting for a title, but there are thousands of kids out there dreaming of being a flyweight champion of the world and now we have a chance to keep this division moving forward."
Beyond his own desire to compete for the flyweight championship, Benavidez doesn't really see why a rematch between Cejudo and Dillashaw is necessary anyway.
First of all, Benavidez doesn't abide by Dillashaw's claims that he was somehow cheated in the fight with Cejudo due to a bad stoppage.
Perhaps more importantly, Benavidez reminds Cejudo that if the roles were reversed and he got blitzed in just 32 seconds by Dillashaw, there is no chance his former training partner at Team Alpha Male would be extending him the offer of a rematch.
"He's talking about the rematch with T.J. but do you think T.J. would even think of you twice had he knocked you out — controversial or not — do you think he'd even think twice about giving you a rematch?" Benavidez said. "No. He'd move on, he wouldn't think about the division, he already says he'd be calling for a featherweight title shot.
"He wouldn't give you a rematch. He wouldn't give you another shot. He didn't have respect for you before. He's acting like he has respect now but he already acted the way he did. He wouldn't think about Henry again or give him a rematch. The only reason he is now is because he lost in 32 seconds. That would never happen. Move on, do the right thing for the division."
Benavidez doesn't begrudge Cejudo wanting to become a two-division champion, but the 2008 Olympic gold medalist talked nonstop about saving the flyweight division before his knockout against Dillashaw, and now it's time to make good on that promise.
"I gave him 15 minutes of hell and he knows I'm going to come after him," Benavidez said. "This time it's going to be 25 minutes. I don't think he's scared of me, but he knows a fight with me is a fight with me and the other fight he has nothing to lose because he already knocked the guy out in 32 seconds. If he believes what he says, this is his chance to do it.
"If he believes in that, if you truly believe in that and you're not just saying it, this is the only option to keep it moving forward. Give me the shot."