2019 Cage Titans FC 42
Full Send University's Randy Costa: First Cage Titans 42, Then UFC
Full Send University's Randy Costa: First Cage Titans 42, Then UFC
Undefeated Lauzon MMA product Randy Costa just sends it — and it just keeps working. Hear from him ahead of Cage Titans 42, live on FloCombat.
Jan 22, 2019
by Nolan King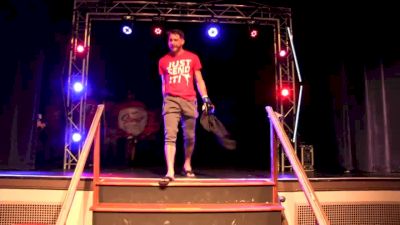 Unlock this video, live events, and more with a subscription!
Get Started
Already a subscriber? Log In
New England's Randy Costa has "sent it" for as long as he can remember. Kicking off a journey into the world of martial arts at 7 years old, Costa has been training for the majority of his life.
Starting off in karate, Costa eventually indulged himself in the disciplines of wrestling, boxing and American kickboxing. Before the young man from Taunton, Massachusetts, knew it, he was walking through the doors of Lauzon MMA — the team he remains loyal to this day.
Watch Cage Titans 42 LIVE on FloCombat.
Not familiar with the term "send it?" That's not a problem. An expert is here to help you out.
"It's when you're about to do something crazy (if you're not a scumbag) or stupid (if you are a scumbag), then you say, 'Let's send it,'" laughed Costa in an interview with FloCombat. "It doesn't matter if you're going to run into a wall as hard as you can or whatever. It's either all in or all out. There's nothing in the middle."
Practicing what he preaches, Costa hasn't settled for average performances inside the cage. The 24-year-old bantamweight has dominated every opponent put in front of him thus far. All three of his professional bouts have ended in the first round by devastating knockout.
Randy Costa's first pro #MMA fight lasted 44 seconds.

His second was even quicker. ? (@R_Costaa / @JoeLauzon / @lauzonmma) pic.twitter.com/SKUyzvfiNw

— FloCombat (@FloCombat) August 22, 2018
Watch Cage Titans 42 LIVE on FloCombat.
Saturday, Jan. 26, live on FloCombat, Costa has the chance to make it four-for-four against Colorado's Rob Fuller at Cage Titans 42.
"I know he's going to come out guns a'blazing," Costa said. "He has halfway decent stand-up and the kid throws bombs. There's no doubt about that. I think he's going to be looking to stand and put on a show, which I welcome.
"I'm going to get him to come forward, which plays right into my style, and I think I'm going to catch him with a head kick. I really think it's going to be another exciting finish on my part. But I take nothing from Fuller. He's tough, he f*cking bangs and he's got good kicks, but I don't think that makes a difference."
Secondary to the actual competition itself, Costa's favorite part of each of his fights is the boisterous environment he attracts. When word gets out that "The Zohan" is about to throw down, the masses show up in numbers.
The crowd was just a little excited for Randy Costa's pro debut. ? (@R_Costaa / @LauzonMMA / @JoeLauzon) pic.twitter.com/0LG3rLKmVG

— FloCombat (@FloCombat) July 1, 2018
When Florida Georgia Line's "Round Here" hits the speakers Jan. 26, expect things to get rowdy in Plymouth.
"The support is obviously f*cking unbelievable," Costa said. "I have the best friends, best family and best supporters. The numbers I'm bringing to a local fight is pretty insane. And it's not like people are sitting there quiet. They're sitting there and being loud.
"We have all of these t-shirts and a picture where I was drunk in Las Vegas. They put it on a big poster board and they hold it up at the fights. It's just f*cking bananas. It's not just the fight — the walkout is cool too. Everyone knows what I'm going to walk out to and it's a f*cking party."
Watch Cage Titans 42 LIVE on FloCombat.
Without hesitation, Costa said he believes 2019 will be a massive year, ending with a contract to the largest promotion in mixed martial arts.
"2019 I am going to make it to the UFC," Costa said. "Period. I'm not sure when it's going to happen. We're going to take it one fight at a time. But we're going to be in the UFC by the end of this year."