2019 Shamrock FC 314
Shamrock FC 314: 3 Reasons To Watch Saturday's Stacked Show On FloCombat
Shamrock FC 314: 3 Reasons To Watch Saturday's Stacked Show On FloCombat
Shamrock FC 314 streams live on FloCombat Saturday, Jan. 12, bringing a stacked card with it. Here's why you need to tune in.
Jan 11, 2019
by Nolan King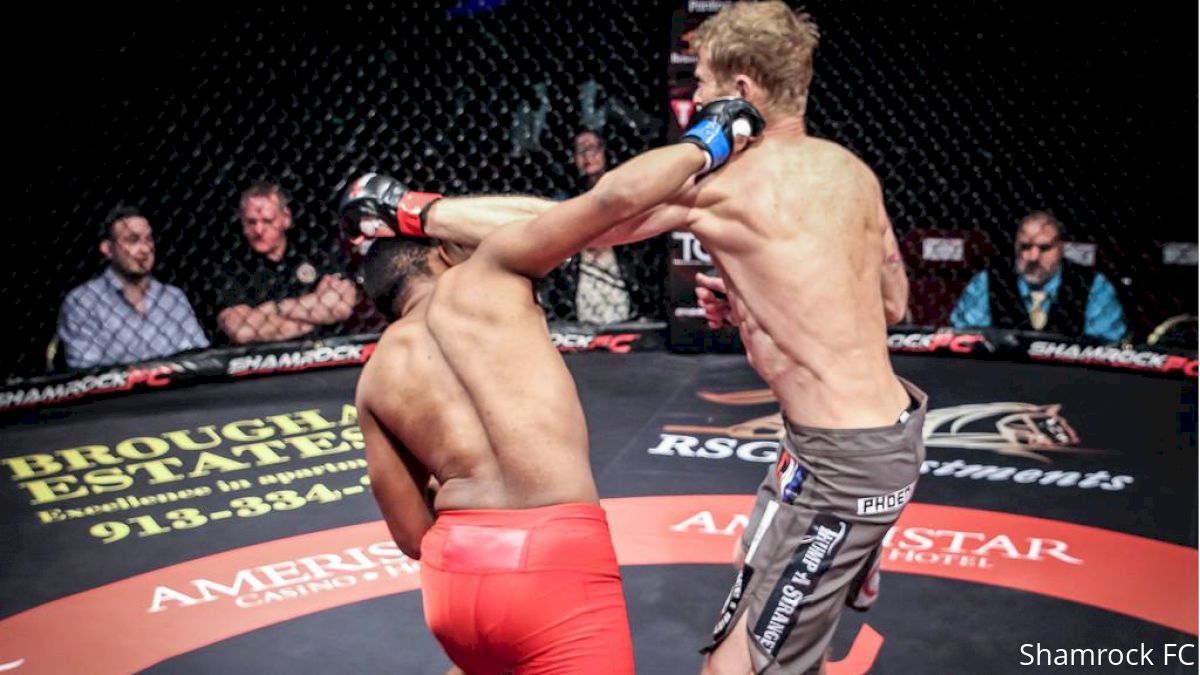 Thus far in 2019, the world of mixed martial arts has been in hibernation. With few events, nationally or regionally -- I hate to say it -- but we're in a bit of a lull.
That, however, is about to change.
Combat sports fans will receive a much-needed shot of adrenaline Saturday night, as top regional promotion Shamrock FC once again graces the Ameristar Casino in St. Charles, Missouri.
Streaming live and exclusively Jan. 12 on FloCombat, Shamrock 314 features a handful of top-notch talent at both the professional and amateur level.
The madness gets started at 8 PM ET.
Not sold yet? Here are three reasons to tune in this weekend.
Watch Shamrock FC 314 LIVE on FloCombat
1. Two combat sports. One night.
With nine MMA bouts and six kickboxing bouts on the card, Shamrock FC 314 gives combat sports fans a few different angles to satisfy their hunger for violence.
While most of the event is MMA, the evening's main event is a kickboxing clash between MMA standout Kevin Engel and slick striker Shah Zolfaghari.
I'm not a betting man, but if I was, I'd bet this bout does not see the judges' decision. These two men love to slug, and I don't expect that to change Saturday night.
2. Stars of tomorrow
What do Shamrock FC 314 competitors Dustin Lampros, Corbin Howard, and Colin Parr have in common? They all have a "0" listed in their professional loss column.
While somewhat fresh to the pro scene, the three up-and-comers displayed much promise through extensive amateur careers—especially Missouri's Howard. Unlike Lampros and Parr, the 21-year-old flyweight boasted an undefeated ammy career entering his pro debut this past January.
3. Tim Jackson vs. Travis Sumler for all the marbles
As far as the Midwest regional scene is concerned, the evening's featured amateur title fight between Tim Jackson and Travis Sumler is as legit of an amateur fight as you'll come across. The two 135-pounders have recorded 13 finishes in 20 fights via a variety of finishing methods.
The two combatants were scheduled to fight at Shamrock FC last June, but the matchup was cancelled prior to fight night.
Missouri's Jackson is undefeated at 5-0 in his amateur tenure thus far—most recently toppling amateur sensation Kory Beck at Shamrock FC 303 last March. Striking is his bread and butter, so look for "The Nightmare" to try to keep this fight on the feet.
Conversely, in terms of wins and losses, Sumler's record doesn't look the strongest. However, if you delve deeper into the his resume, most of the Kansan's losses came early in his career. Riding an impressive win-streak entering Saturday night, Sumler will look to pick up his fifth straight victory—and a championship belt in the process.
Watch Shamrock FC 314 LIVE on FloCombat
Full Shamrock FC 314 Fight Card
PROFESSIONAL CARD
Kickboxing Bout: Kevin Engel vs. Shah Zolfaghari
Bantamweight Bout: Dustin Lampros vs. Robert Adams
Flyweight Bout: Corbin Howard vs. Nathan Lindsay
Lightweight Bout: Colin Parr vs. Chris Petty
Lightweight Bout: Brandon Pearson vs. Kevin Mueller
AMATEUR CARD
Bantamweight Title Bout: Tim Jackson vs. Travis Sumler
KB Title Bout: Dan Herina vs. Keyth Dawson
Welterweight Bout: Jason Gavril vs. Cody Leas
KB Bout: Jason Brown vs. Brandon Breault
Lightweight Bout: Jeff Rittenhouse vs. Zach Burcham
KB Bout: Jimmy Timmerberg vs. Joe Rivas
Flyweight Bout: Adrienne Brusca vs. Lyz Anderson
Bantamweight Bout: Vince Hutchens vs. Richard Jones