Anthony Smith Says Jon Jones 'Didn't Look Special To Me' At UFC 232
Anthony Smith Says Jon Jones 'Didn't Look Special To Me' At UFC 232
Rising UFC light heavyweight contender Anthony Smith makes his case to face Jon Jones for the 205-strap, saying he's the only man for the job.
Jan 2, 2019
by Damon Martin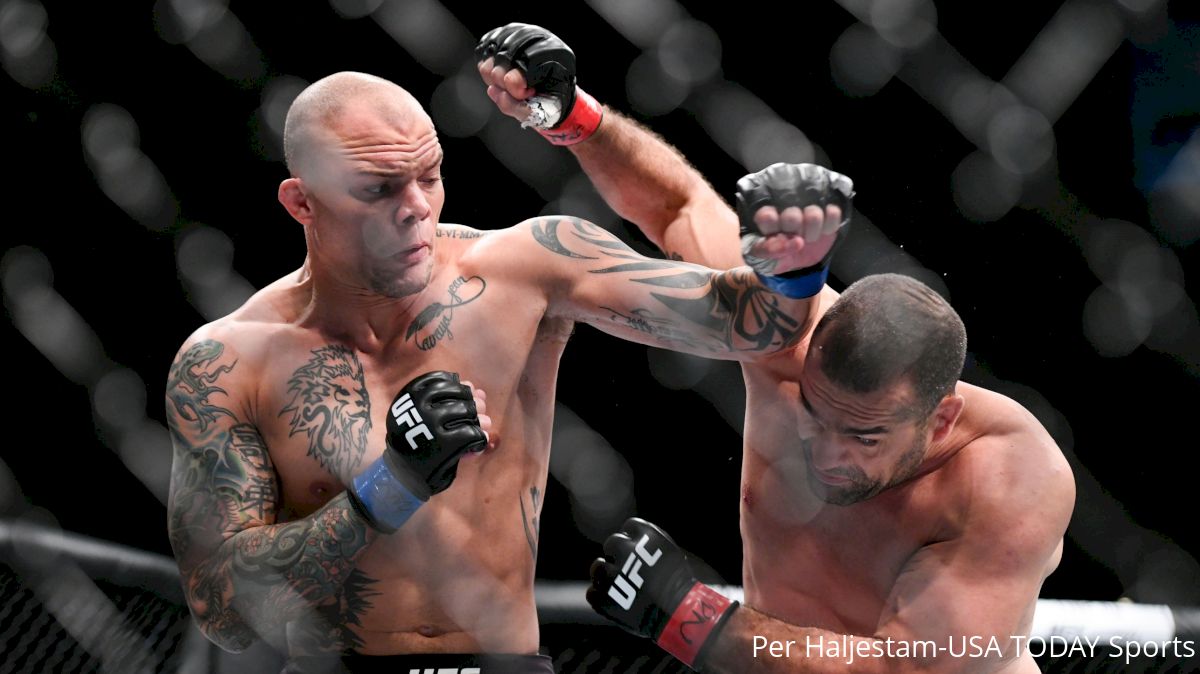 After watching Jon Jones put away Alexander Gustafsson at UFC 232, Anthony Smith knows he's the last man standing to challenge the reigning light heavyweight champion.
Jones returned this past Saturday night and looked better than ever as he dismantled arguably the toughest challenger he had ever faced in his career following a grueling, five-round battle with Gustafsson back in 2013. The rematch wasn't nearly the same, as Jones beat Gustafsson to the punch on the feet and then put him away in the third round with strikes on the ground.
The win put Jones back on top of the 205-pound division where he remains undefeated (his lone loss was a disqualification in a fight he was clearly winning) but the list of potential contenders appears short right now.
Smith, who is ranked No. 3 in the division, knows he's the best candidate for the job after tearing through three straight opponents, including finishes against former champion Mauricio "Shogun" Rua as well as recent title contender Volkan Oezdemir.
"I'm the only legitimate threat to Jon Jones," Smith told FloCombat on Wednesday. "I'm the only one that's even got the capability of beating Jon Jones in the entire division. I think that's gotta be next. I think I'm the next guy.
"There's no one else out there who's going to give Jon a fight. There's no one who's going to threaten him and there's no one anyone else wants to see him against."
Smith was actually working as an analyst for Fox during the fights Saturday night, so he witnessed Jones' victory firsthand.
He was definitely impressed by some of the improvements that Jones made after his first fight with Gustafsson was such a back-and-forth war over 25 minutes. Still, Smith says at the same time there were flaws in Jones' execution that lead him to believe the longest-reigning light heavyweight champion in UFC history is far from unbeatable.
"Jon fought well, he really did, but he looked human," Smith said. "That's one of my biggest takeaways from that. He didn't look special to me, and I don't know if that's my own ego where I'm (not) looking at Jon as this phenomenal, unstoppable puzzle like a lot of people do.
"I see a lot of places to take advantage of Jon and I saw a lot of places on Saturday."
As far as timing goes, Smith actually interviewed Jones after his win and suggested a potential showdown in July if the UFC wants to put them together in a fight.
On Tuesday, Jones then said he hoped to fight at least three times in 2019, which means he'd probably get back into the Octagon far sooner than the summertime.
Smith makes it clear: When it comes to Jones, he'll be ready for any date the light heavyweight champion sees fit.
"I will fight him tomorrow," Smith said. "July just sounded cool, you know, with International Fight Week. Also, I thought Jon had a bunch of commission sh*t he had to clear up, so that was just something off the cuff I said. July in Vegas just sounded cool. I will fight Jon Jones tomorrow.
"If he's still in shape and can make 205, we can go at it this weekend. I don't care. I will fight Jon Jones any time, any where, any place, it doesn't matter. I am ready."
If there's one other subject that's unavoidable when it comes to Jones' next fight, it's going to be questions about drug testing and the substances that may or may not be found in his body going forward.
Much of UFC 232 fight week was focused on that very subject after it was revealed Jones tested positive several times for trace amounts of the anabolic steroid Turinabol, which cost him a 15-month suspension after his previous positive test in 2017.
The UFC and USADA (United States Anti-Doping Agency) ultimately ruled that Jones' drug tests were returning with residual amounts from the previous ingestion of Turinabol and not a new occurrence.
Either way, Jones still competed with steroids in his system, even as non-existent as the UFC made it seem but Smith promises that wouldn't stop him from taking the fight.
In fact, Smith knows right now that there's no telling what may or may not be in Jones body when they fight, but he promises the outcome would still be the same.
"What I do know is Jon Jones has steroids in his system. That's black and white and I think it's absolute bullsh*t. On the flipside, I'll fight him regardless," Smith said. "It doesn't matter to me. I think performance-enhancing drugs, it enhances your f*cking performance but Jon wouldn't be the only fighter I've fought who would be on PEDs. I'm not naïve enough to think everybody I've fought so far has been clean, 'cause I don't believe that either.
"At the end of the day I want to fight Jon Jones. I think I'm the only one who can beat Jon Jones. I think I'm the guy who can. I think I'm the only person in the whole f*cking division who can be competitive with him. I think he'll walk through everybody else. I really do. I just think I have the right style and the right mentality and I don't give a sh*t what's in his blood. If Jon and I were fighting and Dana White called me five days before the fight and said Jon popped, I would ask him not to tell anybody. I'll fight him anyways because I'm that confident that I can beat Jones. Yes, I think he's a cheater. Yes, I think he's dirty. Yes, I'll fight him anyways."