Jon Jones: 'I Challenged Daniel Cormier... Let's See What He Does'
Jon Jones: 'I Challenged Daniel Cormier... Let's See What He Does'
Jon Jones explains why he challenged Daniel Cormier to a trilogy bout and more during a recent UFC conference call. Damon Martin with the coverage.
Dec 21, 2018
by Damon Martin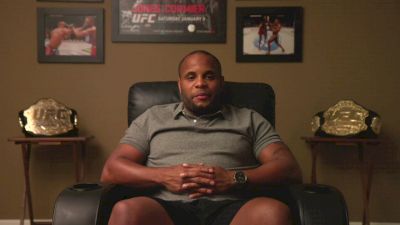 Jon Jones thought he was done with Daniel Cormier last July, but it appears the longtime rivals may never be finished with each other.
The latest war of words between the two fighters started after Cormier addressed his last fight with Jones, where he suffered a third-round knockout but the result was later overturned due to a positive drug test for steroids.
In the aftermath of that incident, Jones was ultimately suspended 15 months, but an independent arbitrator in his adjudication with the United States Anti-Doping Agency (USADA) stated they didn't believe he knowingly took a banned substance. Jones later said that the amount of steroids in his system was comparable to a pinch of salt being dropped into an Olympic sized swimming pool.
While Cormier conceded the defeat to Jones, he still had to question why there was even a miniscule amount of steroids in his body when they fought.
"Pinch of salt, no pinch of salt. You still had steroids in your system in a fist fight. Not cool," Cormier recently told ESPN (h/t MMAWeekly.com).
That led to a fiery response from Jones on Twitter, where he offered Cormier another rematch for the light heavyweight title assuming he defeats Alexander Gustafsson in the UFC 232 main event.
Fight me one more time and prove you're actually the champ champ. I'll donate $100,000 to a charity in San Diego if you accept. Conor McGregor was an actual double Champ, the whole world knows your claim is a freaking joke. You're more than welcome to be my first title defense

— Jon Bones Jones (@JonnyBones) December 20, 2018
Jones had stated several times in the lead up to his return that he had no interest in facing Cormier for a third time and he had all but closed the book on their rivalry. Now, it appears, he's happy to return to that chapter one more time in an attempt to silence Cormier for good.
"The only reason why I brought up Daniel Cormier's name is because he brought up my name," Jones said on the UFC 232 media conference call. "When I was in trouble, I sat back all summer long and let everybody just talk as much sh*t as they want and just talk blindly knowing no facts. I watched everyone I beat in the past say, 'Oh he was on steroids when he fought me the last time, that's why he beat me.' I just sat back and let everybody have it and stayed quiet for almost a whole year.
"Now I'm back getting ready to reclaim my throne and the sitting-down-and-being-quiet days are over. Daniel Cormier opened his mouth about me. He wants to sell to people that steroids had something to do with my success. He would love it. That's the dialogue that he wants to get out there, that's the narrative that he wants to get out there. I'm going to nip it in the bud."
Cormier said he would be interested in one more shot at redemption against Jones, but he also understands time is running out on that ever happening.
The reigning UFC heavyweight and light heavyweight champion has set a deadline on his birthday in March for his retirement as he prepares to turn 40. It also appears Cormier's next fight will come against former heavyweight champion and current WWE superstar Brock Lesnar.
Still, Jones floated him the offer to step back into the cage together one last time, although he says deep down he really doesn't buy Cormier wanting another fight after already falling to him twice before.
"I challenged Daniel Cormier to be my first title defense. Let's see what he does," Jones said. "I don't think he's responded yet and I think everybody knows he doesn't want to fight me a third time. I'm not out to get Daniel Cormier. I'm just protecting myself.
"The guy's out there making comments about me and I just responded."