Kevin Lee Already 'Over' Al Iaquinta, Plans Message For Khabib Nurmagomedov
Kevin Lee Already 'Over' Al Iaquinta, Plans Message For Khabib Nurmagomedov
UFC lightweight contender Kevin Lee wants to send a message to Khabib Nurmagomedov—and he plans to use his UFC on Fox 31 opponent Al Iaquinta to send it.
Dec 13, 2018
by Damon Martin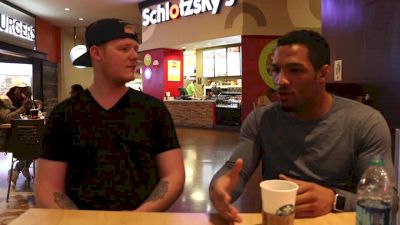 Like almost all fighters in mixed martial arts, Kevin Lee (17-3) is competition-driven and thirsty to become the best in the world.
While he hasn't tasted defeat often during his career, Lee will always like the opportunity to right a past wrong, which is what he'll try to do Saturday night in Milwaukee when he faces Al Iaquinta in the main event of the final UFC on Fox card, UFC on Fox 31.
Iaquinta gave Lee a rude welcome in his UFC debut by handing him a unanimous decision loss at UFC 169—the first of Lee's entire career. Fast forward nearly five years, and Lee has fought for an interim title and may be knocking on the door of championship contention once again if he can win this weekend.
Leading into the fight, Lee will be asked about getting vengeance against Iaquinta from their first meeting and he'll readily admit that it will feel good to get that loss of his record.
That said, Lee had actually already moved past the Iaquinta loss, but now he's happy to use this main event showcase for another purpose entirely.
"I've already known that I've been past Al," Lee told FloCombat. "I've honestly been over it. He beat a kid who was 21 years old, fresh out of college and took the fight on three weeks' notice in his UFC debut. I hope Al still thinks he's getting that same kid, 'cause it's going to be an easy night for me. I know he's dangerous, he's tough, I'm expecting a really good fight out of him.
"I'm mostly using him as a tool to get to Khabib [Nurmagomedov]. I'm not going to be shy about that. I'll tell him right to his face. Is it redemption? Yeah, I guess so a little bit, but I've already been over it."
Lee has been calling for a fight against the current UFC lightweight champion for more than a year but still hasnt received the opportunity to face him. In his mind, Lee feels he's the worst possible matchup for Nurmagomedov, which is a prime reason why the undefeated Russian never accepted his challenge.
Now, with Nurmagomedov on top of the 155-pound division, Lee is anxious to back up his words, and he plans on sending him a message with a dominant victory over Iaquinta.
"That's what I'm here to show," Lee said when addressing his ability to beat Nurmagomedov. "His team knows it. His team has been trying to keep me away from him. I'll make sure the rest of the world knows it. Right now I've got a fight with Al Iaquinta in December and all I'm going to do is use Al to send a message. Al don't really do too much for me. Yeah, there's a little bit of revenge and we have a little bit of a beef, too, that I need to settle.
"Really it's going to be a message to Khabib and the rest of the fans who don't know that I'm out there still gunning after his ass. That's the goal right now."
Lee knows that even with a win over Iaquinta on Saturday night he's probably not going to get the next shot at the title.
Former interim champion Tony Ferguson is the likely candidate to get Nurmagomedov next, and if it's not him, former two-division king Conor McGregor would probably get the call for a rematch if he wanted it.
Still, Lee knows his path will cross with Nurmagomedov's eventually and he's going to use every fight until they face each other as a reason why the UFC lightweight champion should start counting down the days until his reign is over.
"At some point, the fight has to happen," Lee said about facing Nurmagomedov. "Right now, that's the thing in the back of my mind.
"Being the man to take that 'O' away from him. I love it. What is Khabib going to do against a guy he can't take down? What is he going to do against a guy who will take him down? That's what I'm looking to give the folks. Let me do my work and then we'll go ahead and get that in, too."