Bellator 212: Brent Primus Wants To 'Smash' 'Little Punk' Michael Chandler
Bellator 212: Brent Primus Wants To 'Smash' 'Little Punk' Michael Chandler
Bellator lightweight champion Brent Primus discusses his long-awaited Bellator 212 rematch vs. Michael Chandler with FloCombat.
Dec 13, 2018
by Nolan King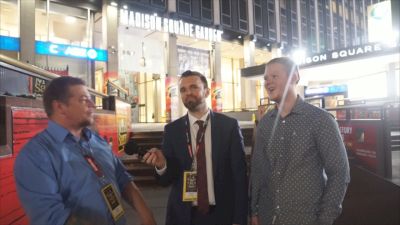 Friday night, the wait will end for Brent Primus and Michael Chandler part two.
The pair of top Bellator MMA lightweights have waited almost 18 months to rematch following a debatably controversial first meeting at Bellator NYC in June of 2017.
Early in the fight, then-challenger Primus kicked then-champion Chandler in the leg, hitting a nerve. As a result, Chandler lost his ability to stand on the leg for the remainder of the round.
The bout was ultimately waived off at the end of the first round and Primus was declared the new Bellator MMA Lightweight Champion.
After their first outing, it was rumored the two would meet at a number of events, exchanging pleasantries on social media all the while. Earlier this year, Bellator MMA finally booked the rematch to happen in Missouri, but Primus was forced off the card due to injury.
Now, the two are finally set to square off this Friday at Bellator 212. Despite the ups and downs, Primus always expected he would clash again with Chandler someday.
"I was scared for a slight second when I heard Chandler might be going to the UFC or somewhere else," Primus said in an interview with FloCombat. "I definitely thought that Bellator wanted this rematch to happen, but as soon as I found out he might be leaving, it was definitely kind of worrisome.
"I can't put into words [how excited I am]. It's awesome, man. I can't wait to put all this controversy behind us."
Deeming this "the biggest fight of [his] career," Primus knows there is a lot at stake—especially with the fight transforming into a major grudge match over the past year-and-a-half.
"If it wasn't someone who was talking all this crap and was lying, it wouldn't be a big deal," Primus said. "He definitely got on my nerves, that little punk. I want to go in there and smash this guy for sure."
Playing the fight out in his mind, Primus expects everyone will see Chandler present one of two game plans.
"One is that he could be really aggressive—just coming at me, trying to finish me," Primus said. "Or, I could see him being smart and hesitant, not wanting to walk into those kicks and everything."
Fans should expect to see a different Primus on Friday night. The Oregonian is switching up his approach for this fight, but his goal is still the same.
"I've got a different game plan for him this time," Primus said. "I'm going to be attacking all levels and everything, so I'm ready. Wherever the fight goes—if it goes to the ground or stays on the feet—I'm ready for it. I just cannot wait to get in there and fight this dude.
"I definitely feel like I can finish this guy, but he's a vet and has been in a ton of wars. So, I wouldn't be surprised if it goes to the decision—but I really doubt it [will]."